I was especially excited about my return flight to the United States, as I'd have the chance to fly Finnair's new no-recline business class, which is known as the AirLounge seat and is designed by Collins Aerospace. Earlier this year the airline announced it was overhauling cabins on the A330 and A350, with the new business class being especially innovative.
How I booked my Finnair business class ticket
Finnair operates some intercontinental flights out of Stockholm at the moment. Finnair's long haul flights used to primarily be to Asia, but between China continuing to be closed to travelers and Russia closing its airspace, Finnair has had to look elsewhere to expand.
As a result, we've seen the airline add more routes from Helsinki to the United States, plus add long haul service out of Stockholm, to the United States and Thailand.
I managed to book the following flight in business class for 57,500 American AAdvantage miles plus $57.27 in taxes & fees:
07/01 AY29 Stockholm to New York departing 2:50PM arriving 5:00PM
This flight was operated by an Airbus A330, and what was most exciting to me was that the flight would feature Finnair's new business class, which is being rolled out at a pretty fast pace.
For what it's worth, Ford and I took different flights back to the United States. I needed to leave Stockholm early for a special reason (which I'll cover in a separate post), and besides, there was only one award seat on this flight.
Finnair business class check-in, lounge, and boarding
Given the chaos at European airports, I arrived at Stockholm Arlanda Airport at around 11:10AM for my 2:50PM flight, so that's just over 3.5 hours before departure. As expected, the airport was a zoo. It was at least a pretty functional zoo, though, as lines seemed to move quickly.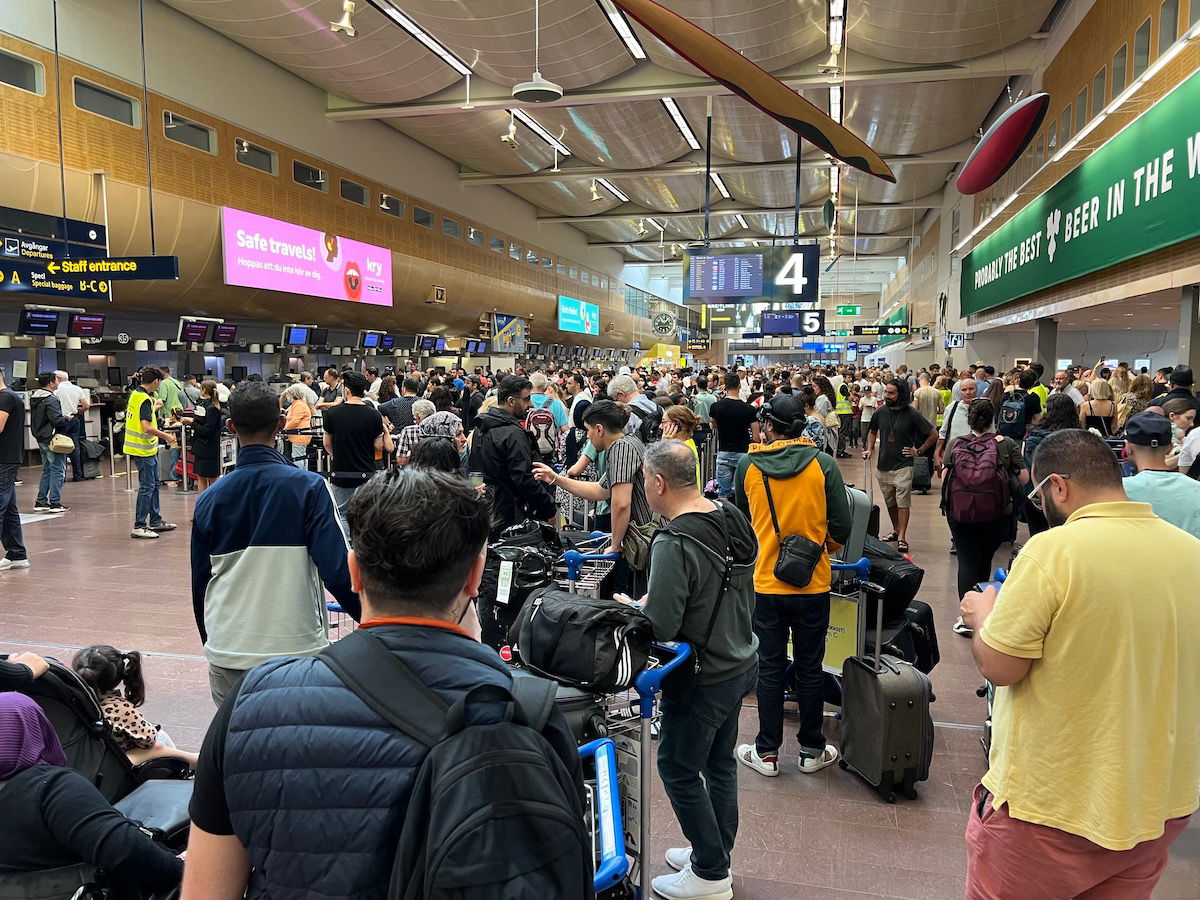 While I quickly found the Finnair check-in counter, it wasn't open until 11:30AM.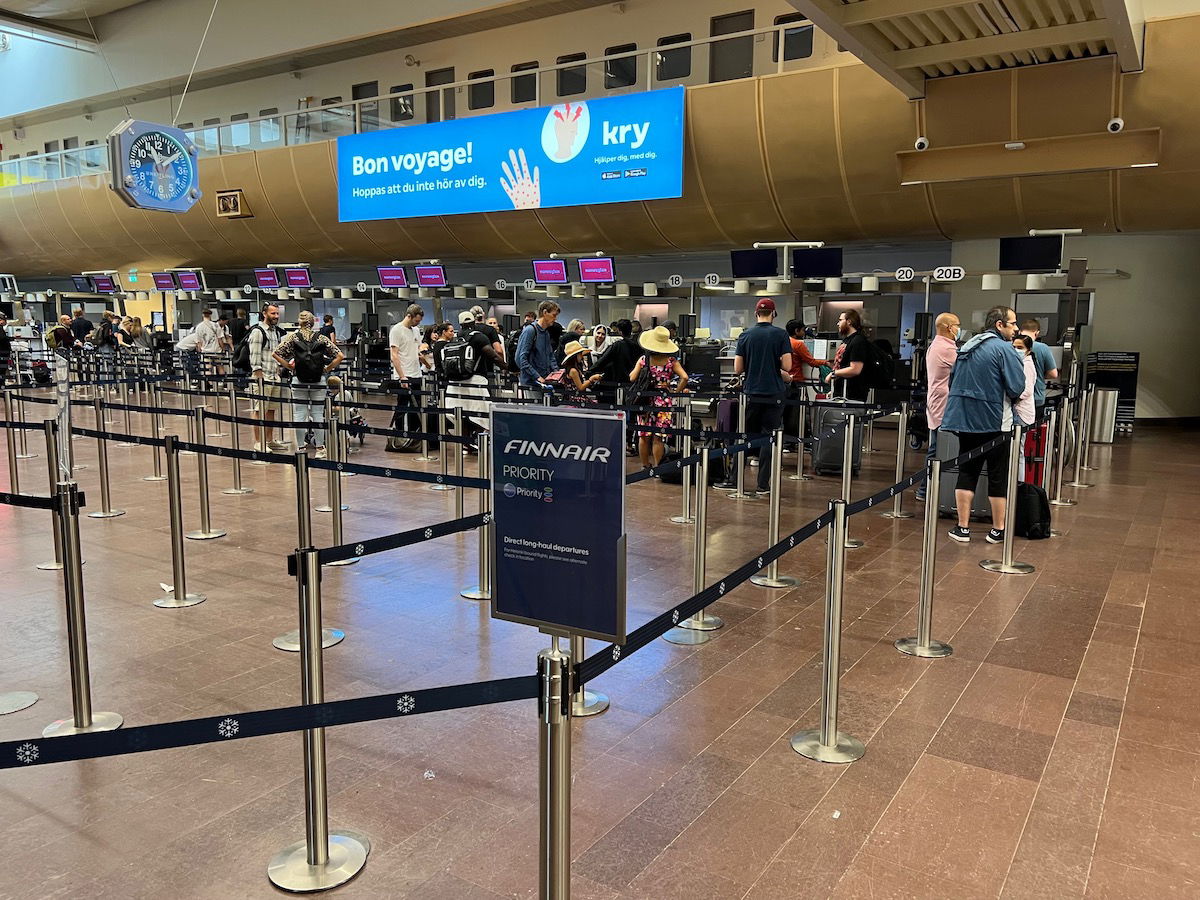 There were issues with the premium check-in counter, as apparently the baggage belt wasn't working there. So even though I was among the first in line, it took around 30 minutes before I was helped. That's not exactly a great start to the experience.
You might think that the security lines would be really long based on the number of people in the terminal, but the monitors indicated that security wait times were just 10-13 minutes.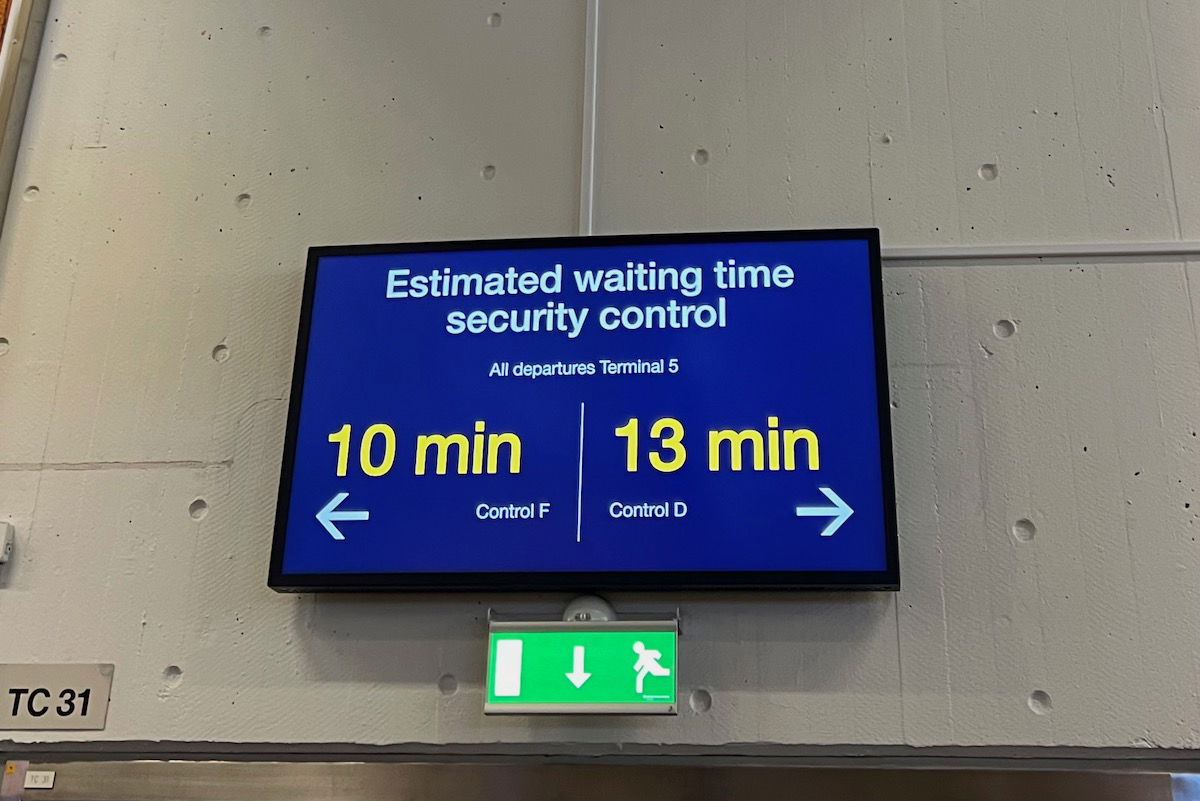 While the lines were long, they moved quickly. There was also a fast track security lane, which might have saved a few minutes, but not much more than that.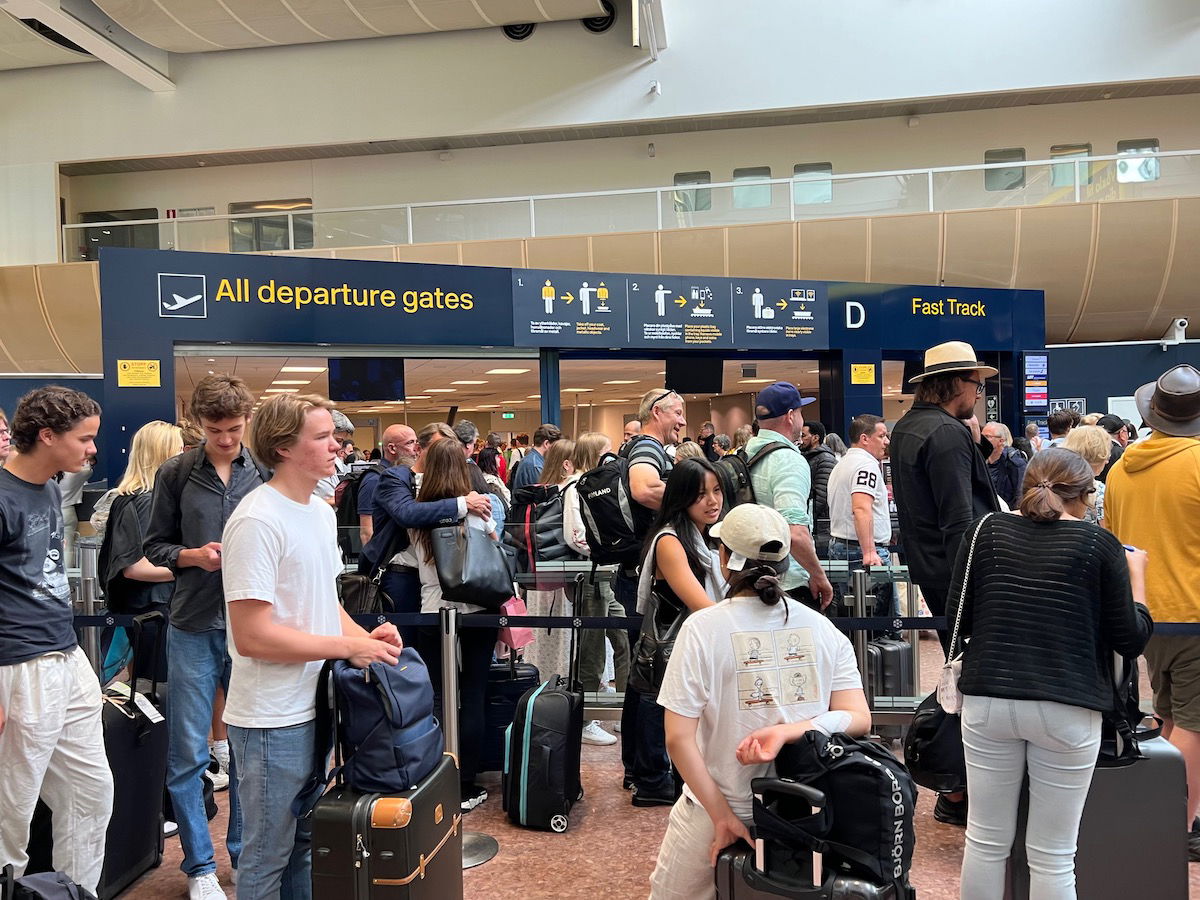 The airside terminal was incredibly busy, but like I said, I was impressed by how functionally everything was moving. Finnair business class passengers are invited to use the Norrsken Lounge in Terminal 5, which is also open to Priority Pass members.
I checked it out, but it was so busy that I decided not to even enter, and instead visited the Amex Lounge by Pontus, which I reviewed in a separate installment.
Anyway, the Finnair flight to New York was departing from gate 18. My boarding pass indicated that the gate opened at 1:35PM. This was one of those "holding pen" gates, where your boarding pass is scanned before you enter the gate area, and then you're already considered onboard. The gate ended up opening at 2PM, and then boarding only started at 2:30PM, just 20 minutes before departure.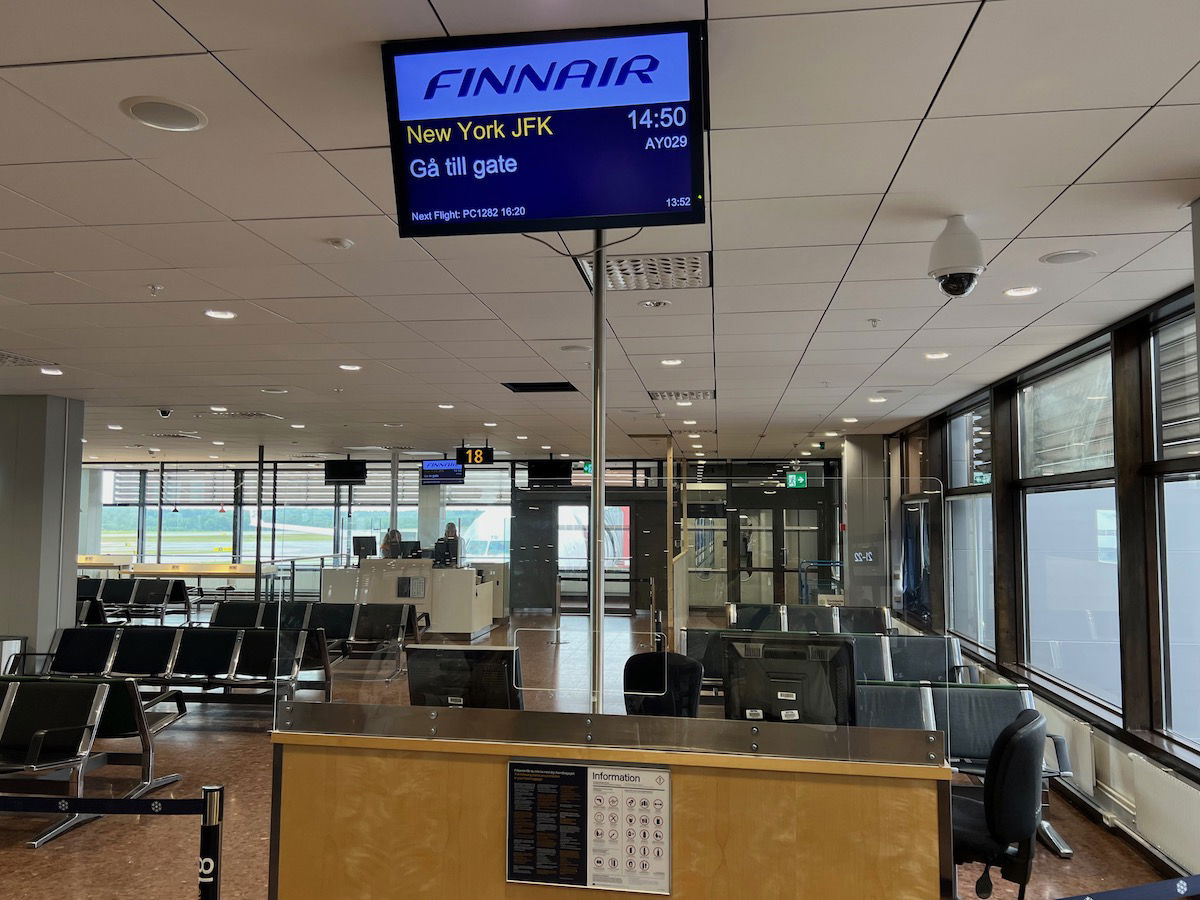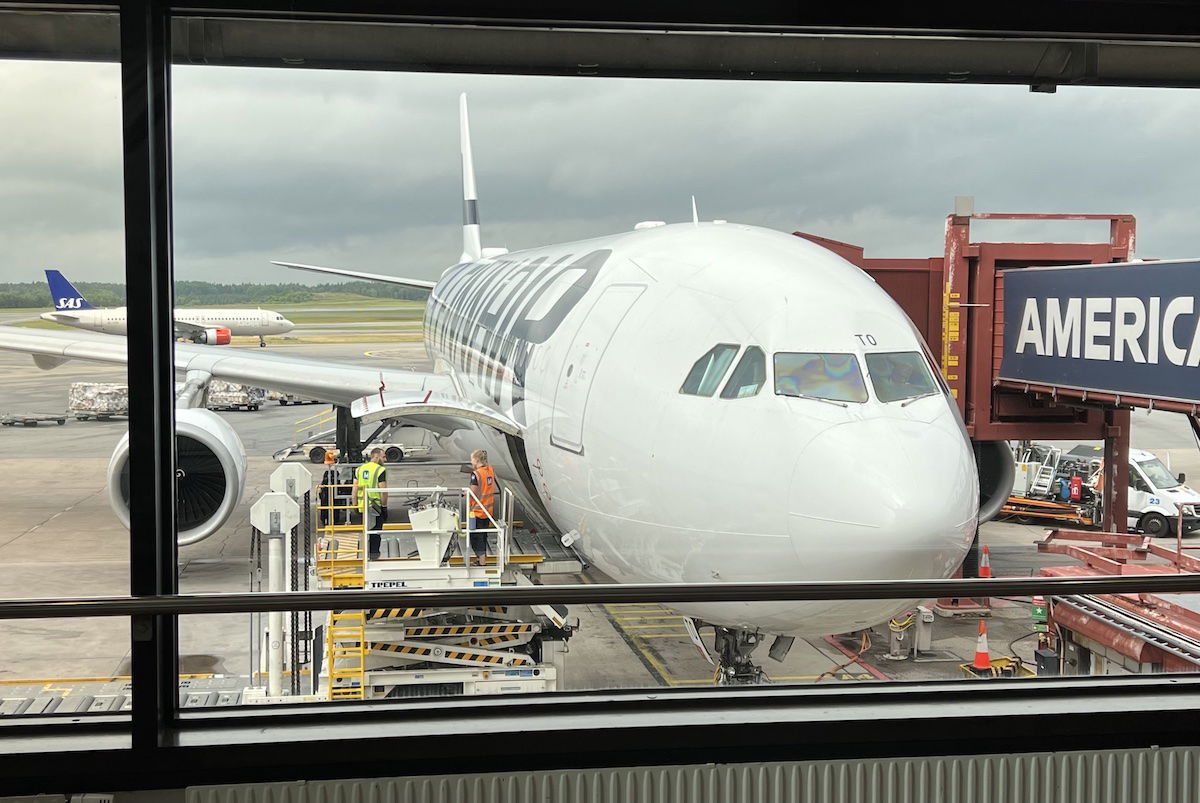 Finnair A330 business class cabin & seats
I boarded through the second set of doors, and then turned left into the business class cabin. Finnair's new Airbus A330 business class cabin consists of a total of 28 seats, spread across seven rows in a 1-2-1 configuration.
This is a pretty snazzy-looking cabin, in a Northern European kind of way. I also think this cabin is particularly impressive at first sight when you consider that you're on an A330, which has a narrower fuselage than the Airbus A350, Boeing 777, etc.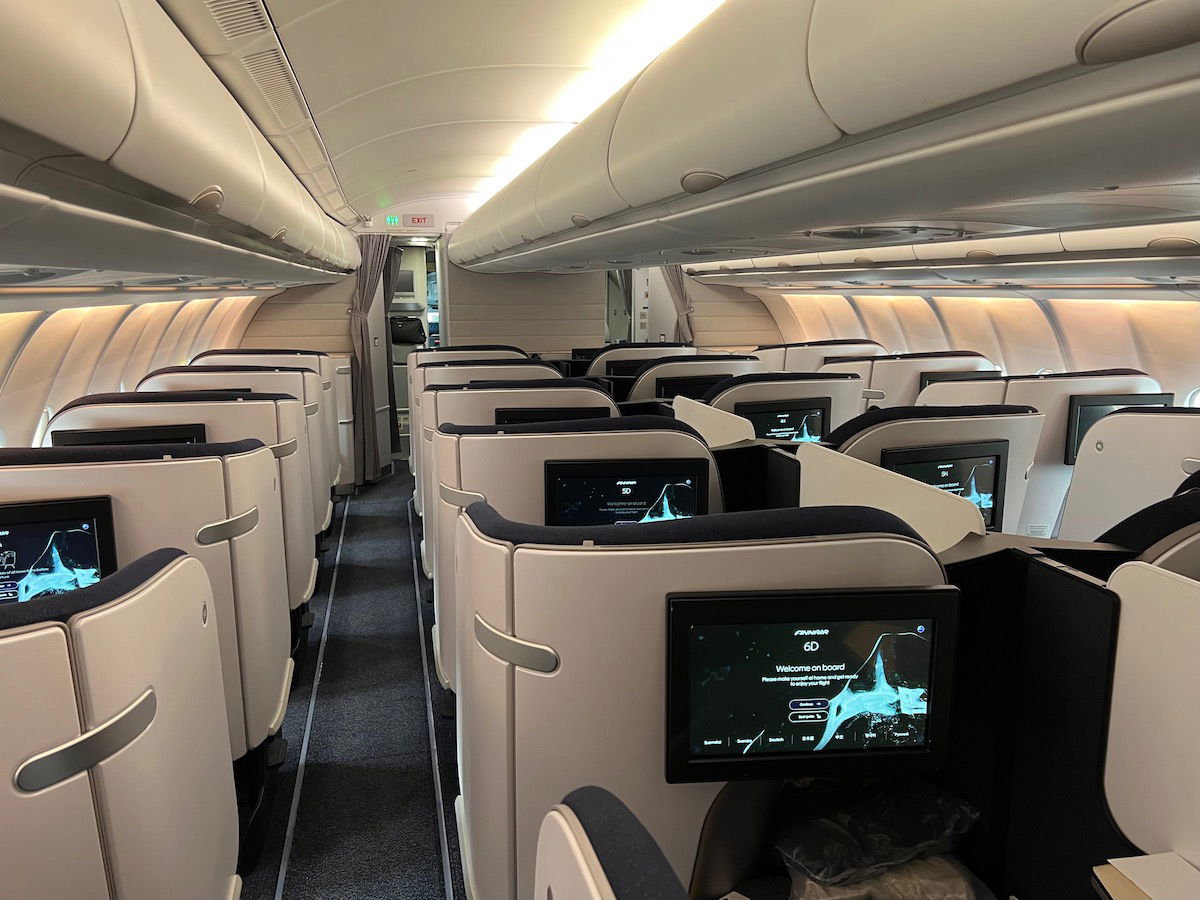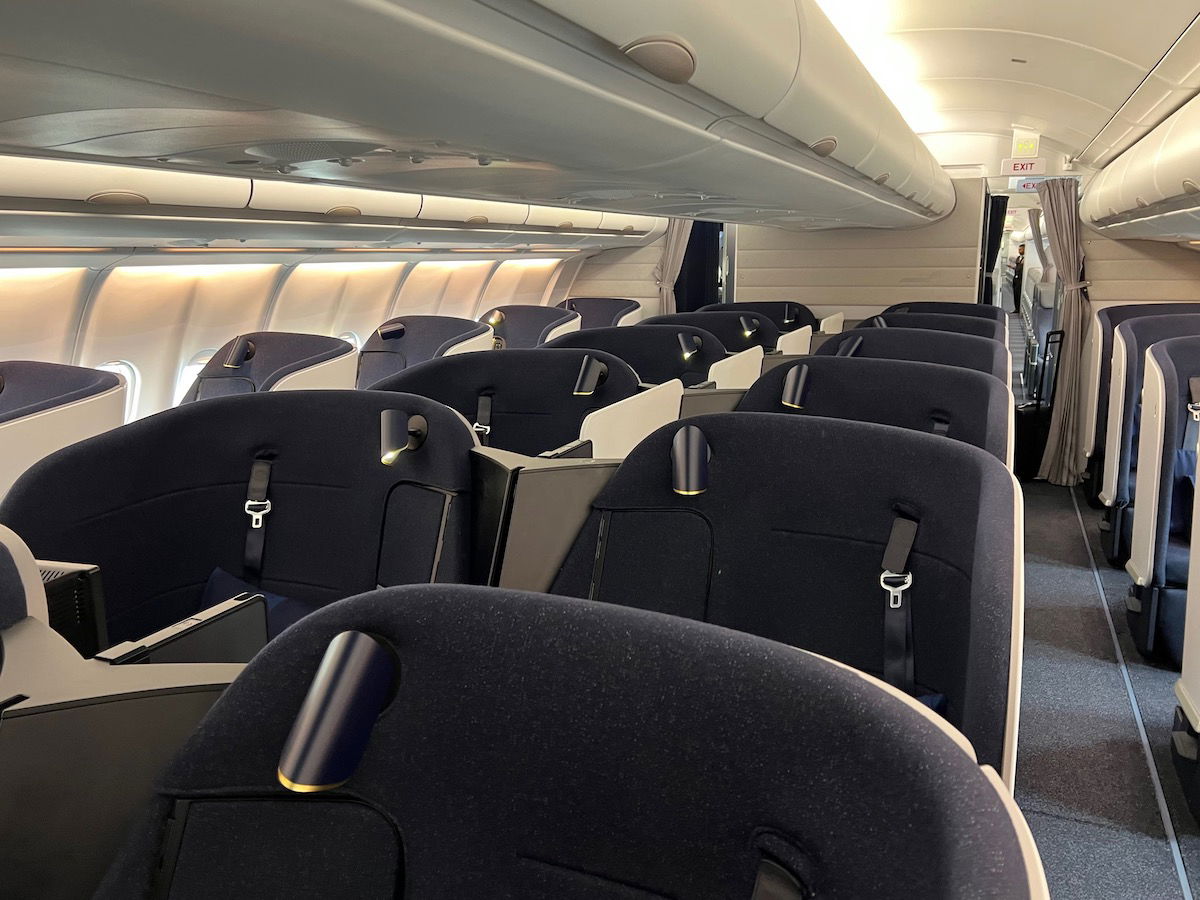 Unlike what you'd find in a business class product that has a staggered configuration, the seats in Finnair's new business class are the same in each row. If you're traveling alone, you'll likely prefer one of the solo seats by the windows.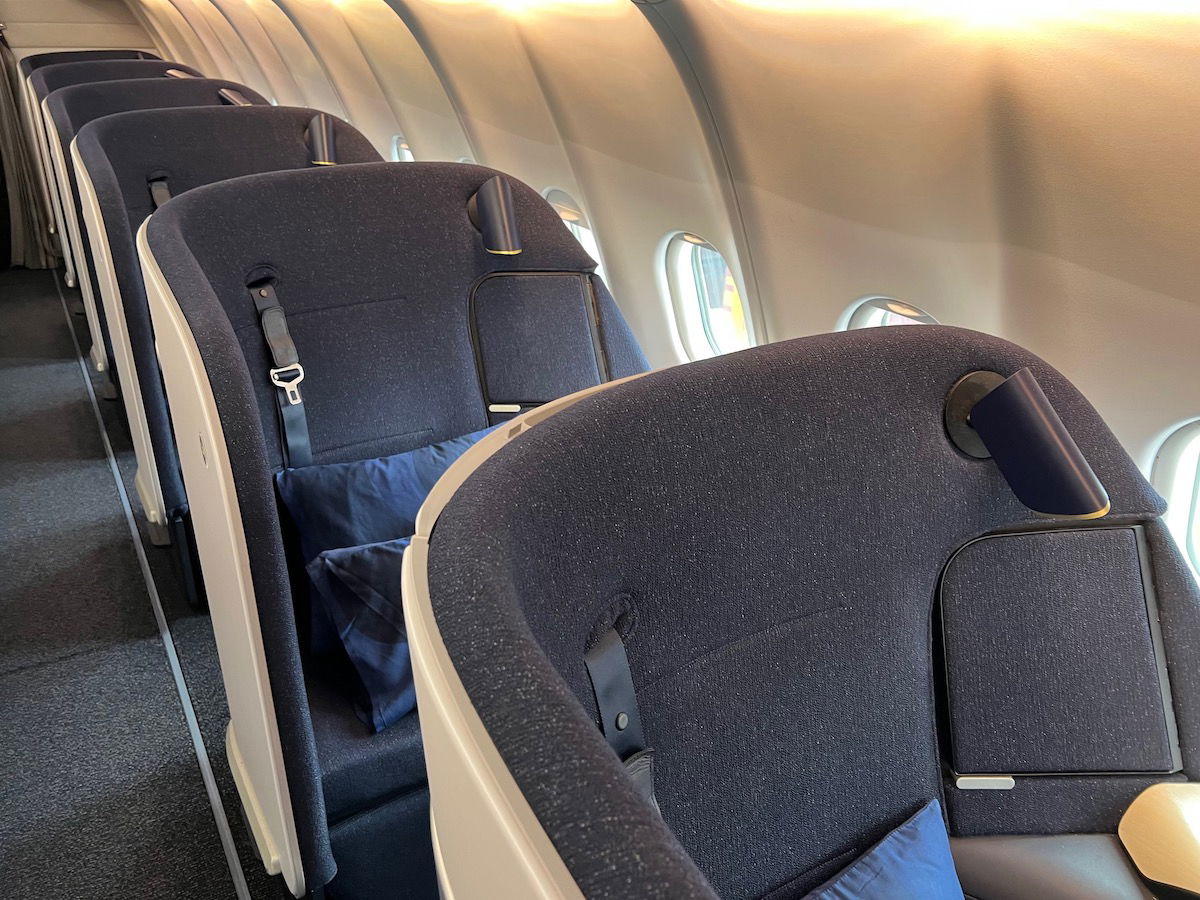 Meanwhile if you're traveling with someone, the center seats will allow you to chat with the person seated across from you. If you happen to be seated in the center section next to a stranger, there is a privacy shield that can be raised, and then you won't even know they're there.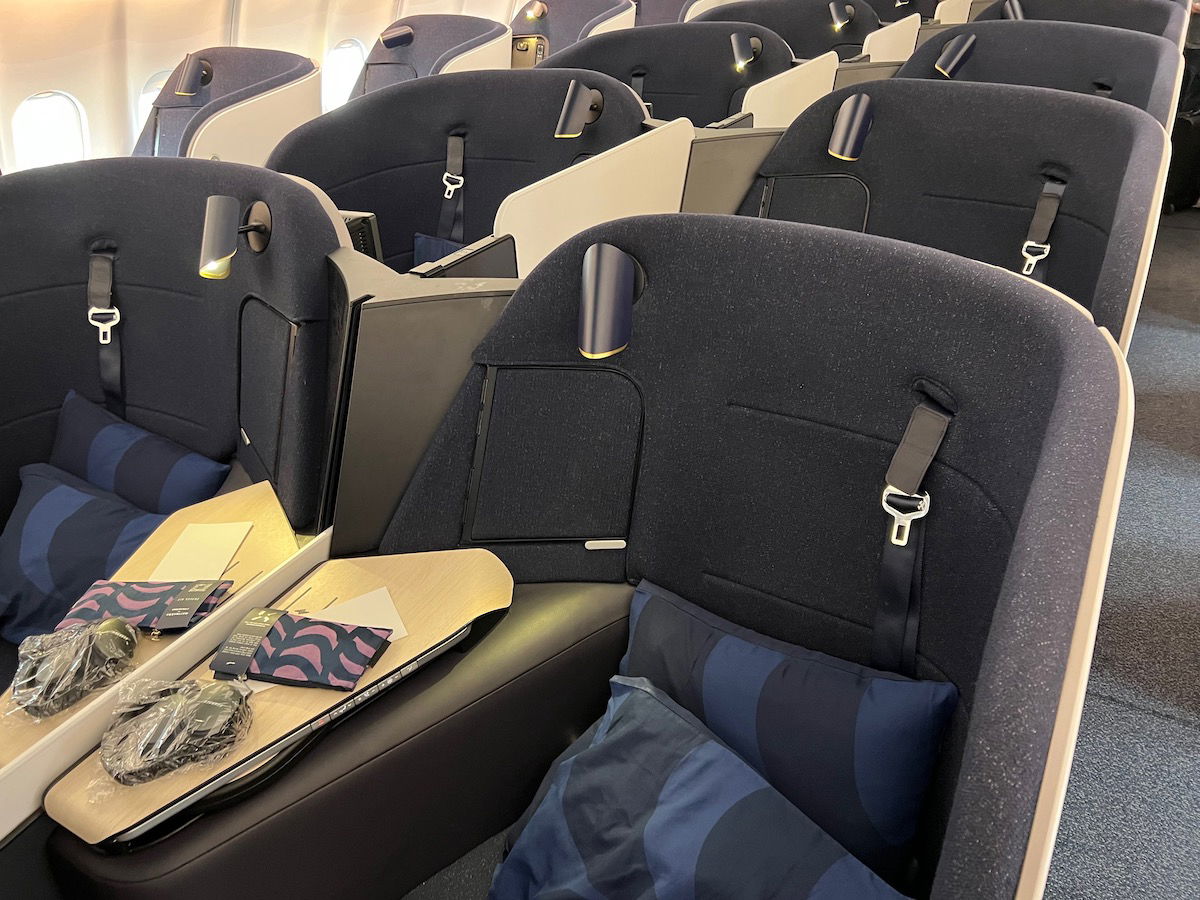 While lots of airlines are introducing new business class seats nowadays, there's not actually all that much innovation when it comes to the types of seats being introduced. That's where Finnair shines. Finnair's new business class doesn't recline, which is to say that the seat back doesn't move. Rather when it's time to sleep, you simply slide down in the seat and extend the sleeping surface, which is easy to do.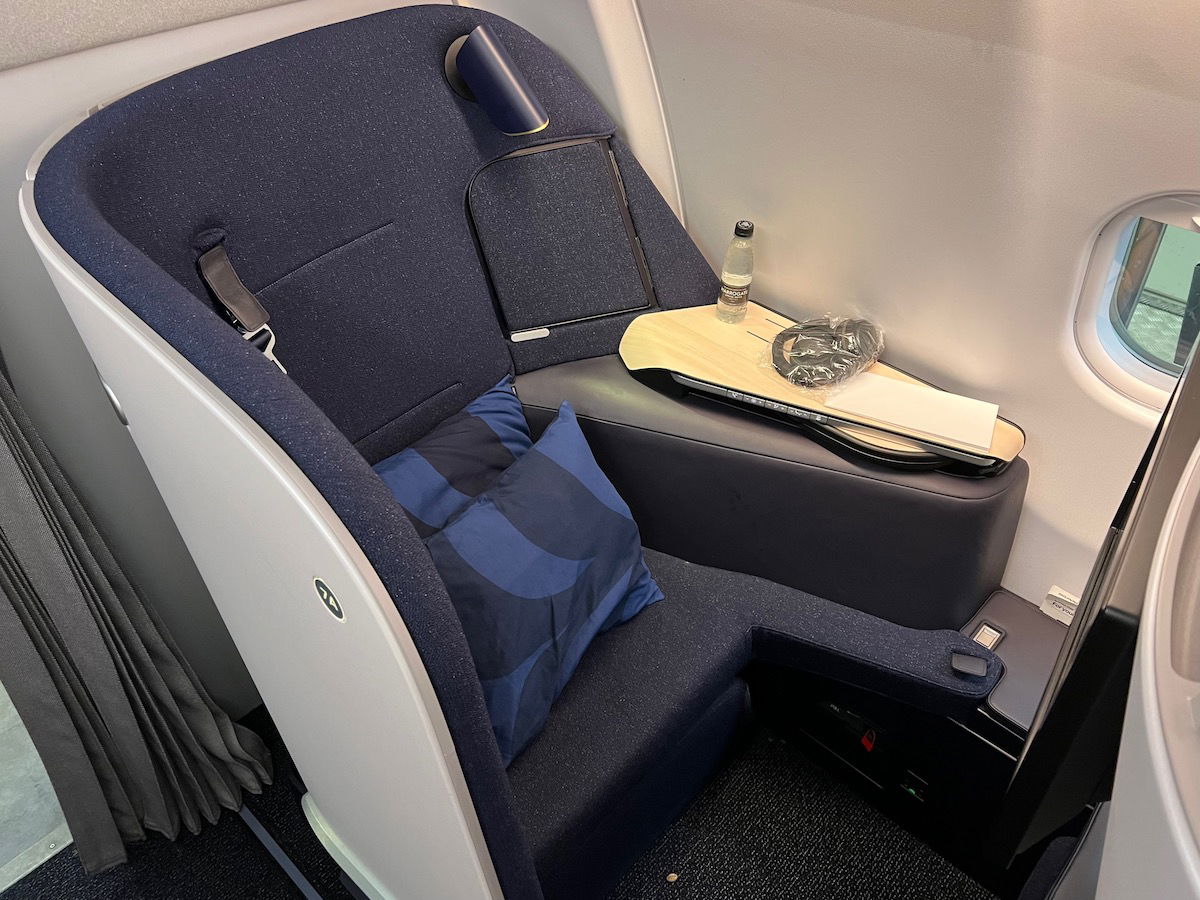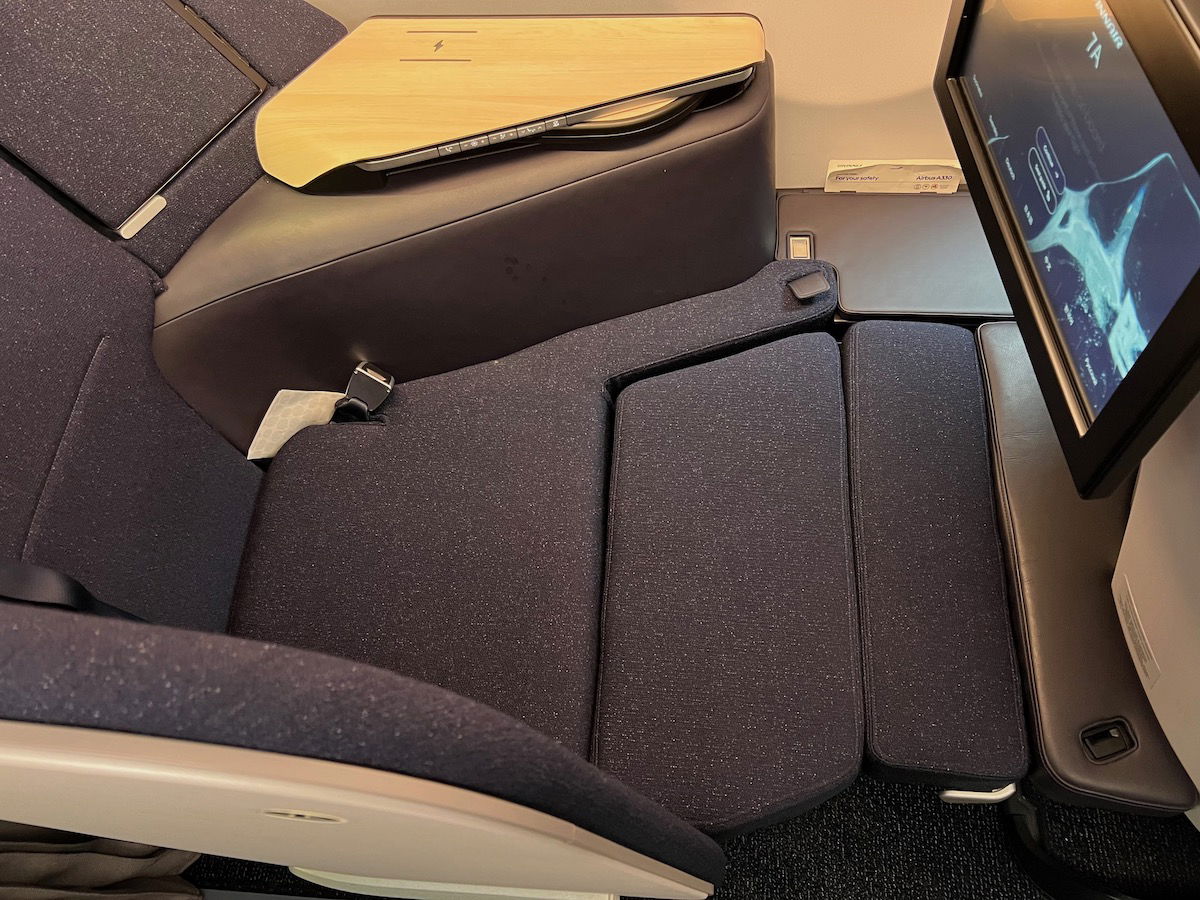 Finnair's new business class seat is thoughtfully designed all-around. There's an 18″ personal television on the seat back — unfortunately you can't reposition it if laying flat, but I didn't find glare to be an issue.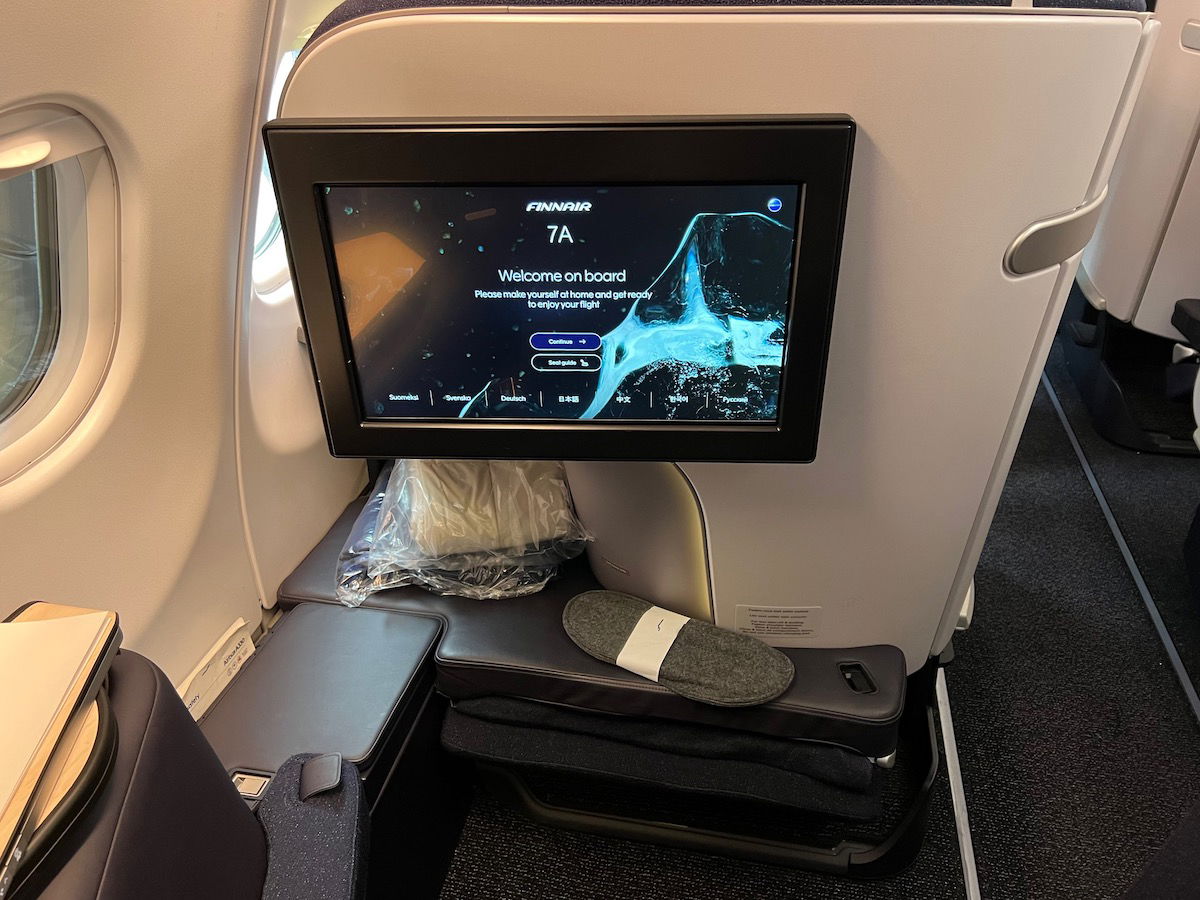 At the back left of the seat was a reading light, plus an enclosed cabinet.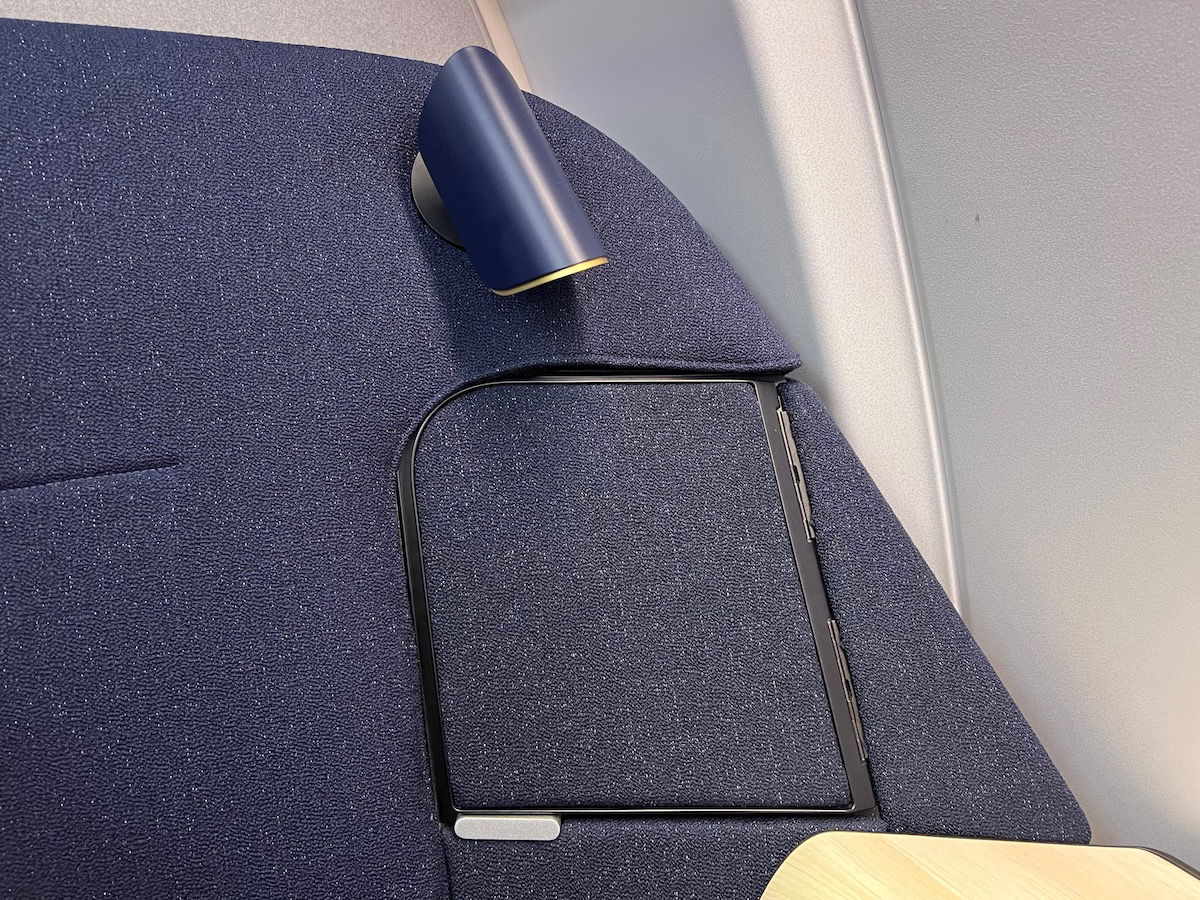 Inside the cabinet was the entertainment controller, headphone jack, a rack where you could hang headphones, and USB-A and USB-C outlets. There was also enough space to store some personal items, like a cell phone or pair of glasses.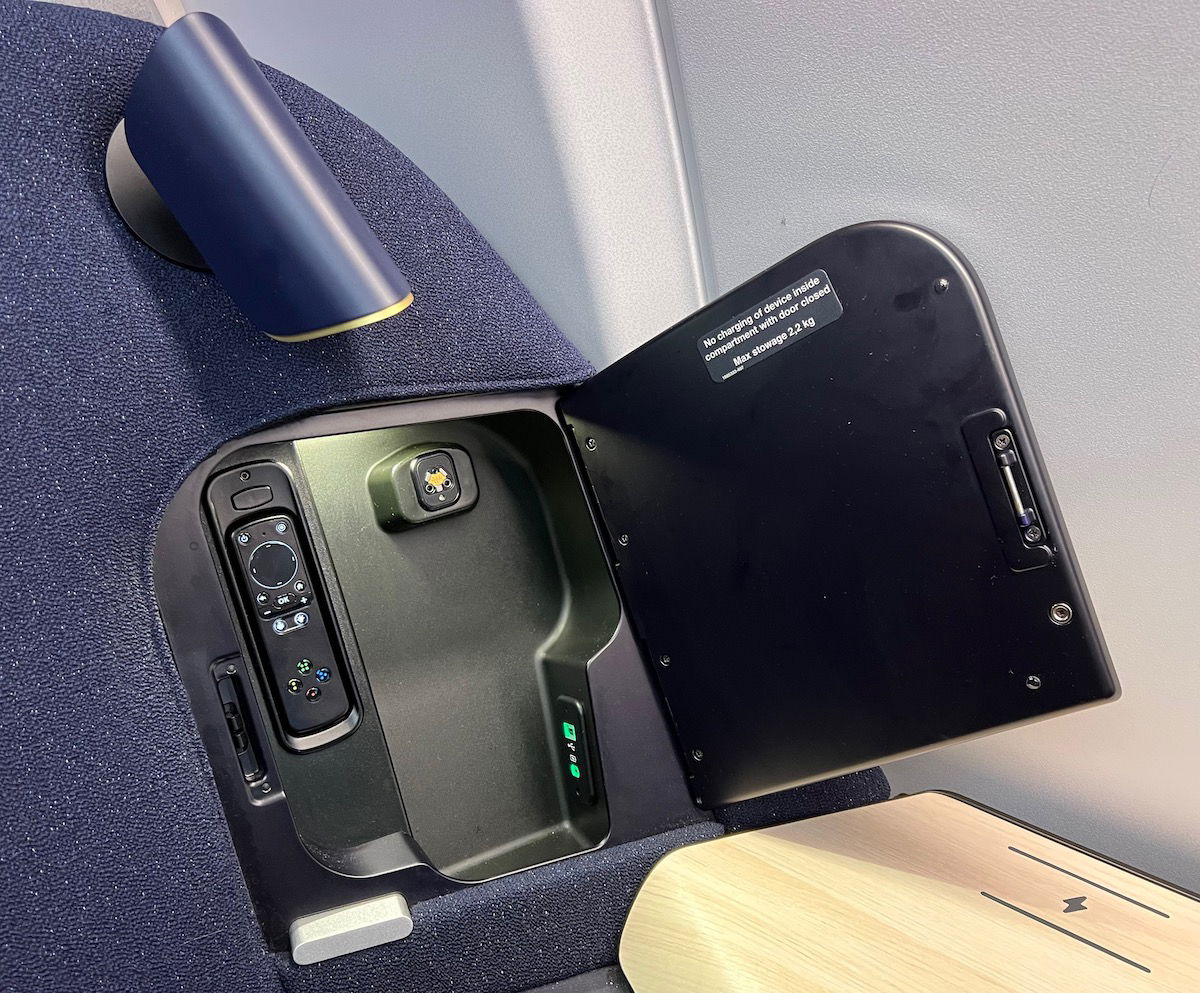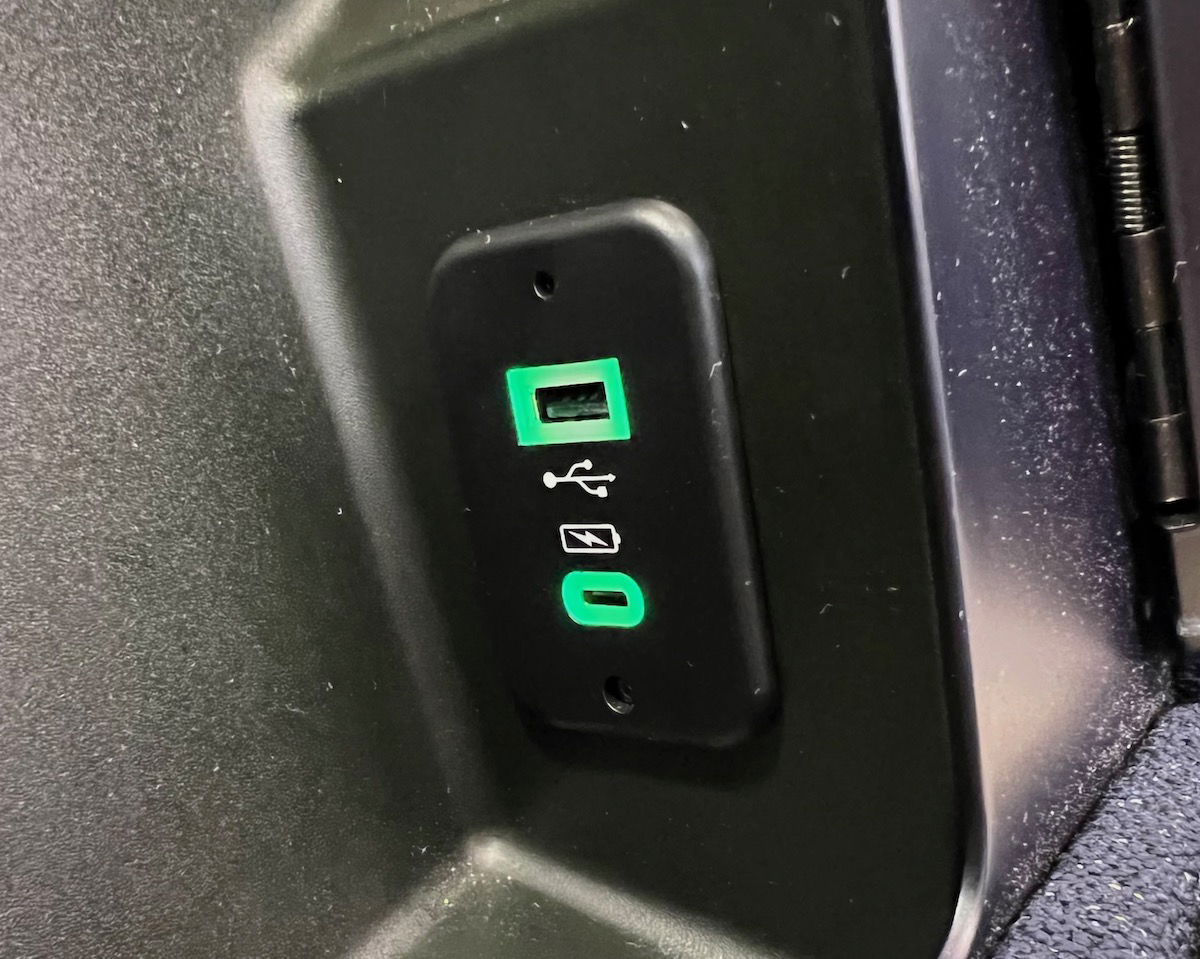 Then there was a console along the side of the seat, which featured wireless charging, seat control buttons, and the tray table. While wireless charging is always a great idea in theory, I never find it to be all that practical on planes in reality — my phone would only charge really slowly, and it needed to be positioned very precisely to even charge. The phone would move on its own ever-so-slightly, and then stop charging.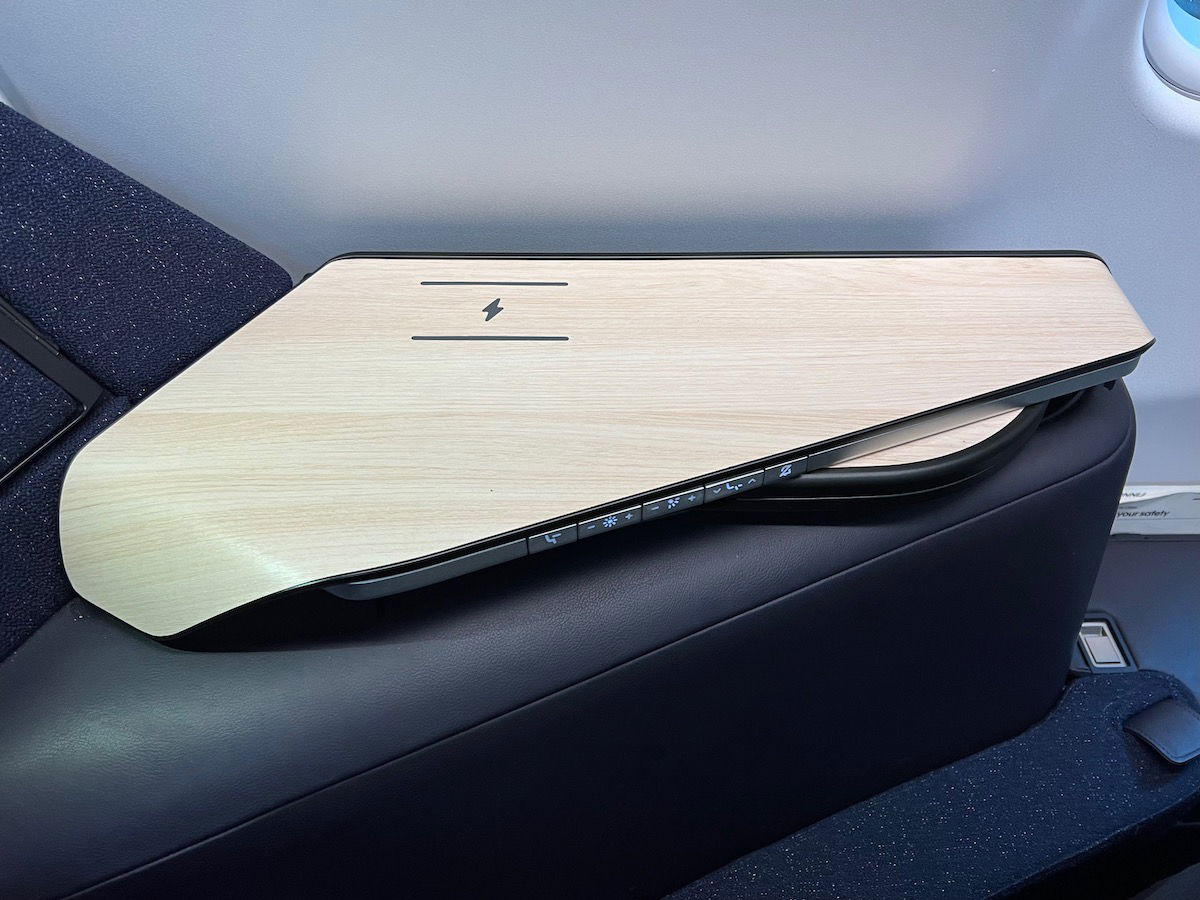 The seat controls were easy to use, given that the seat back didn't recline. There were buttons for the tray table, seat lighting, leg rest, and for a "do not disturb" setting.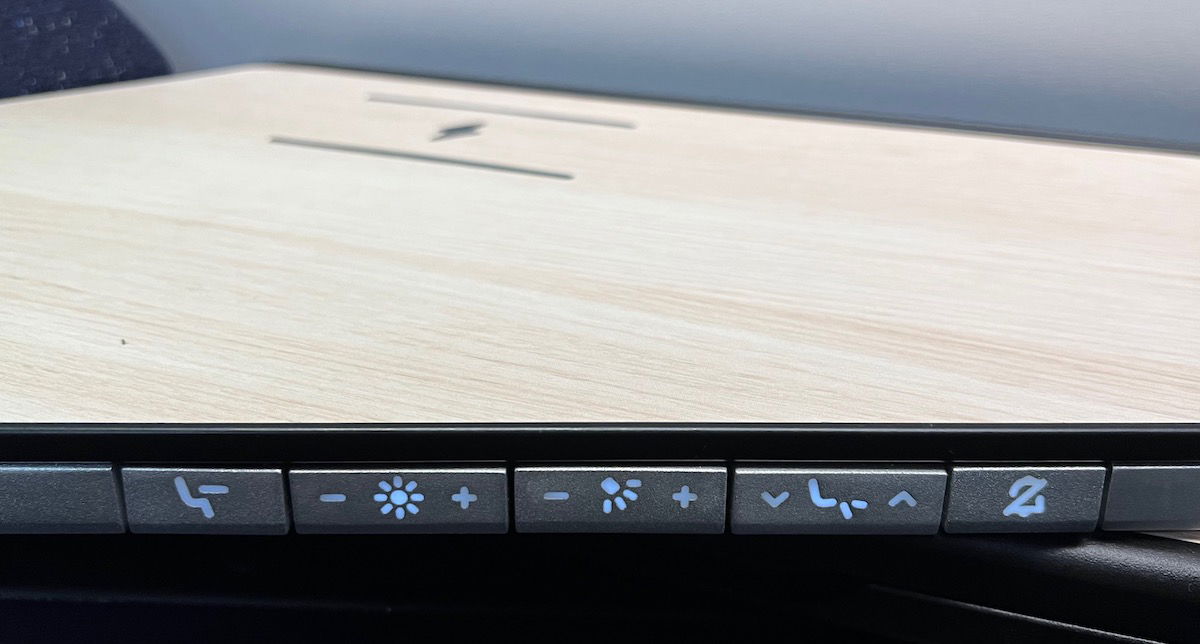 The tray table also extended from the side armrest, and could be folded over in half. I initially assigned myself seat 7A (the window seat in the last row on the left), but the tray table was broken at this seat, so I was reseated in 4A, closer to the middle of the cabin.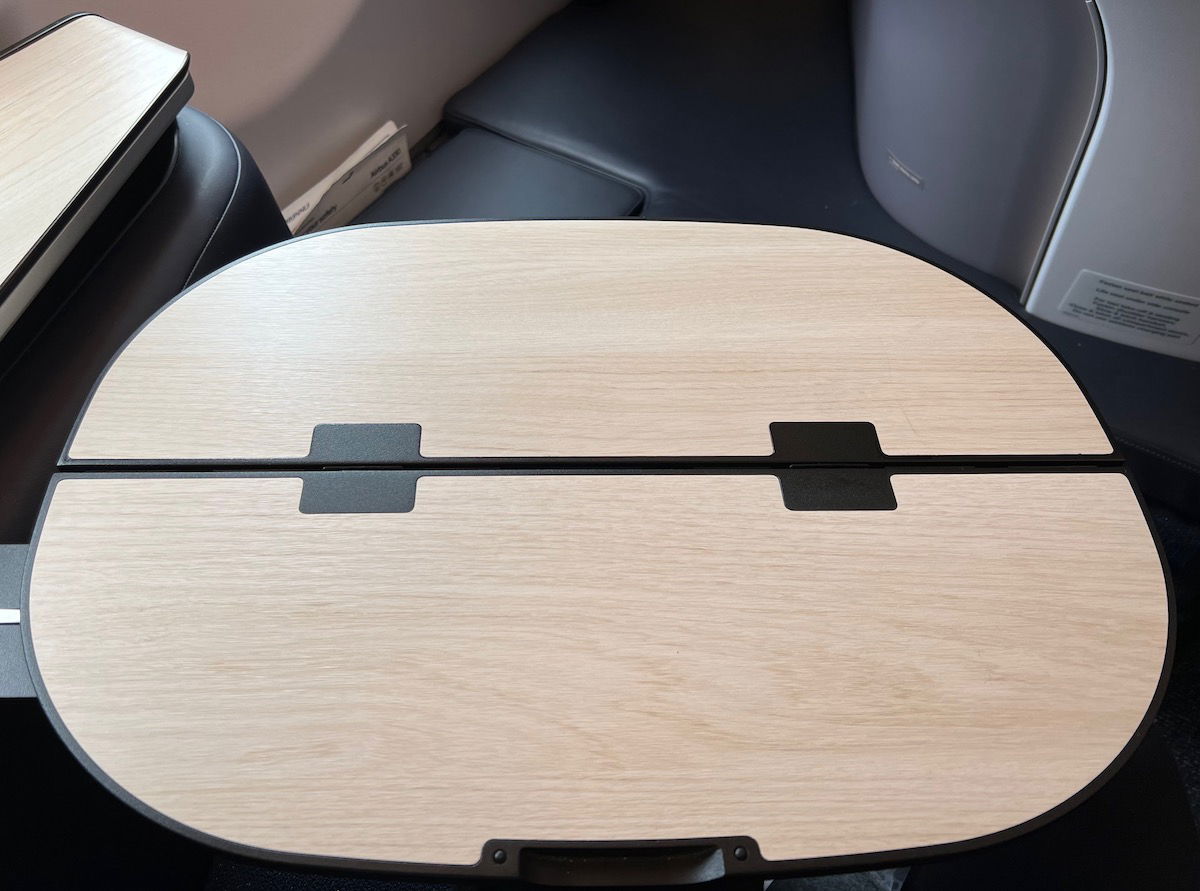 Turning the seat into a bed was easy. You just had to push the leg rest button and fold over a panel that makes up part of the footwell, and then you'd have a spacious sleeping surface.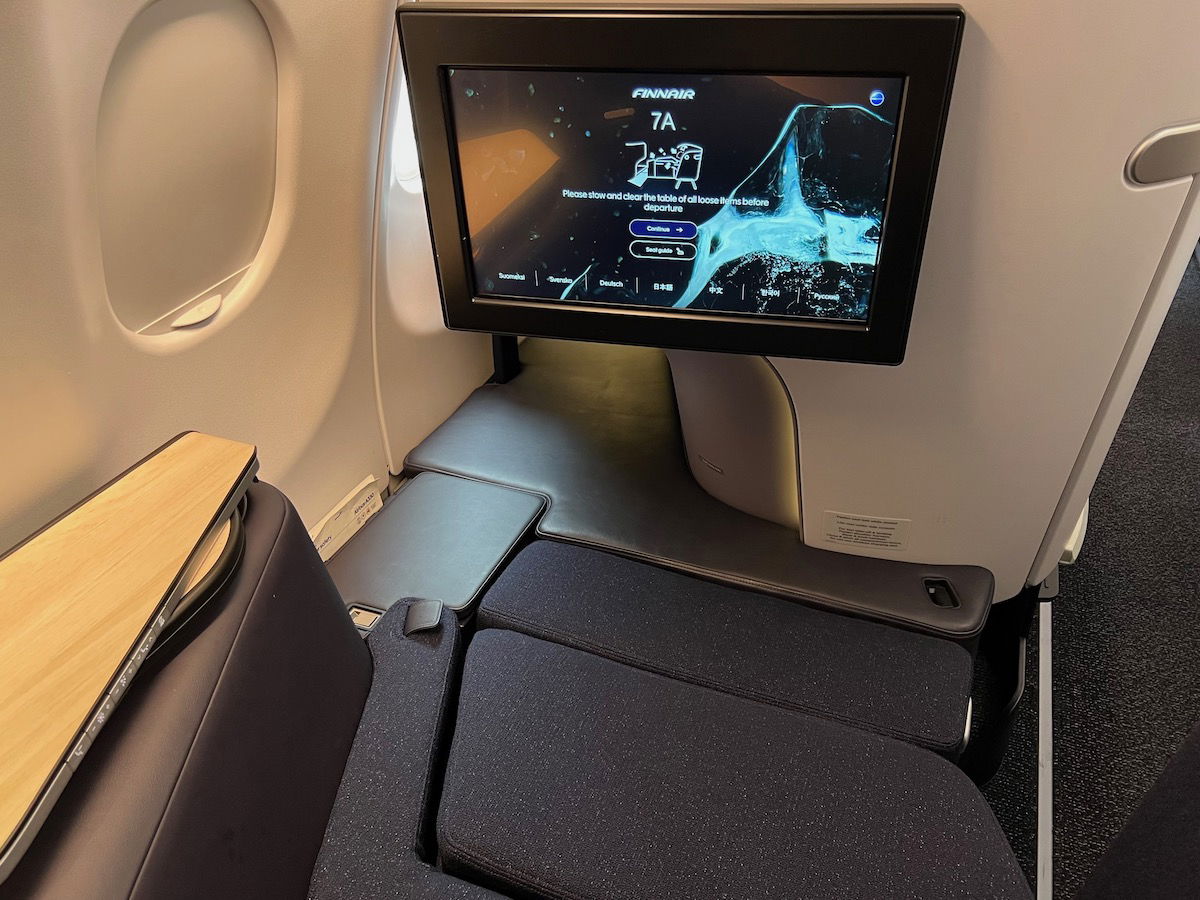 One issue with many new business class seats is that you have to squeeze your feet into a small footwell, but that wasn't an issue here. The footwell in Finnair's new business class is a good size, even if you have big feet.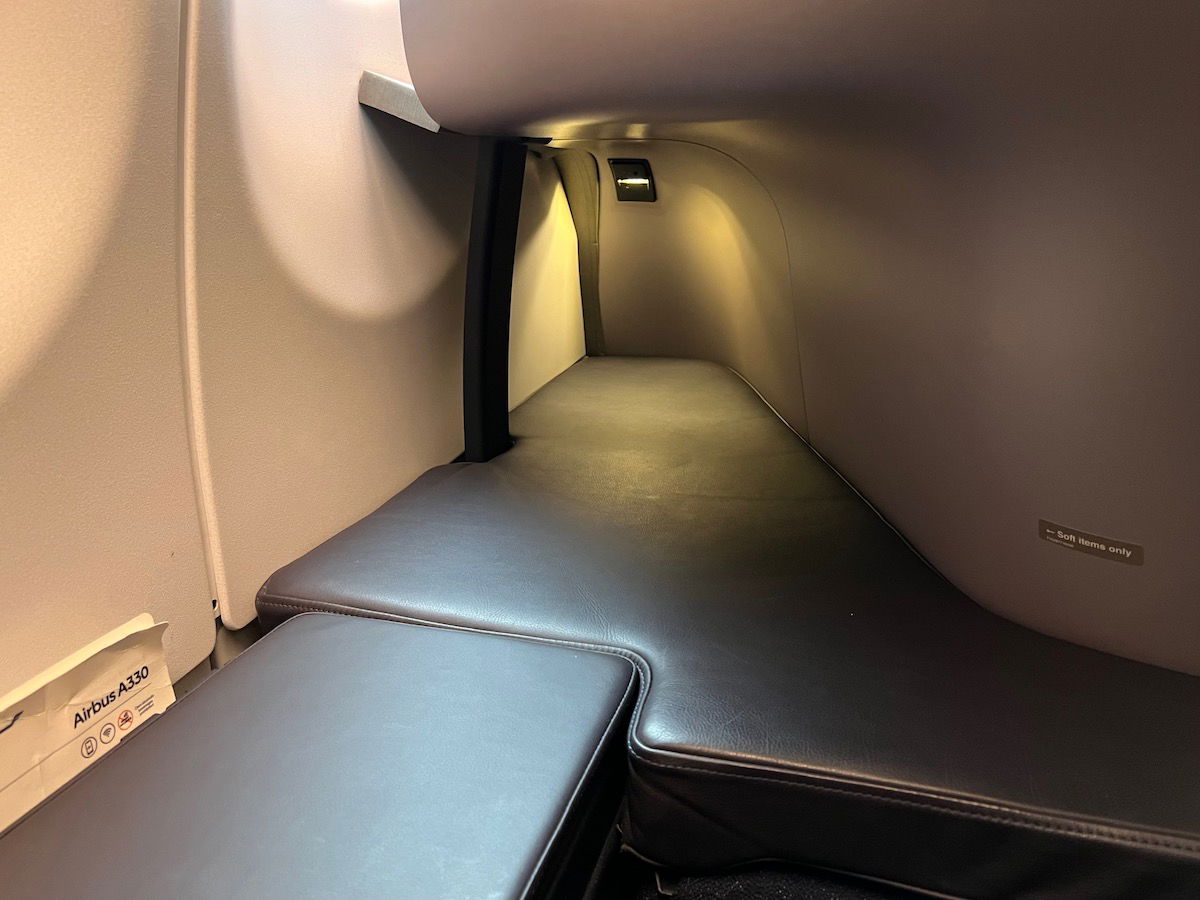 Also at the bottom left of the seat was a large storage compartment, deep enough to hold a bottle of water, a laptop, and any other loose items you may be looking to store.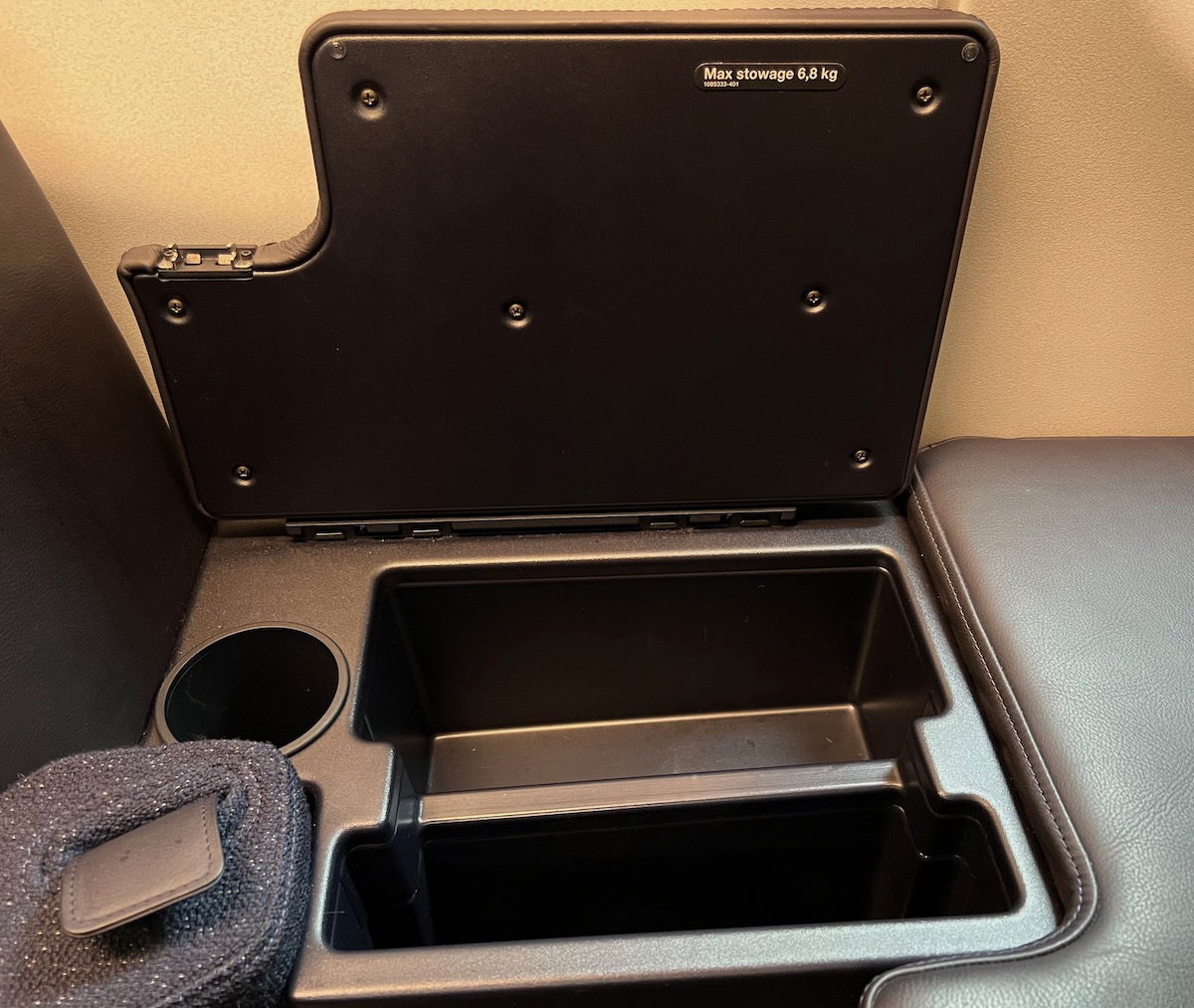 The AC power outlet was located underneath the storage compartment, and I thought it was poorly placed. That's because when you turned the seat into a bed, there was no real way to access that power outlet.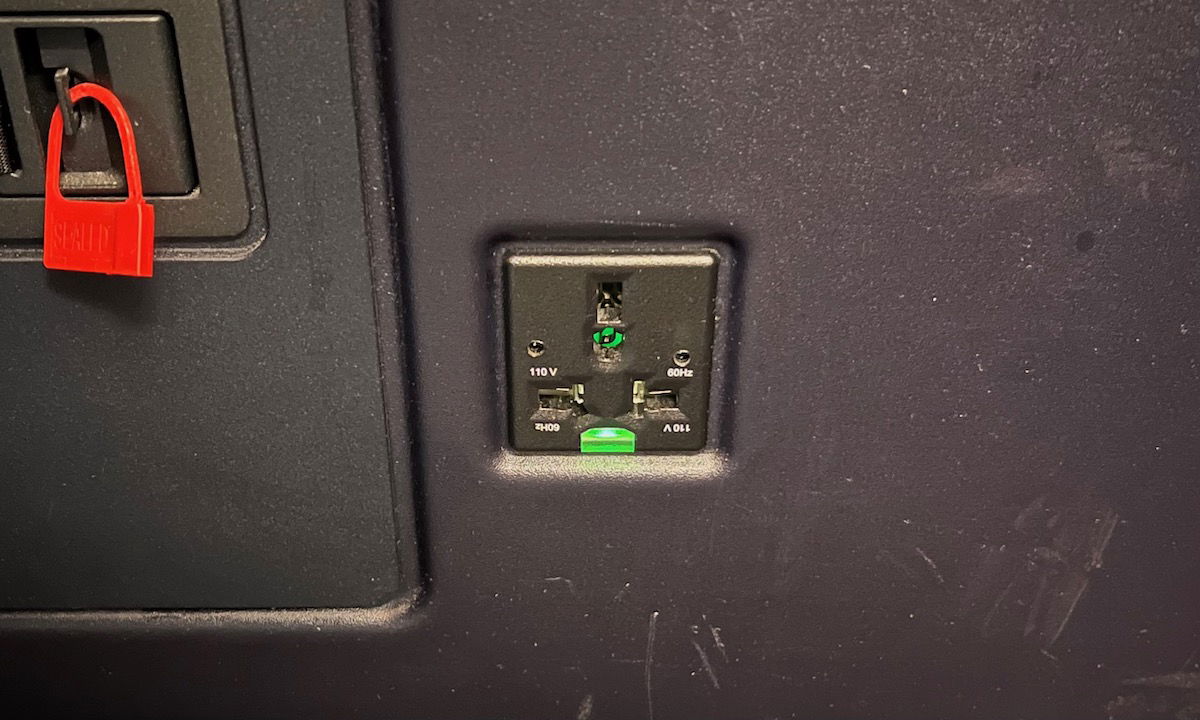 Finnair's Airbus A330s feature individual air nozzles in the panels above the seats, which is much appreciated, especially as the cabin was otherwise on the warm side.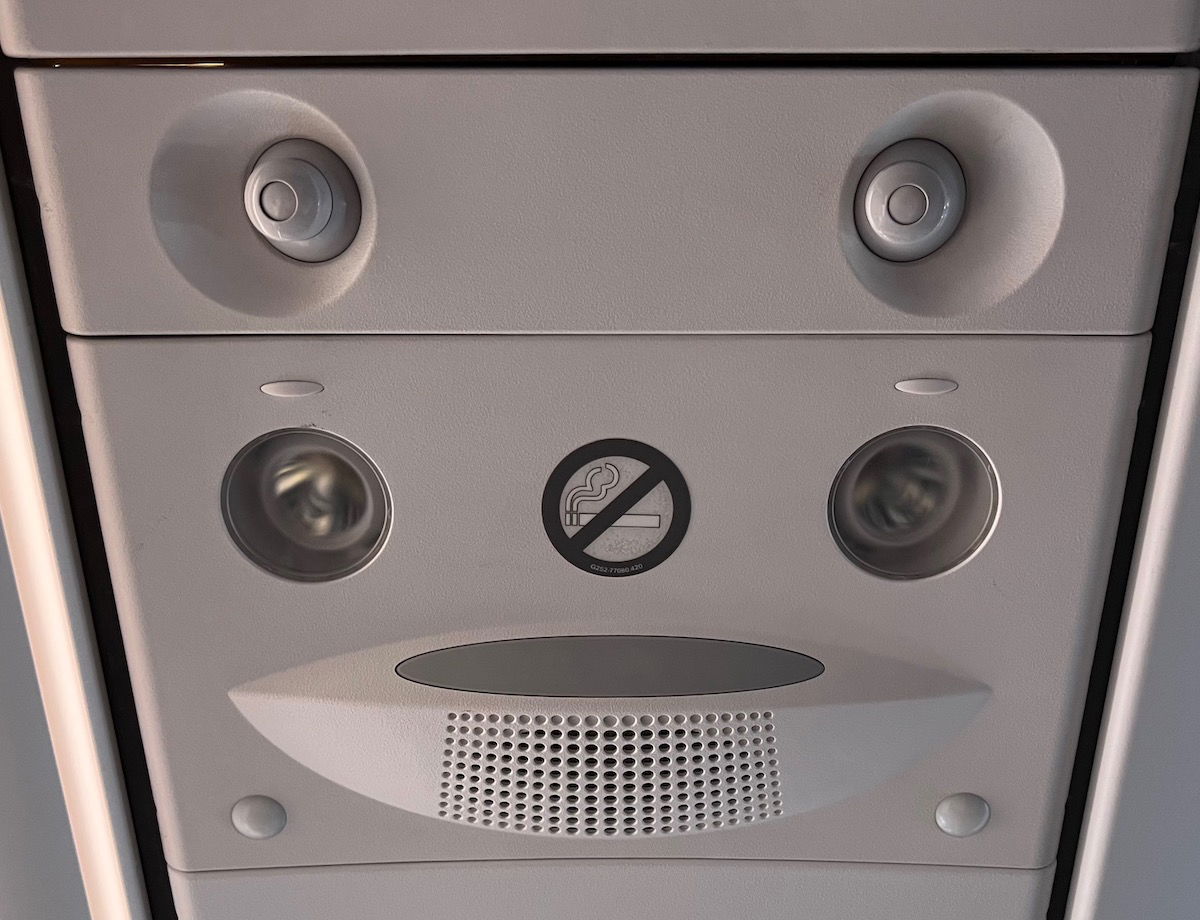 All things considered, Finnair's new business class seat greatly exceeded my expectations in terms of comfort, spaciousness, and privacy. I'll cover this in more detail below when I talk about the bed, but this has to be one of the best A330 business class seats out there.
If I had to compare the seat to another on the market, I'd say it's most similar to Singapore Airlines' business class. However, this seat is even better designed.
This seat also has all kinds of advantages for Finnair. Presumably the seat is lighter and requires less maintenance than other business class seats, given that there are fewer motorized functions.
Finnair business class amenities
Finnair has excellent bedding in its new business class. I think this is a large part of why I like the new seat — there are two thick pillows, a mattress pad, and a blanket. The pillows are great not just if you're sleeping, but can also act as arm rests, if you put one on each side of you.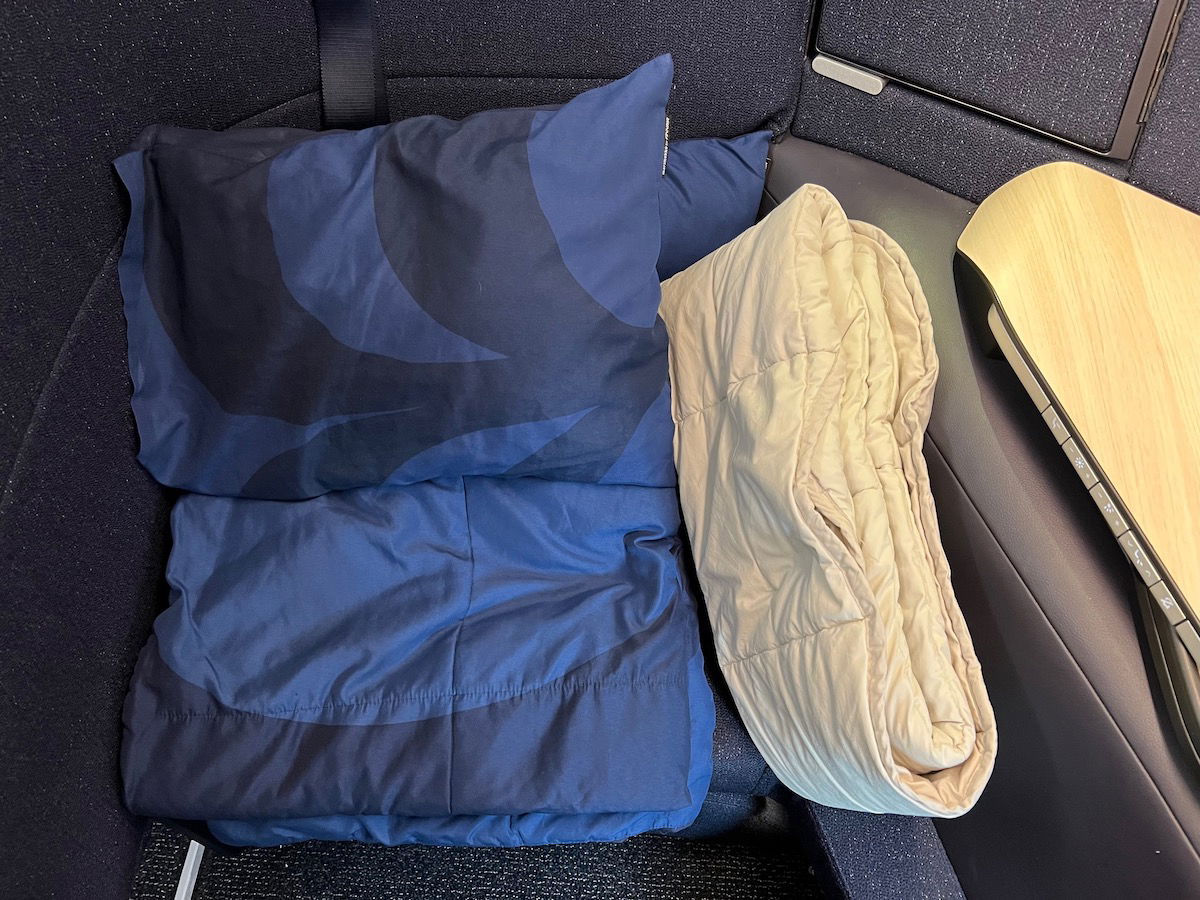 Finnair also has amenity kits in business class, designed in collaboration with Finnish company Marimekko.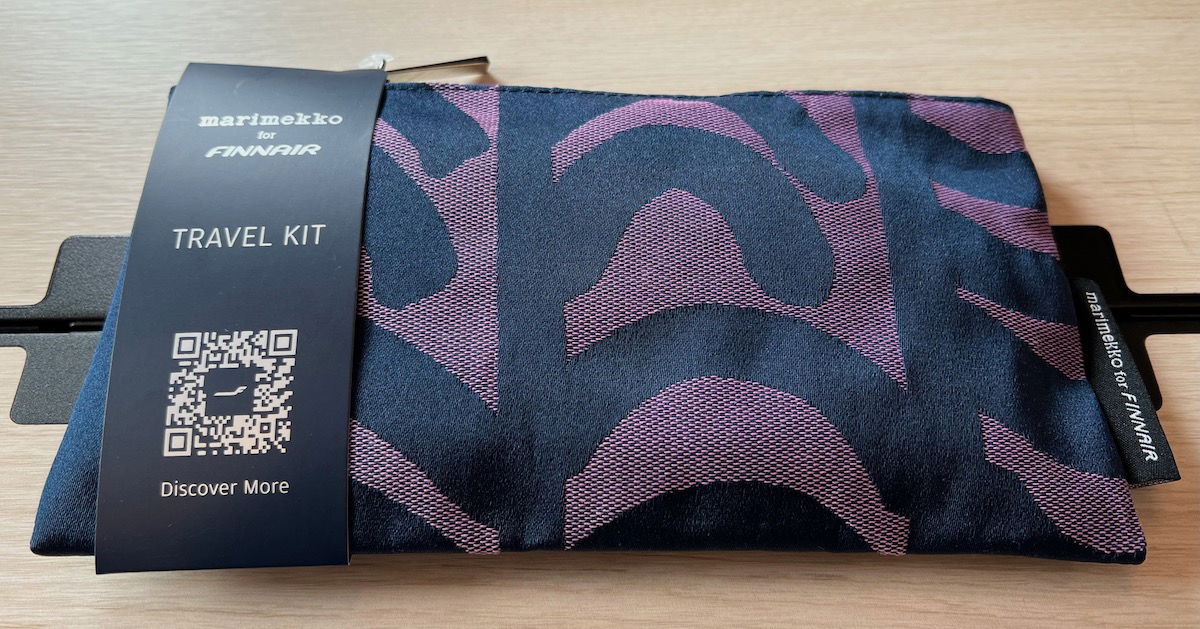 While I appreciated the local flair (well, for Finland), the kits were basic — they just had earplugs, eyeshades, a dental kit, lip balm, and face cream.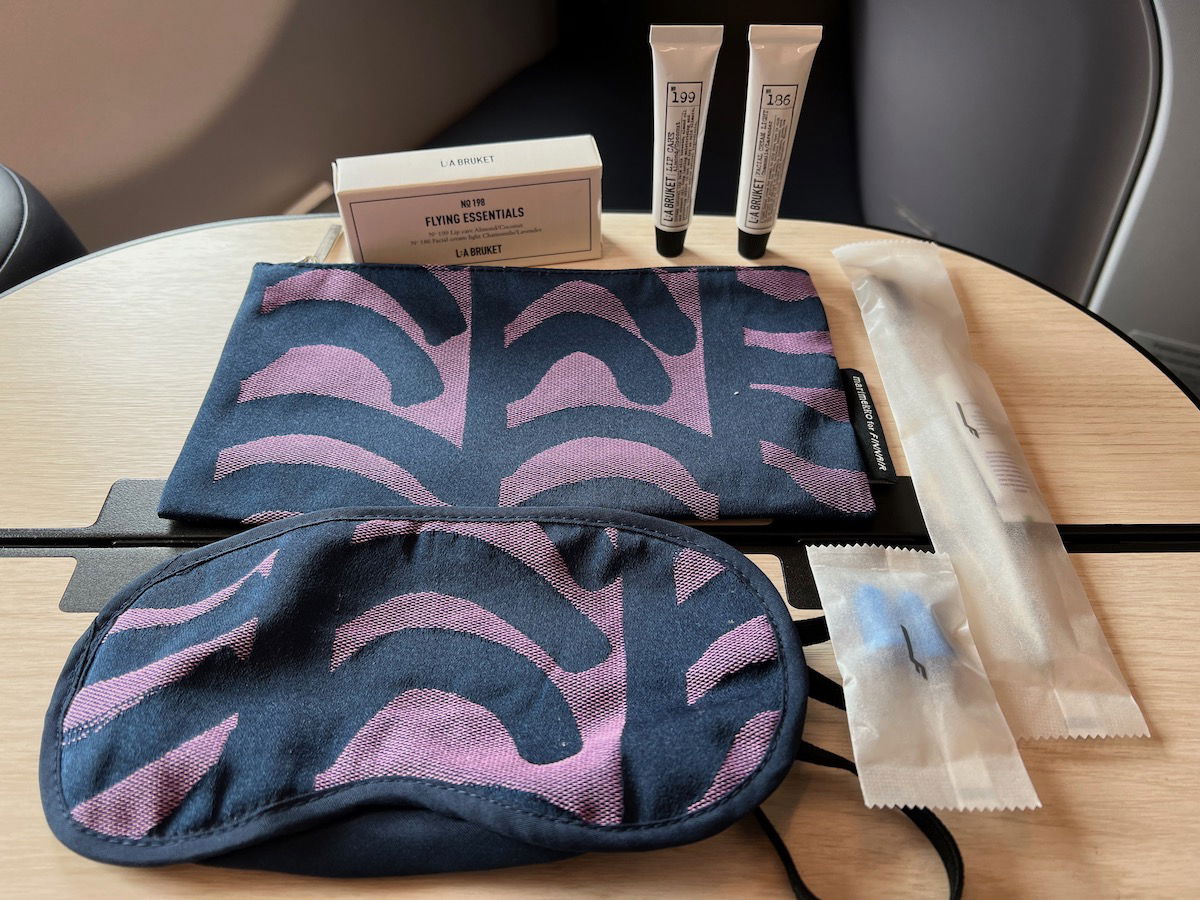 Business class passengers also received slippers, though they were flimsy.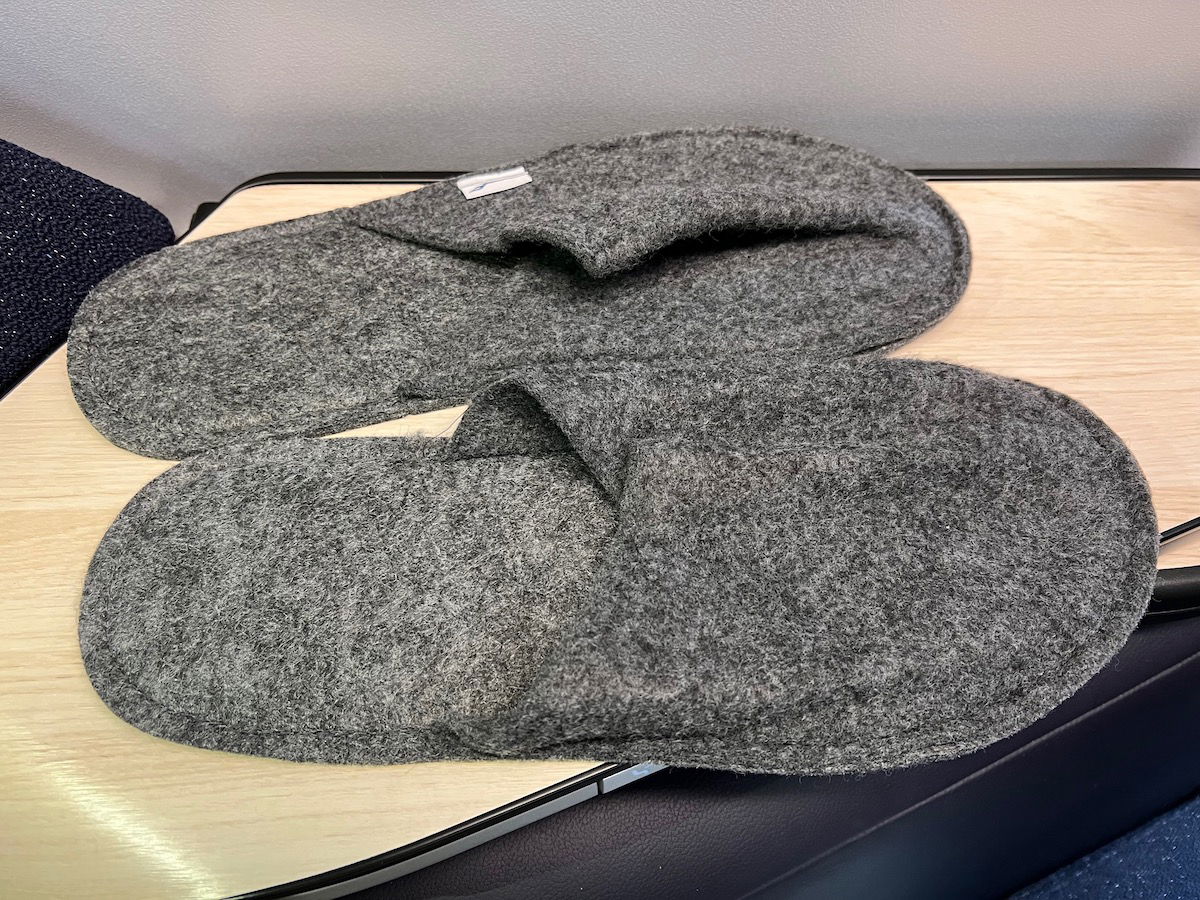 I was impressed by Finnair's headphones, as the airline offers Bose headphones in business class. There are so many premium airlines with garbage headphones in business class, so that was a pleasant surprise.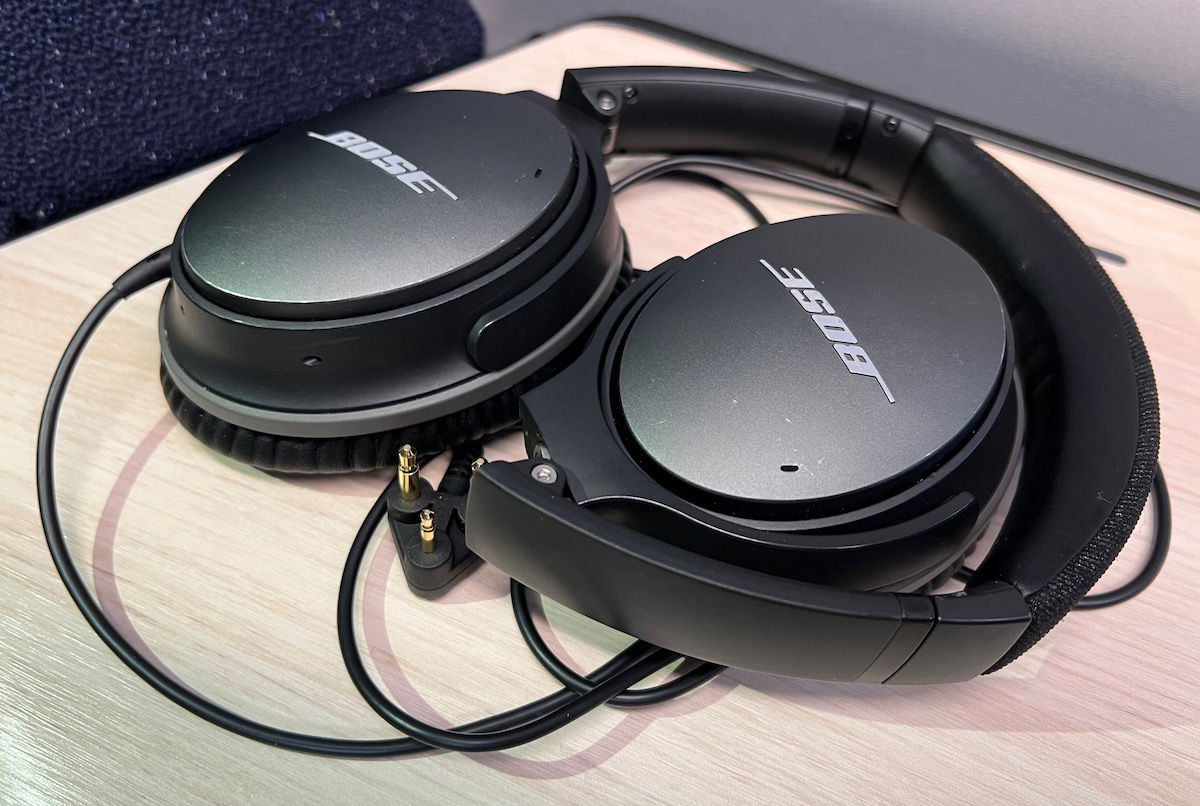 Pre-departure drinks were also offered during boarding, with the choice of champagne, sparkling water, or blueberry juice. I selected a glass of champagne, and loved the glassware it came in.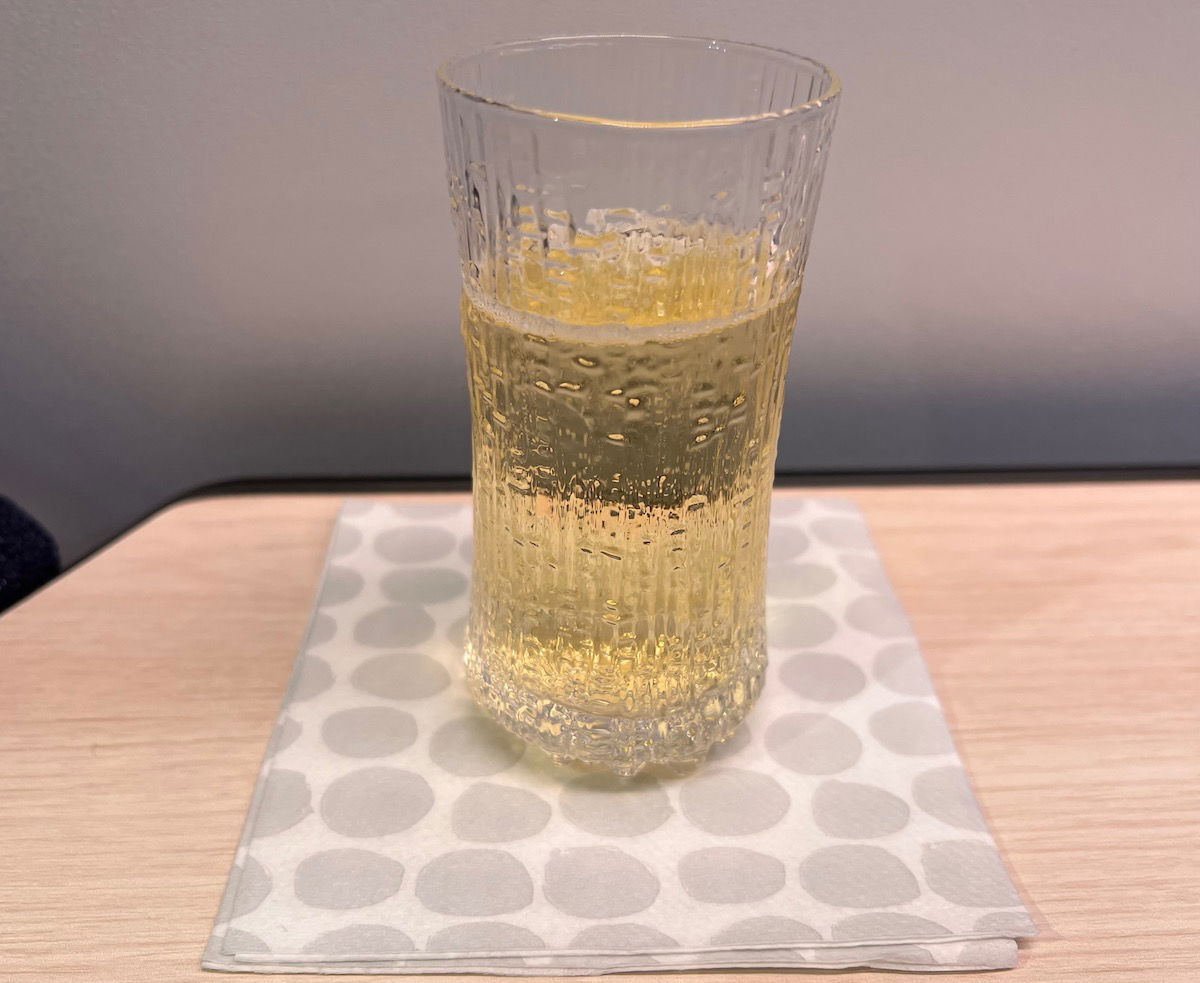 The menus for the flight were also at the seats during boarding.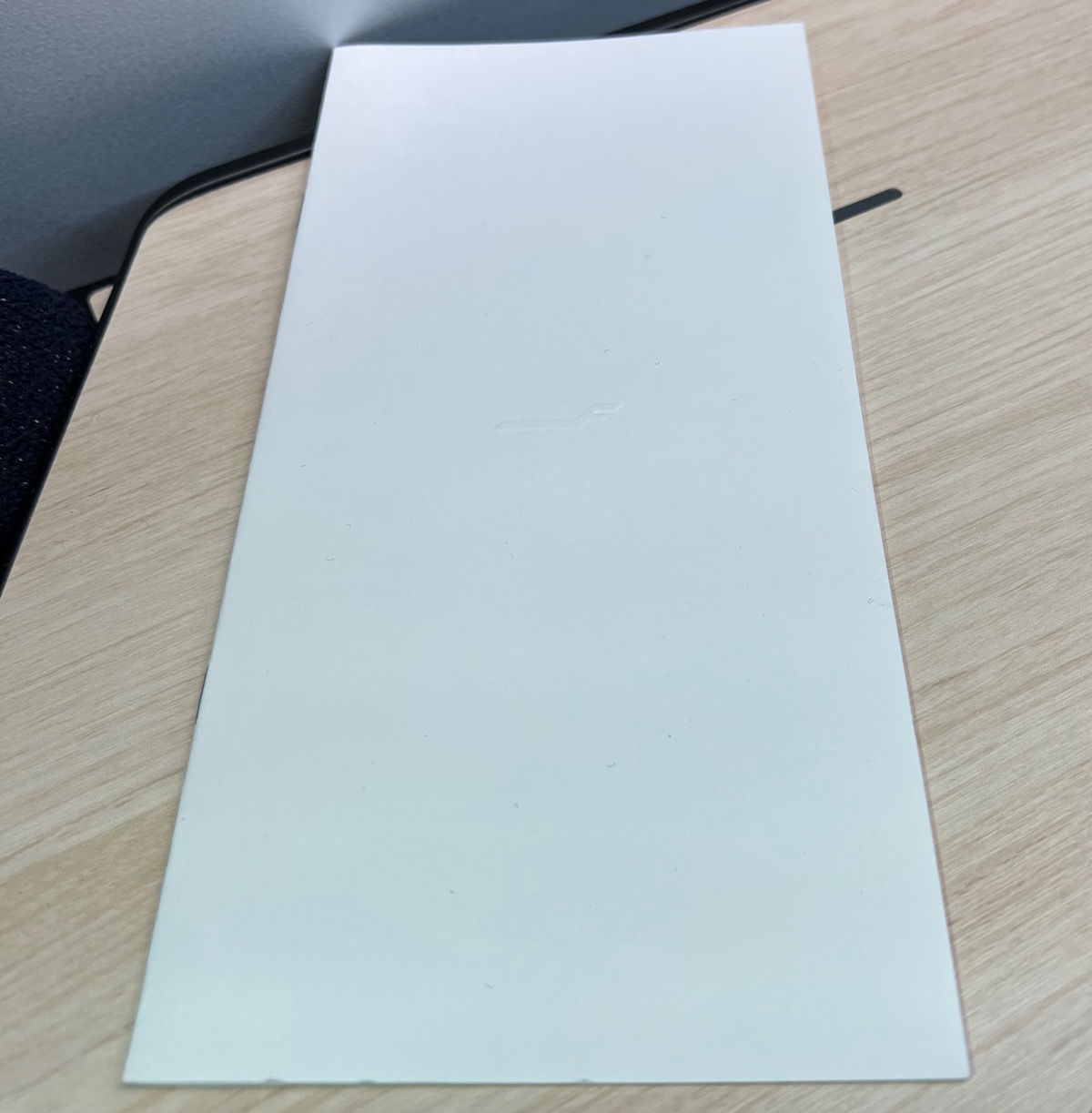 Finnair A330 departure from Stockholm
The boarding process was quite slow, and the main cabin door only closed at 3:20PM, about 30 minutes behind schedule. Economy and premium economy were full, while there were only three empty seats in business class.
At this point the captain added his welcome aboard, informing us of our flight time of 7hr50min. He also apologized for the delayed departure, and attributed it mostly to it being the summer of 2022.
At 3:25PM the cabin manager added her welcome aboard, and a few moments later the safety video was screened. Around the same time we began our pushback.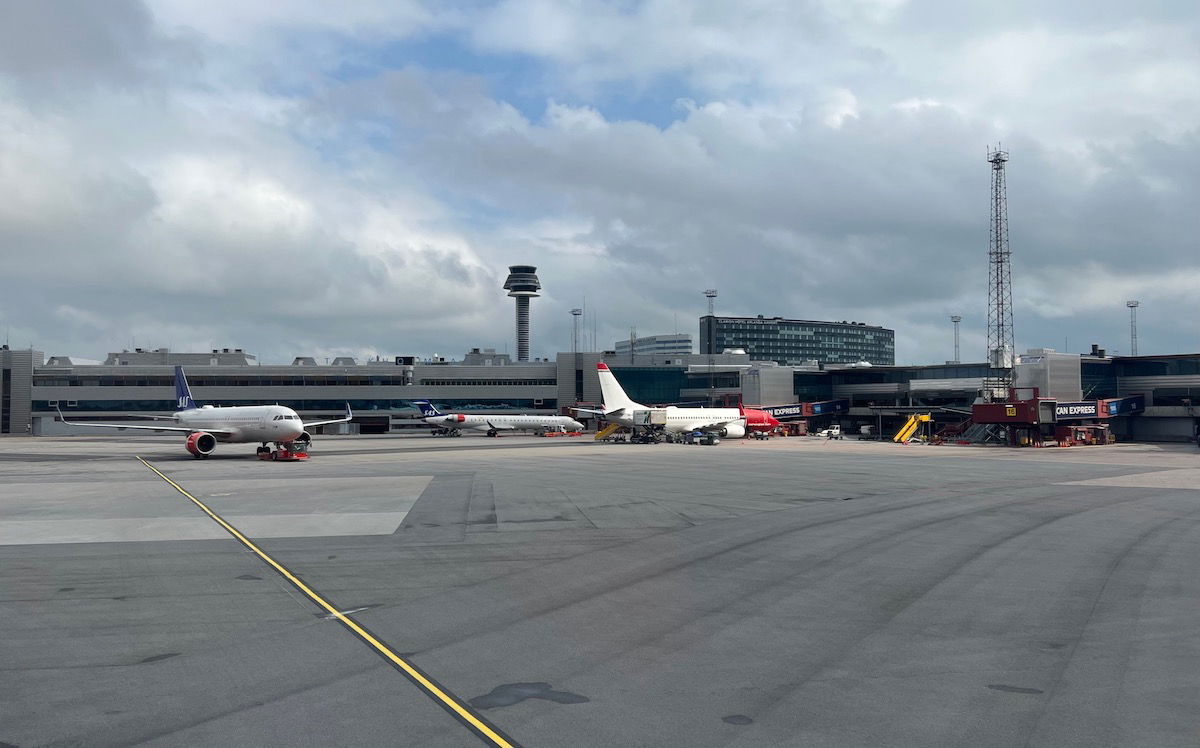 We had a fairly quick engine startup and taxi, and by 3:40PM we were cleared for takeoff on runway 19R. We had quite a long takeoff roll, and then a gradual climb out of Stockholm.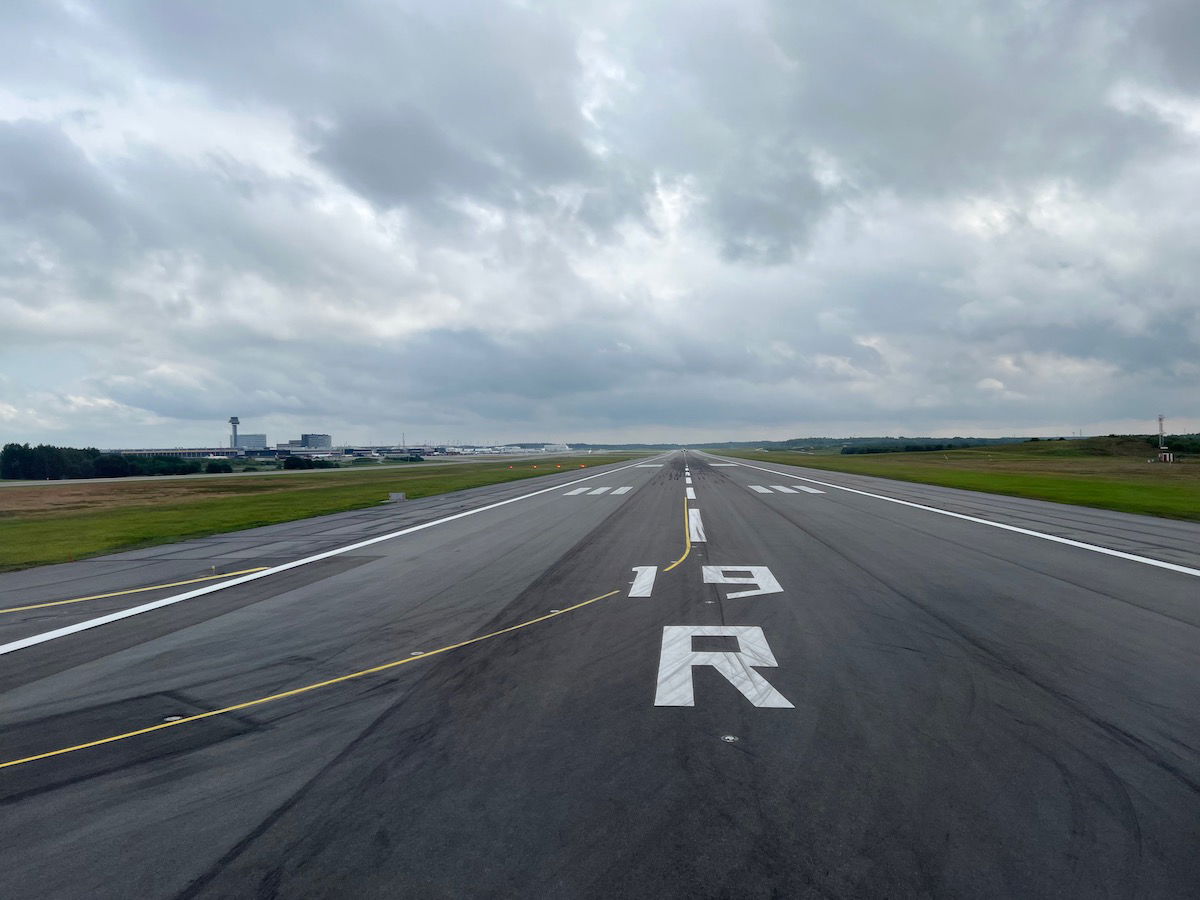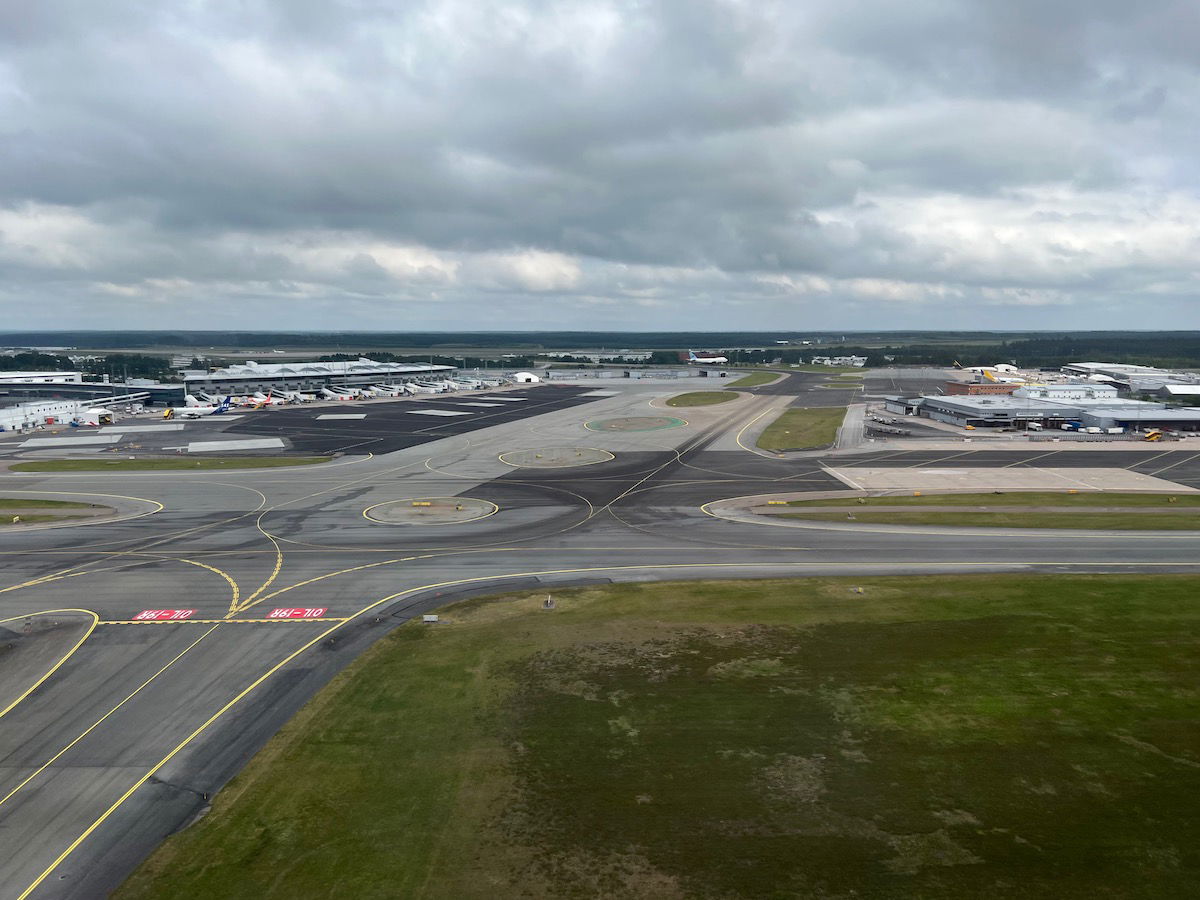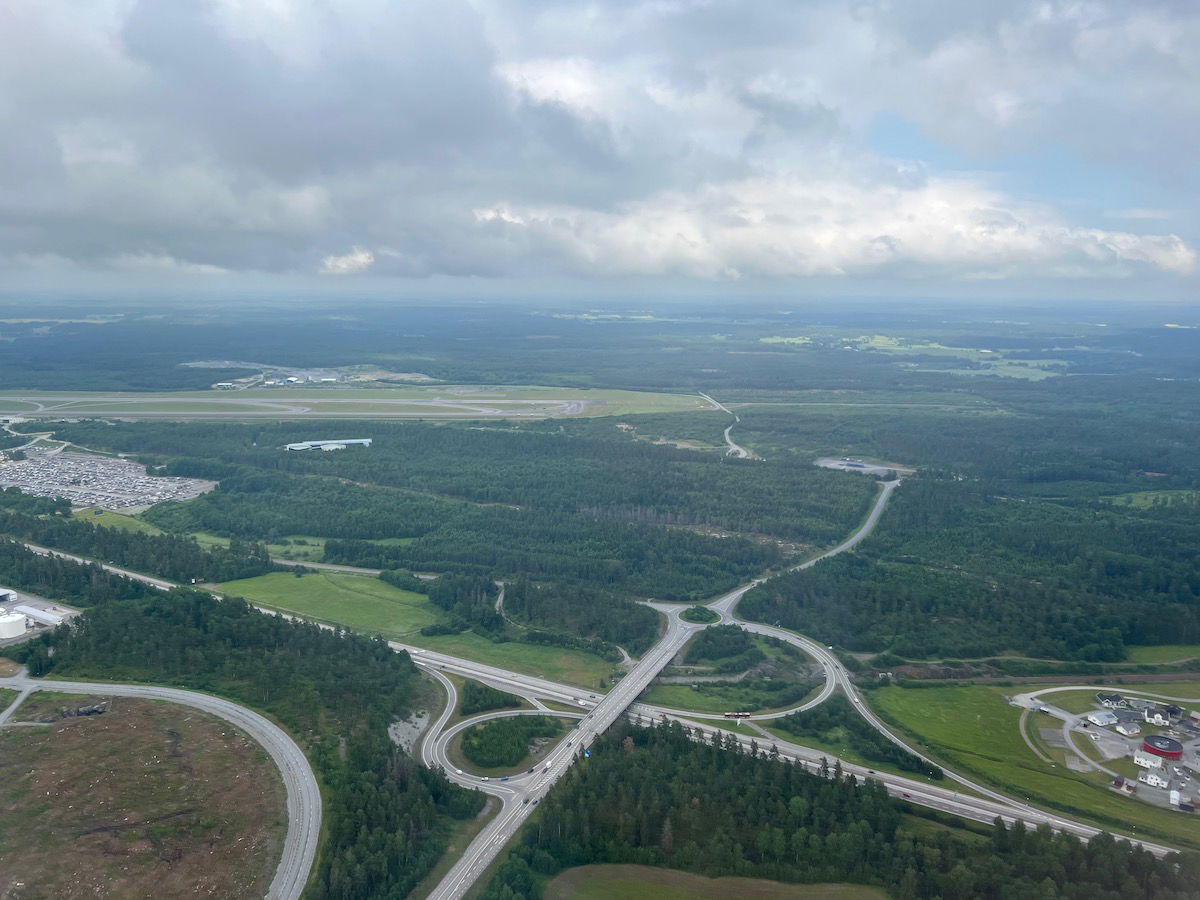 There were a few bumps on the initial climb out, but the ride smoothed out once above the clouds. The seatbelt sign was turned off about 15 minutes after takeoff.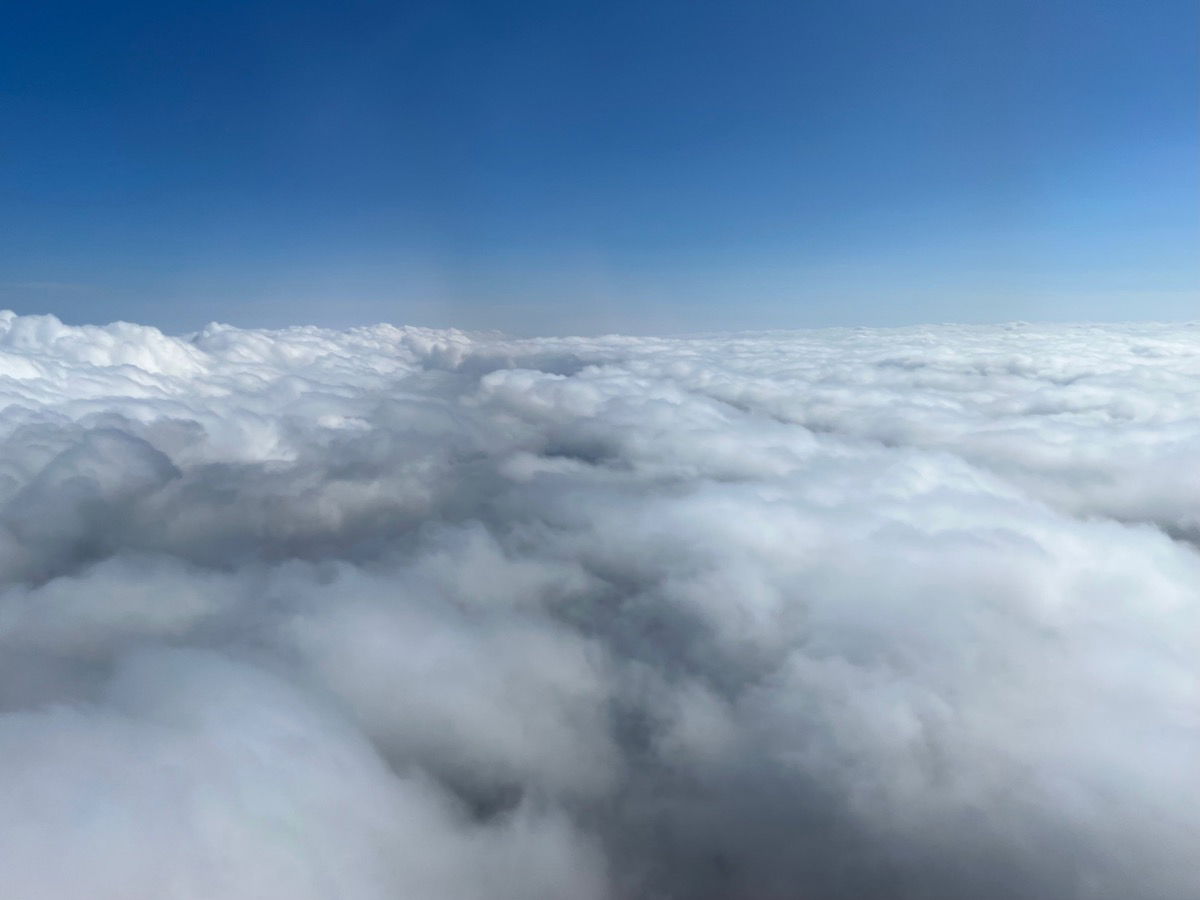 Finnair A330 business class entertainment & Wi-Fi
After takeoff I browsed Finnair's entertainment system. In general I was a fan of the system — it was highly responsive, and I liked that it could be controlled by touch or using the controller. I also liked how the home screen gave a timeline of the flight, when passengers can expect meals, etc.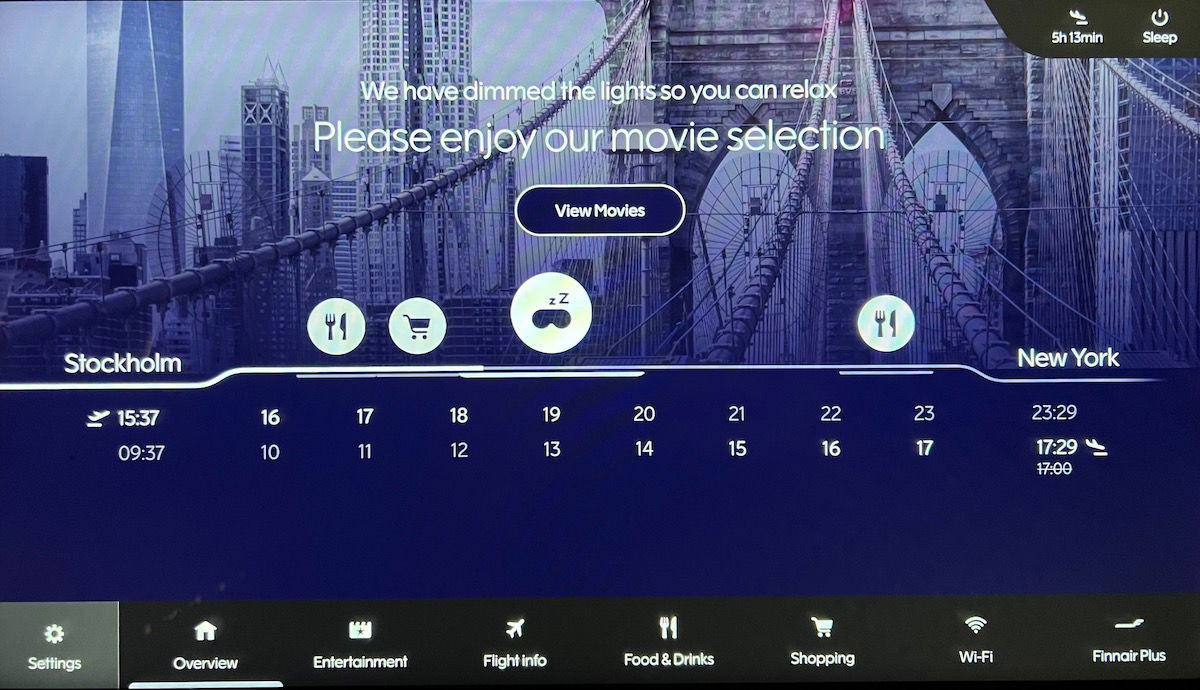 The entertainment selection as such was just okay. The number of movies and TV shows was in the dozens rather than in the hundreds, so this was a far cry from Emirates' ICE system.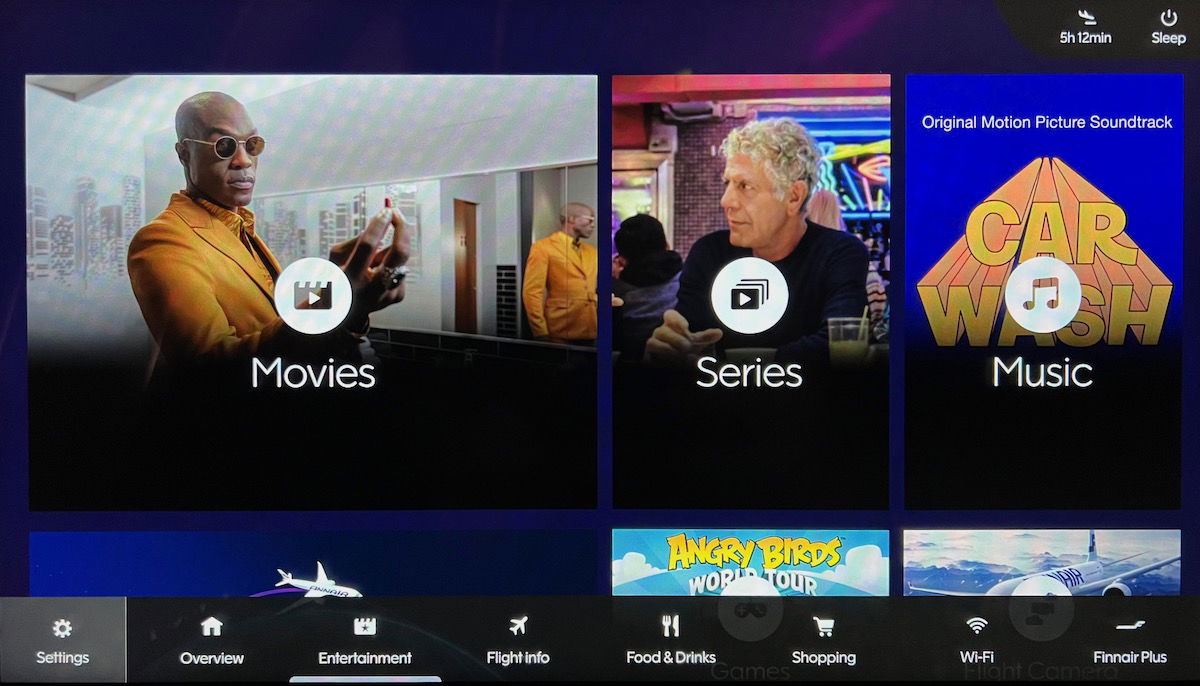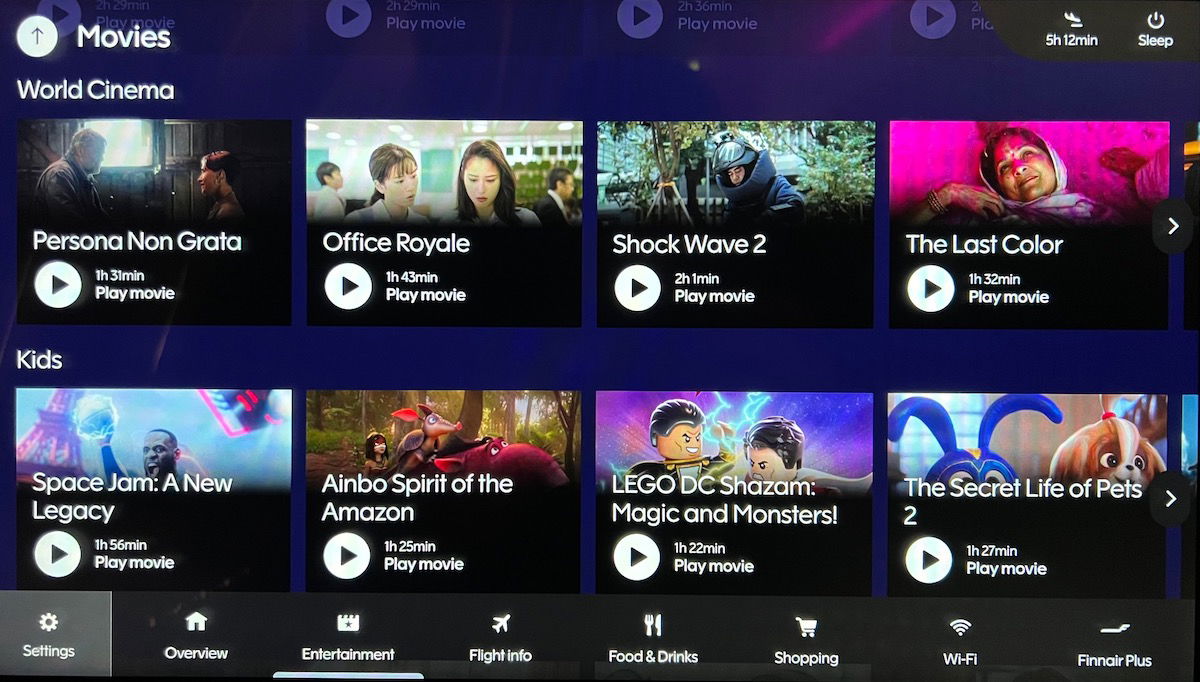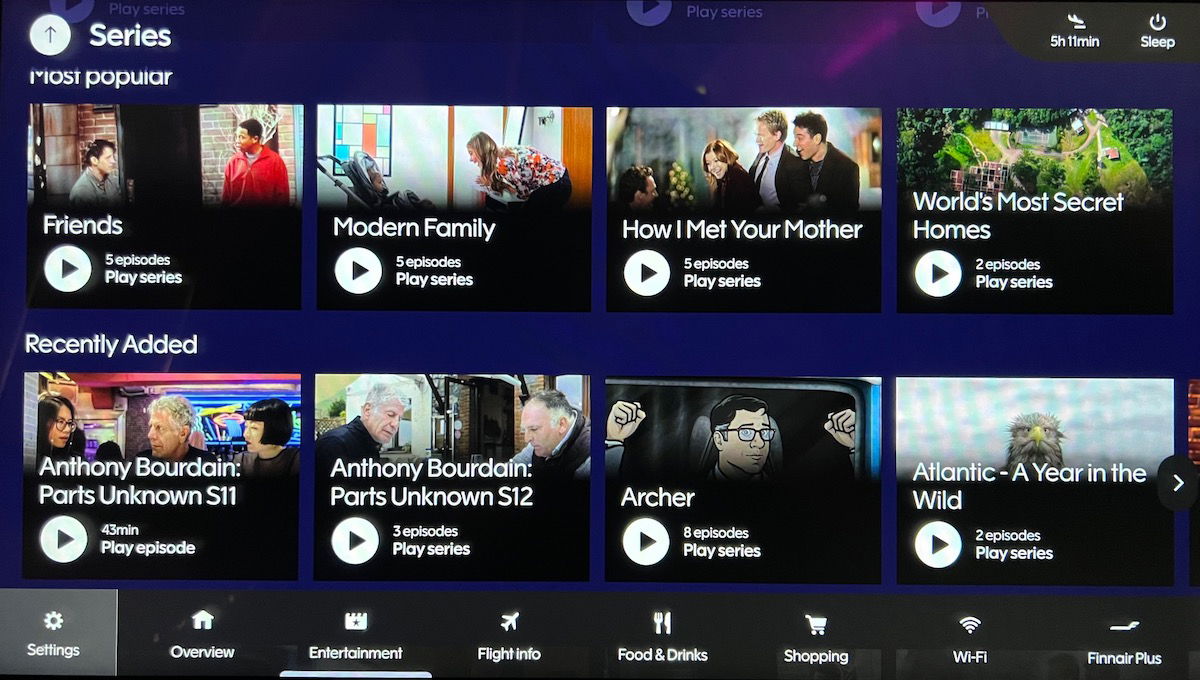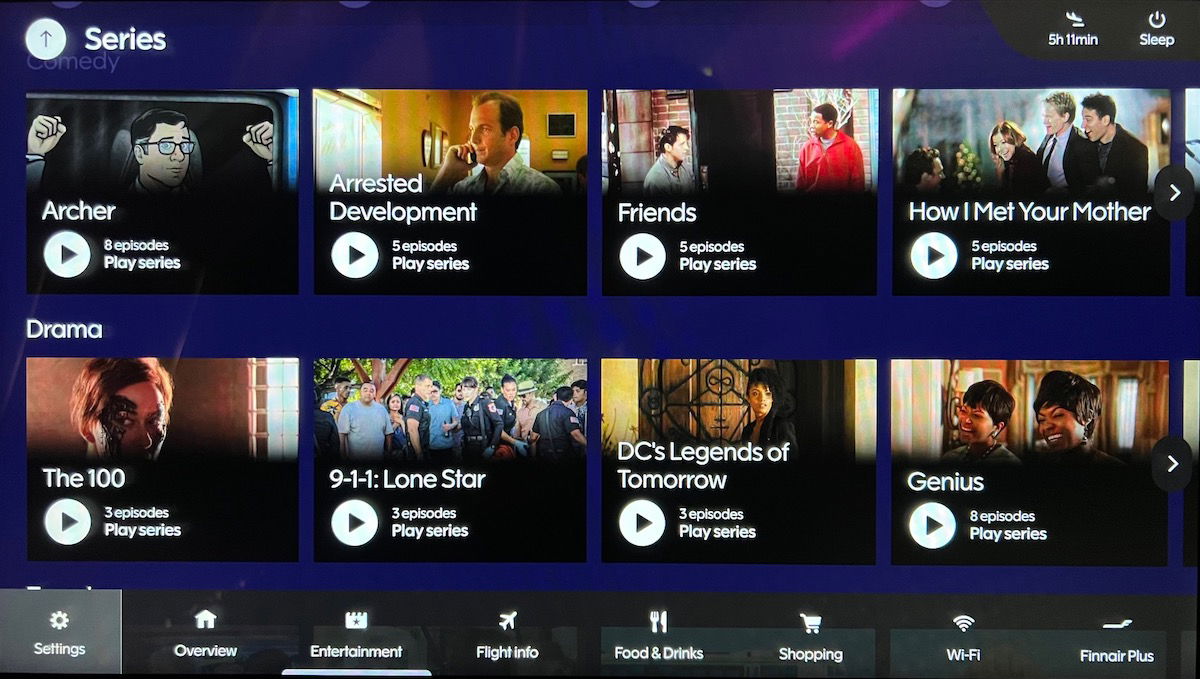 I loved Finnair's map feature, as you could zoom in and out as you pleased, rather than just being able to select from a limited number of views.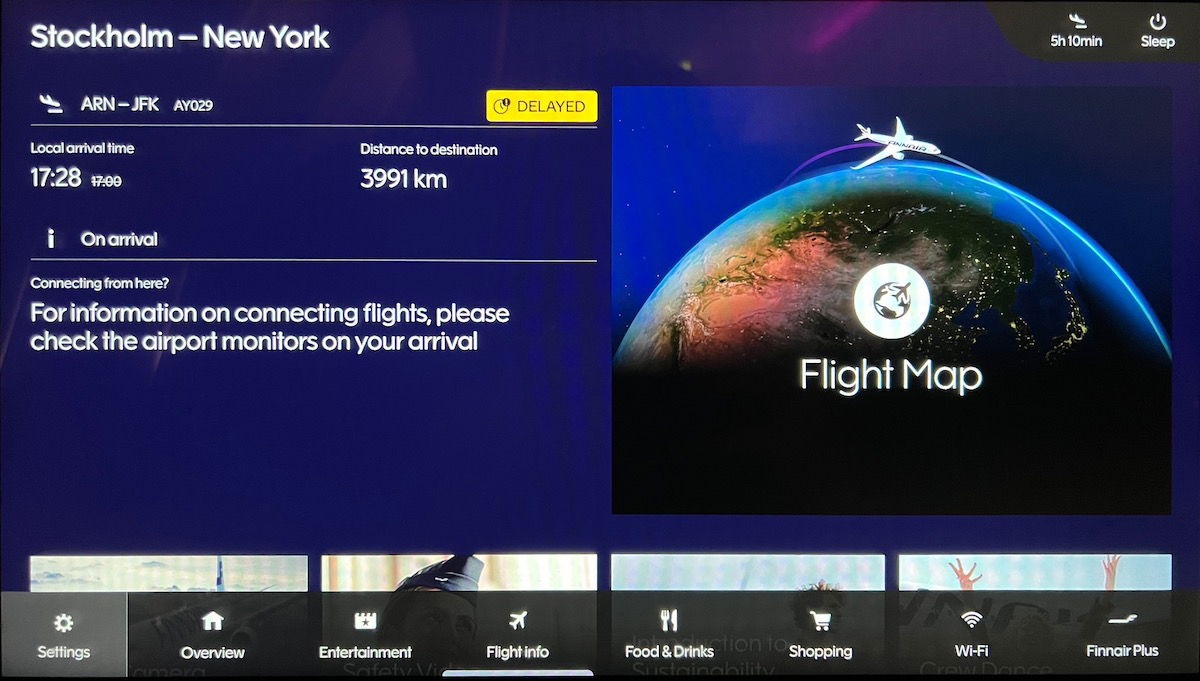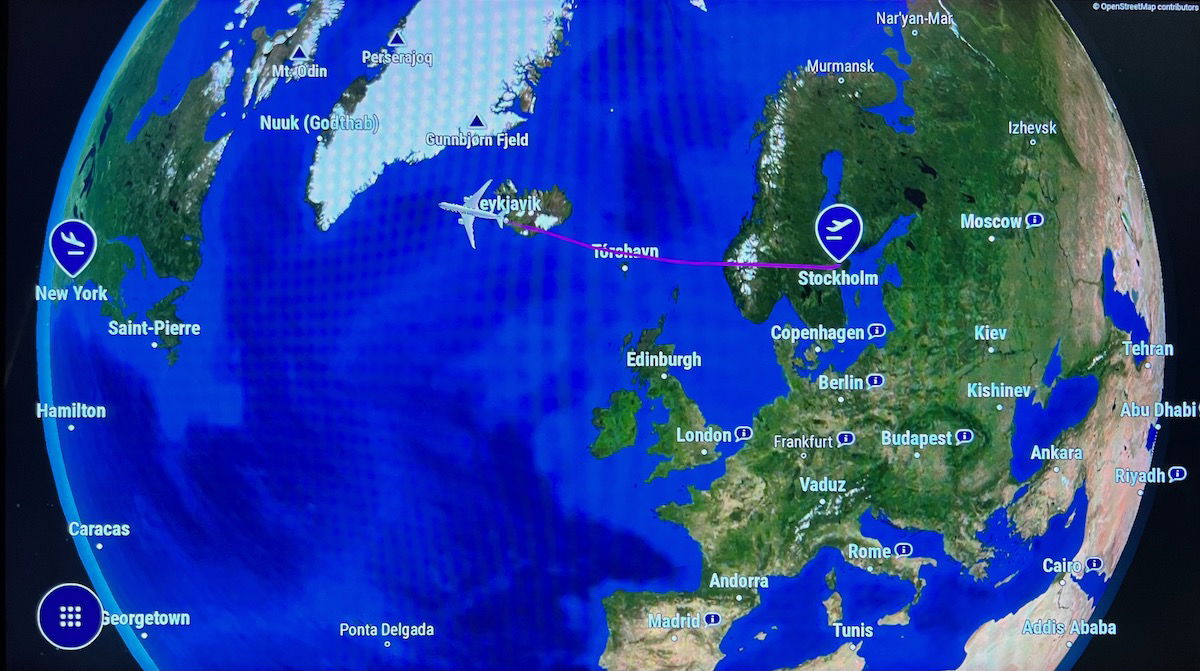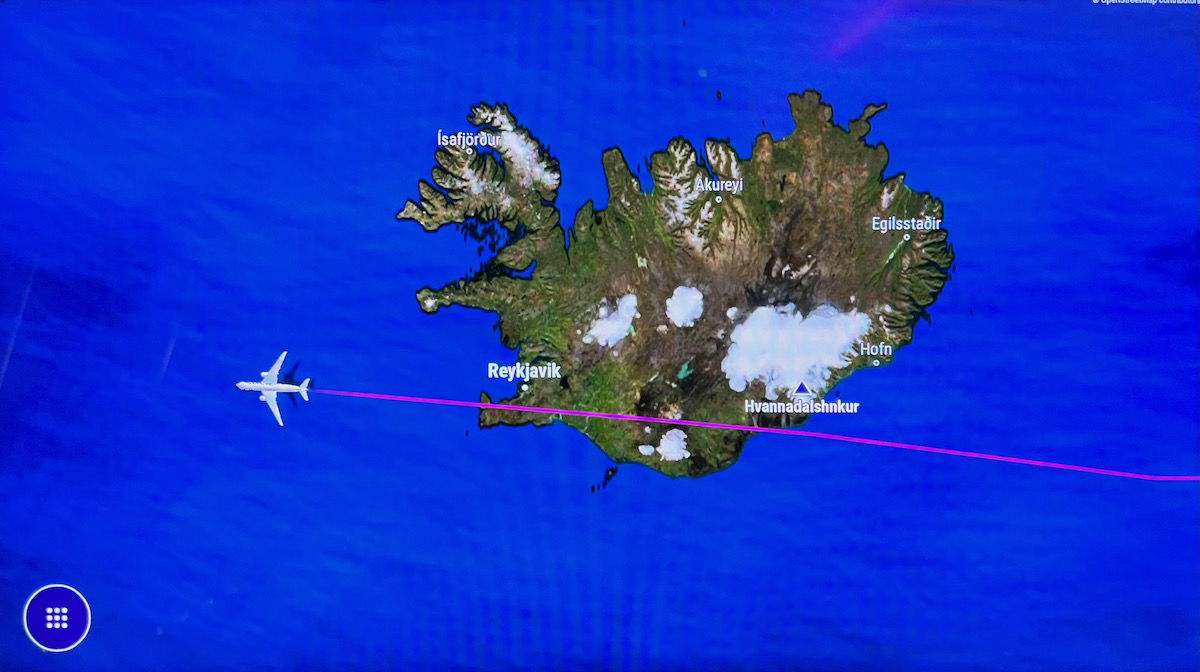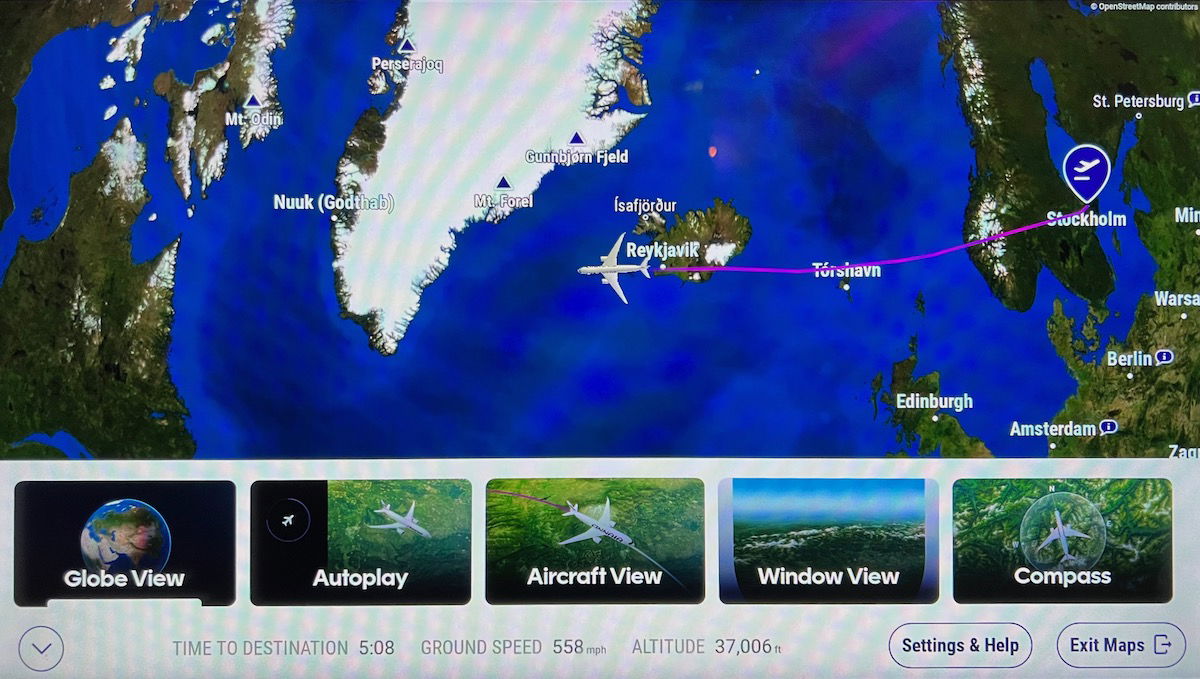 Finnair's A330s also have a nose camera, though that's of limited use aside from takeoff and landing. Unlike Finnair's A350s, there's no tail camera (which is a much cooler feature, in my opinion).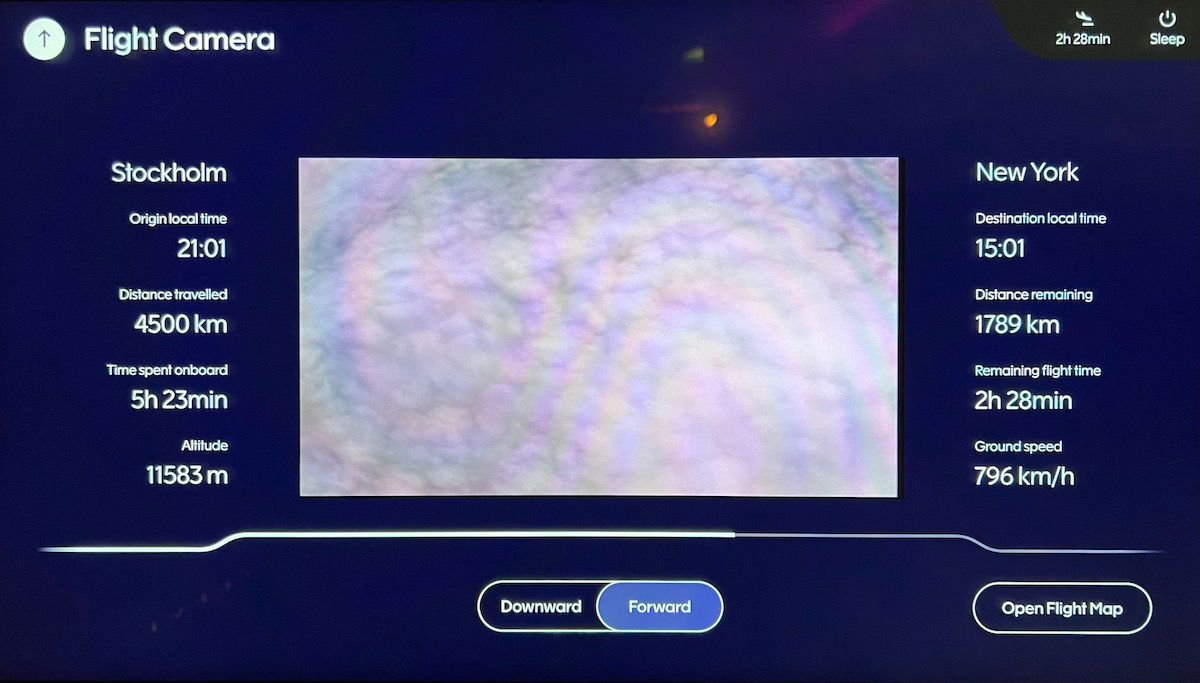 Finnair's A330s also have Wi-Fi, which arguably is the much more exciting entertainment feature. I found the W-Fi to work well, and I also found it interesting how the system listed how many people were currently connected.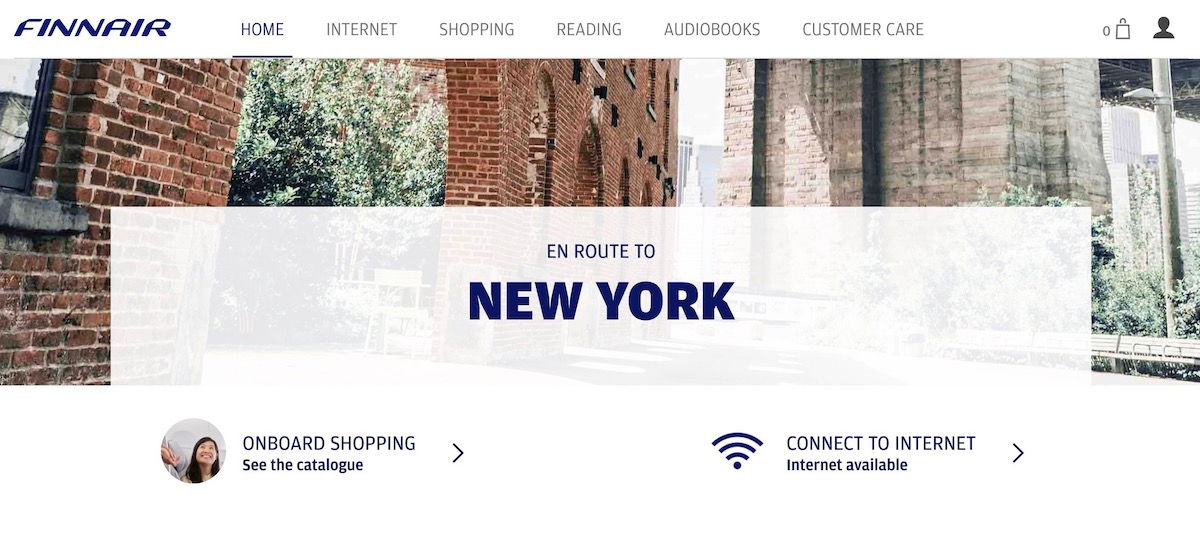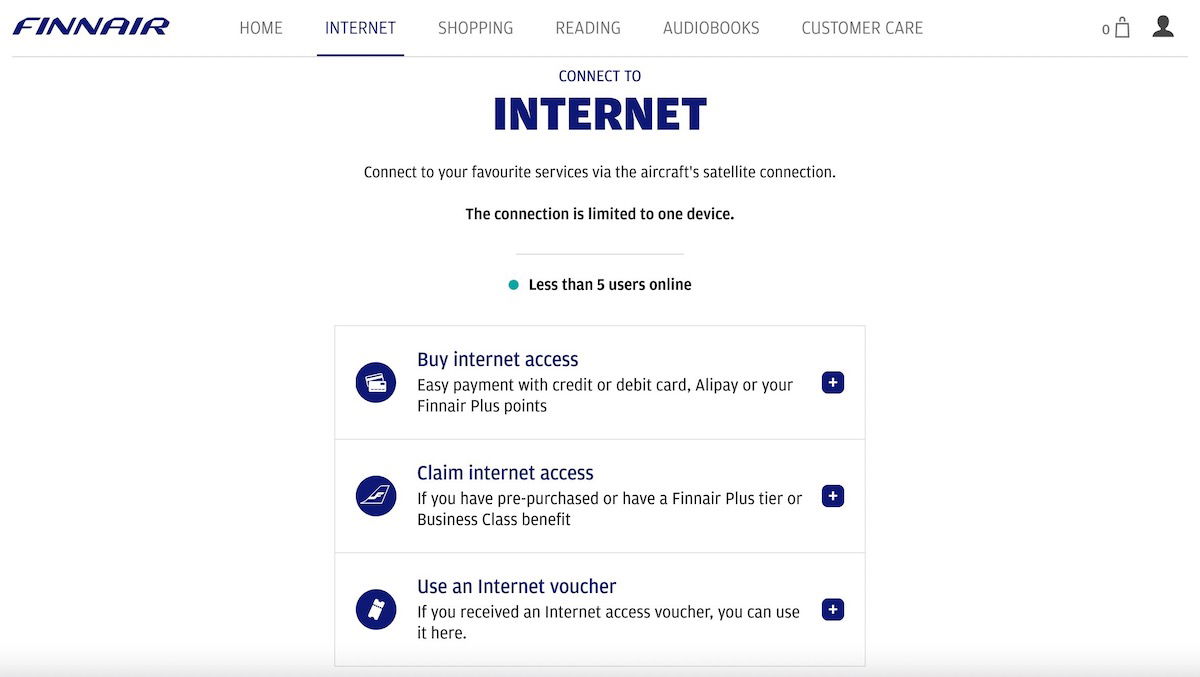 As far as pricing options go, there were three Wi-Fi plans:
You could buy one hour of Wi-Fi for 7.95 Euro
You could buy three hours of Wi-Fi for 14.95 Euro
You could buy Wi-Fi for the entire flight for 24.95 Euro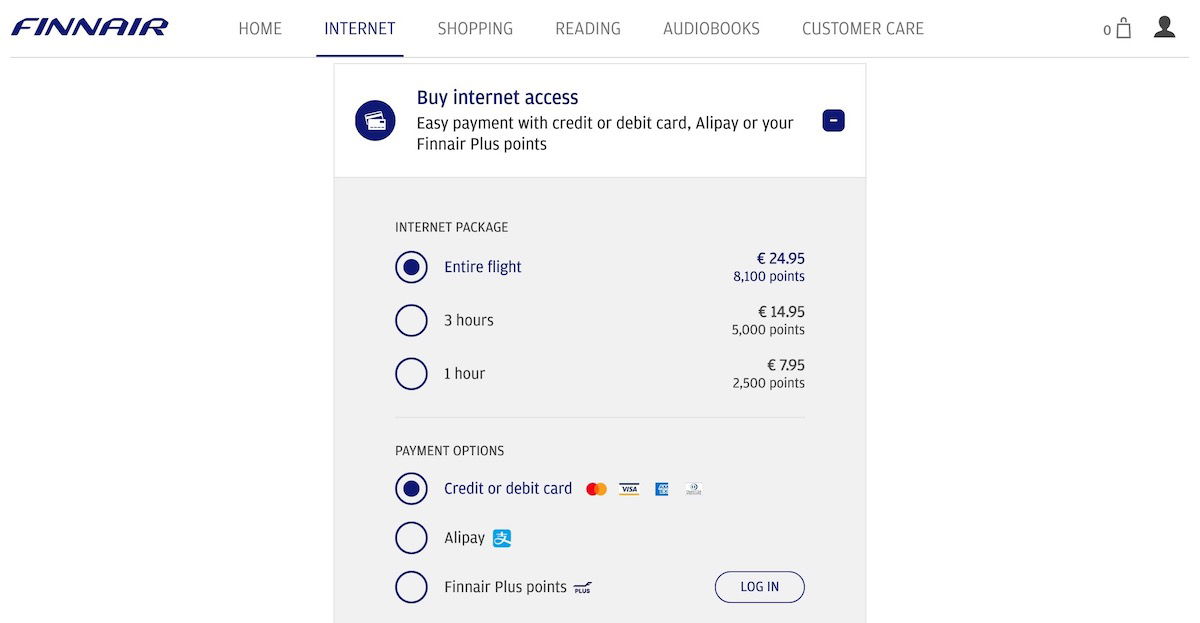 I'd say 24.95 Euro is slightly on the steep side for Wi-Fi, but ultimately not unreasonable for the ability to stay connected during a daytime flight with no data caps. I purchased that plan, and it allowed me to get a lot done while enroute to New York.
Note that Finnair business class passengers also receive one hour of free Wi-Fi during the flight, by entering their last name and seat number. That was of limited use to me, since I valued having Wi-Fi for the entire flight.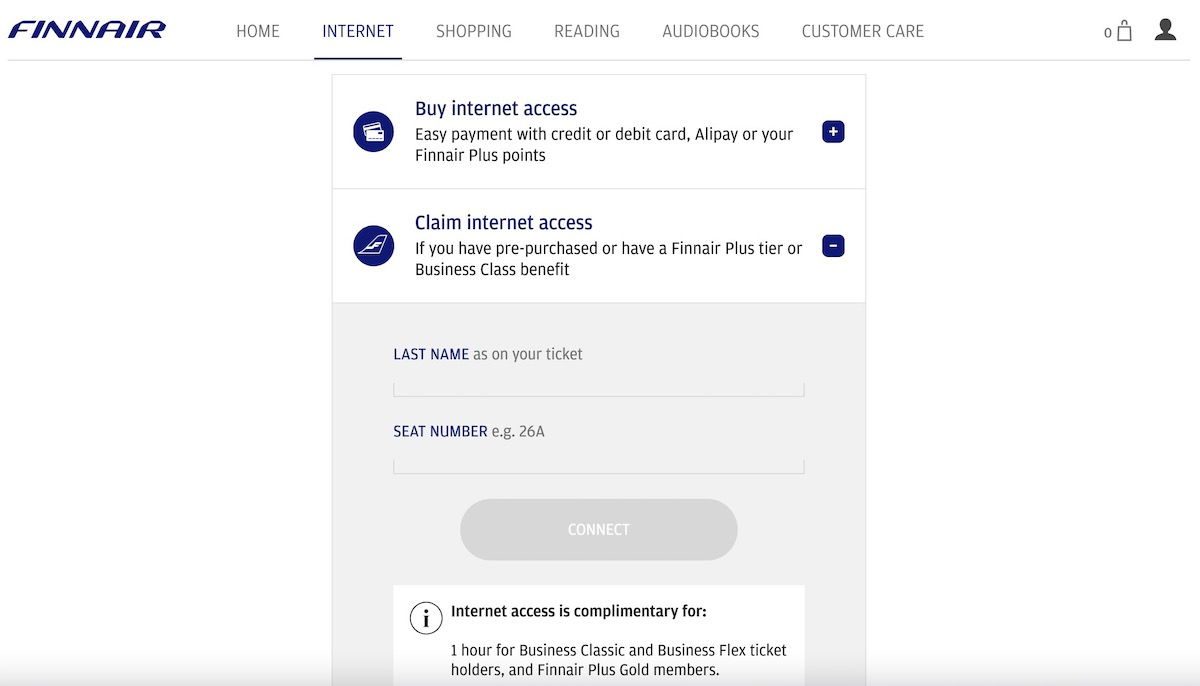 Finnair business class lunch service
On this Finnair flight, lunch was served after takeoff, and then a snack was served before landing. You can find the Finnair business class menu below.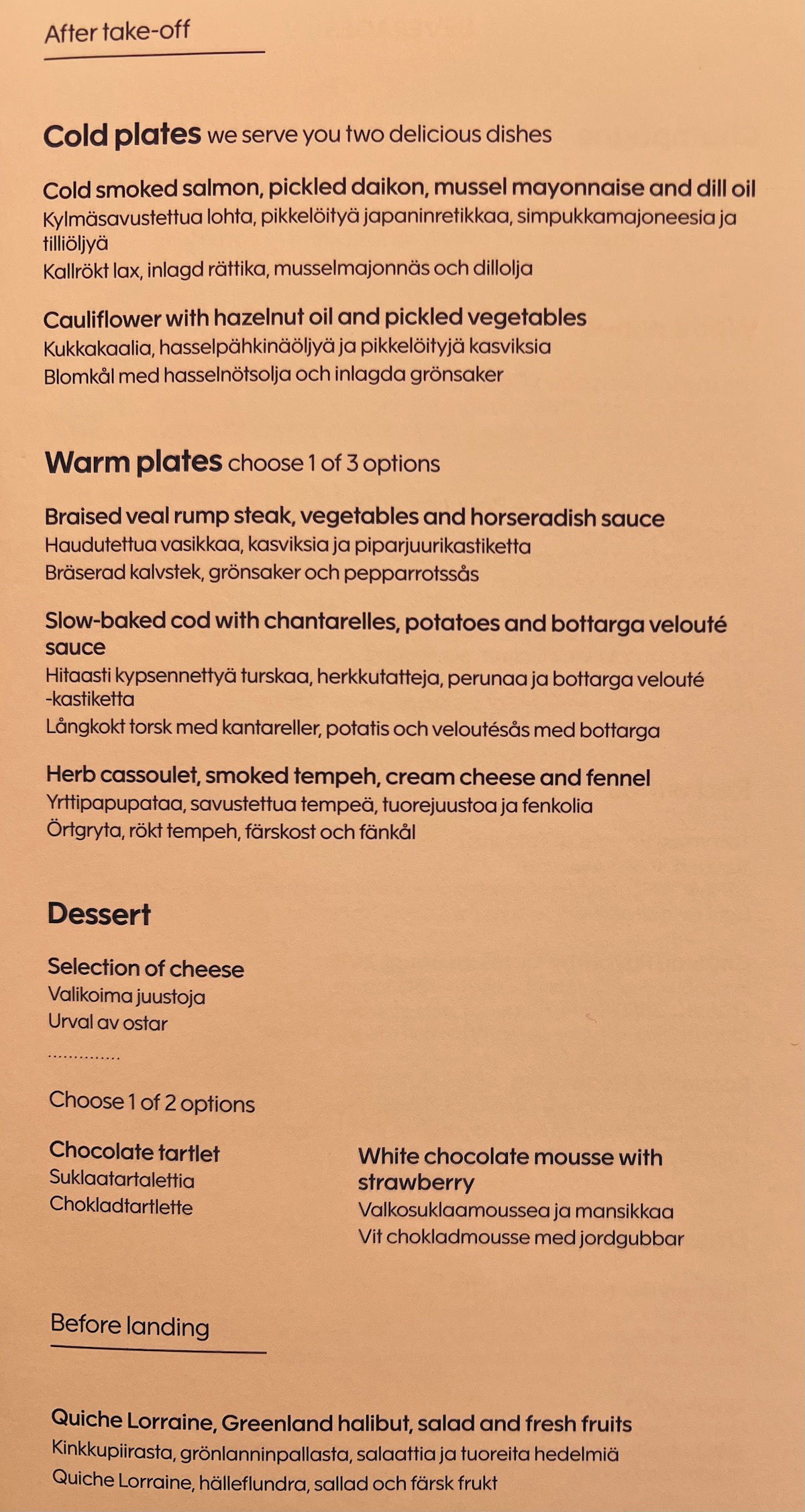 You can find the Finnair business class drink list below.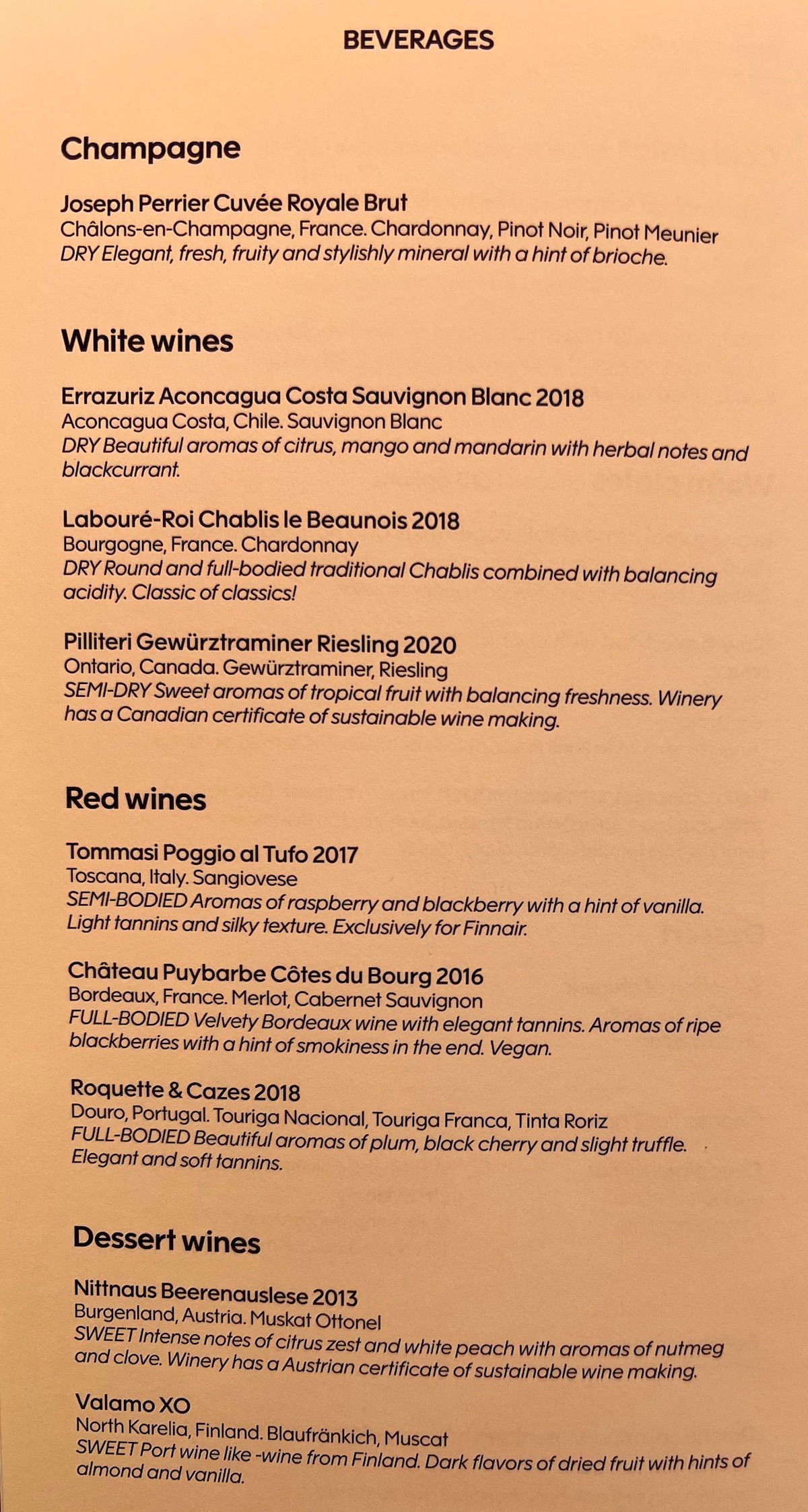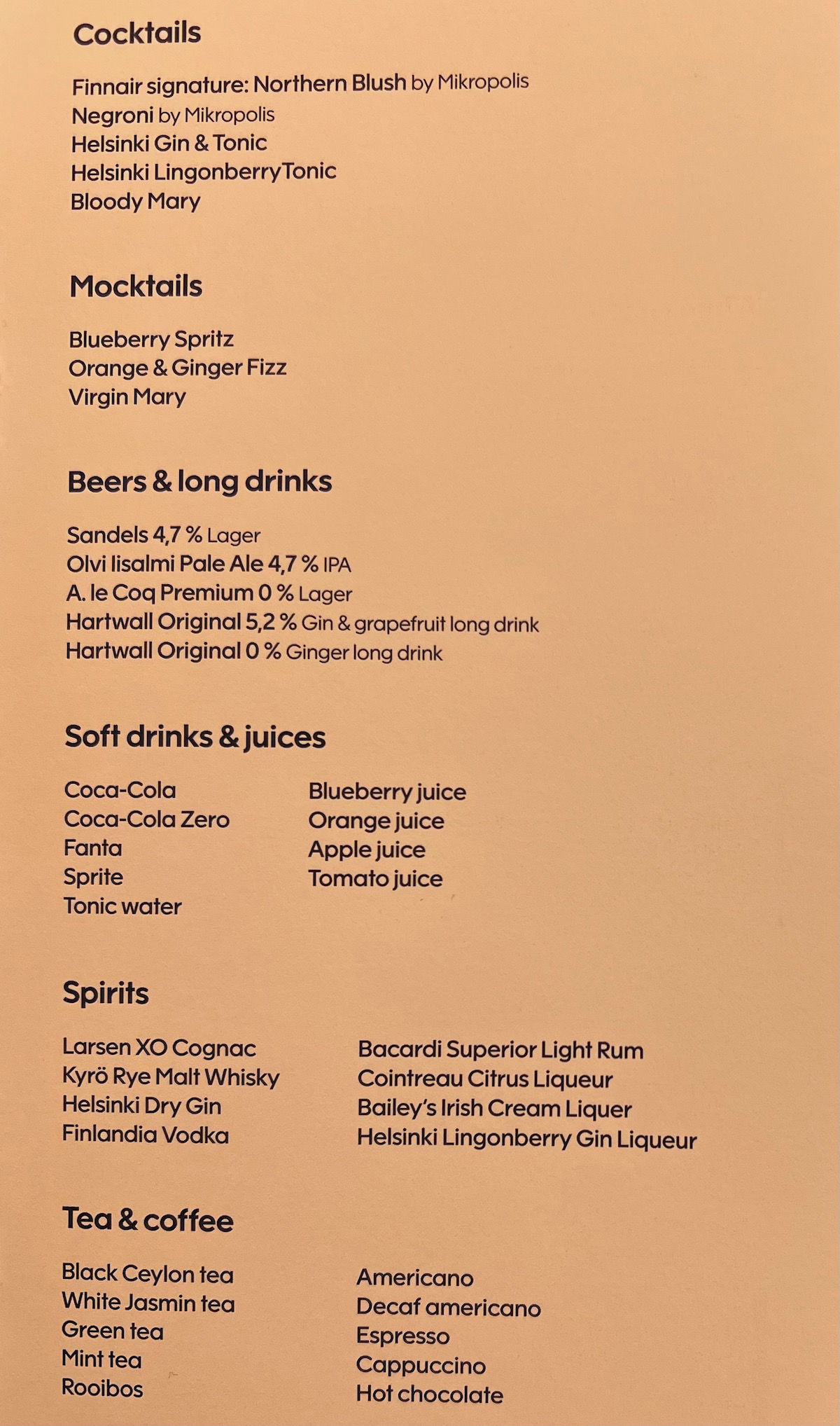 Warm towels were distributed just 25 minutes after takeoff. I figured that was a good sign, and that drinks would soon follow. Unfortunately that was just wishful thinking.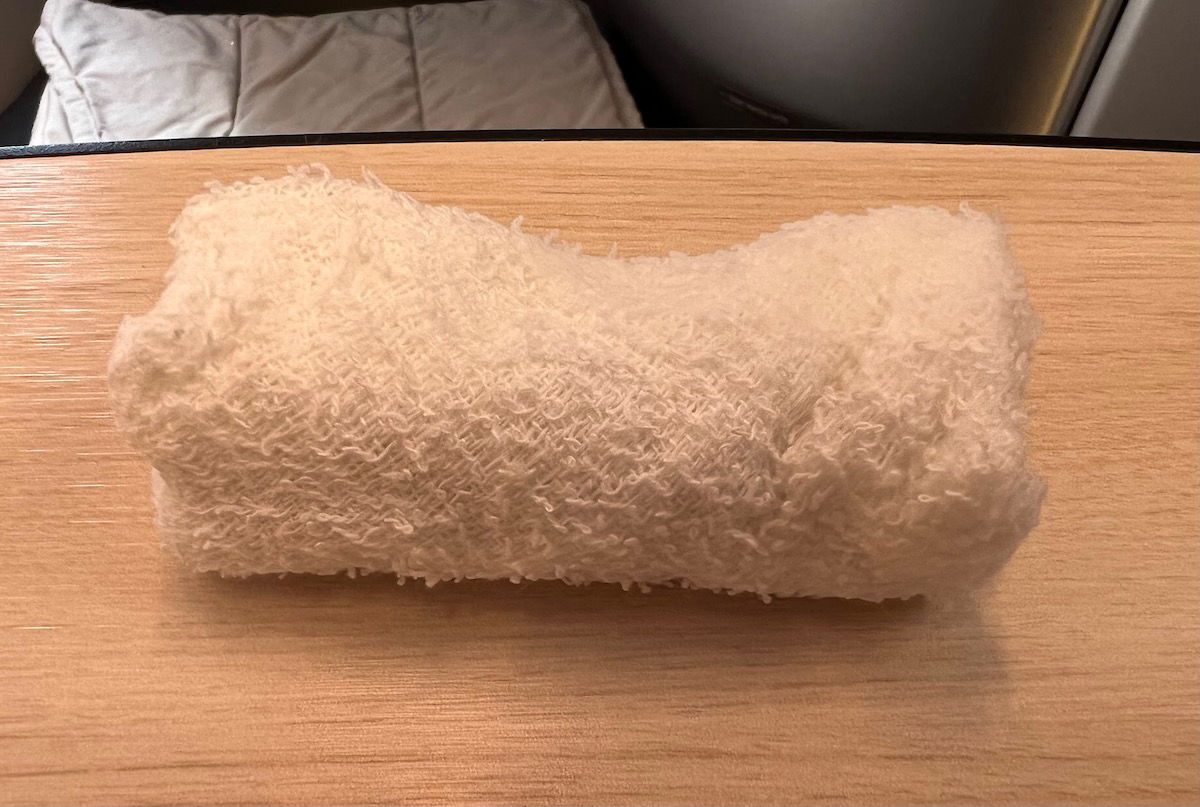 45 minutes after takeoff drink orders and main course orders were taken. The first round of drinks ended up being served only 75 minutes after takeoff. I ordered the Chilean sauvignon blanc and a glass of water (I love the glassware!), and they were served with room temperature nuts in a plastic ramekin.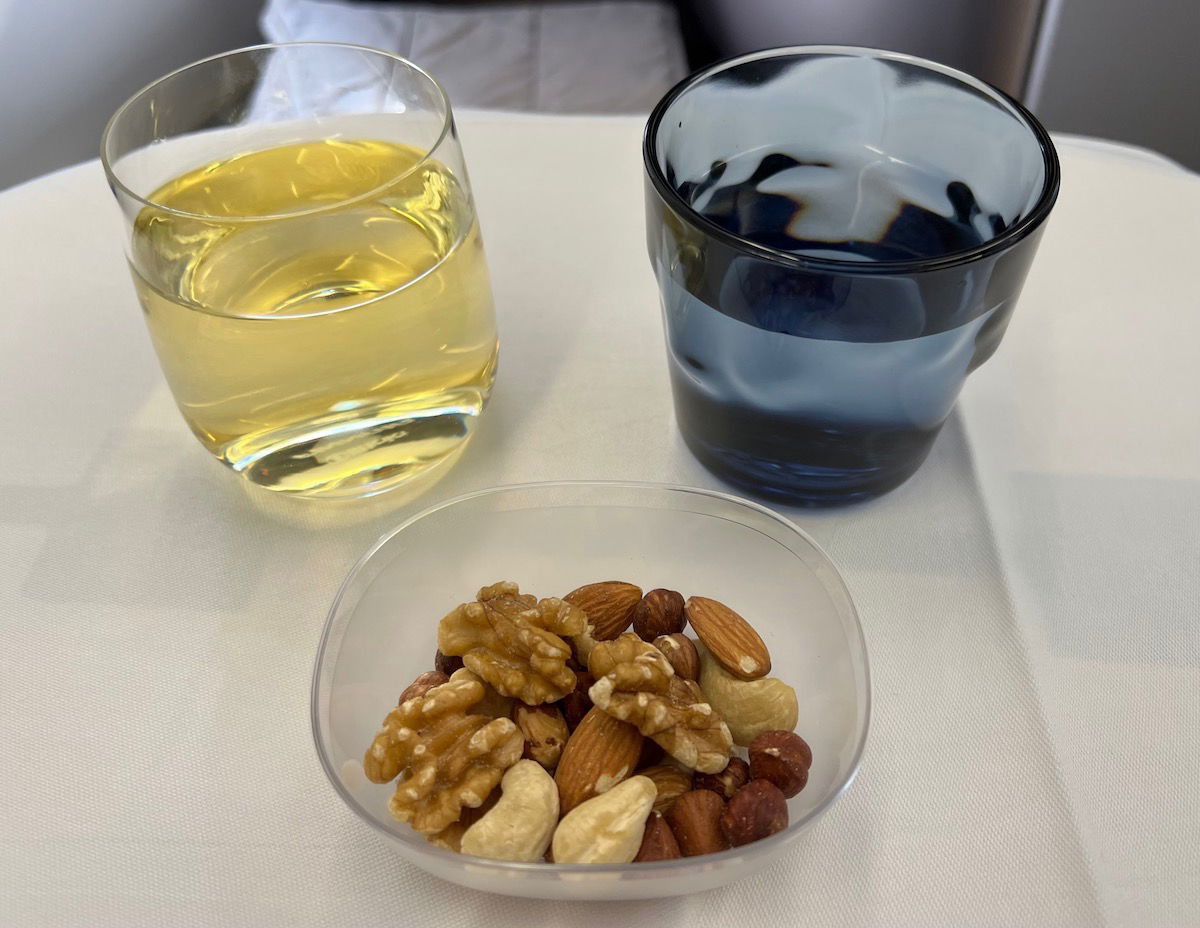 I know this sounds minor in the grand scheme of things, but I tend to think that the pace at which a crew can get out the first drink after takeoff sets the tone for service in the air. Some airlines manage to serve drinks within 30 minutes of takeoff, while 1hr15min is a really long time to wait to have a drink, in my opinion.
Unfortunately the pace of service didn't get much better from there. It was a full 1hr45min after takeoff before the meal was served, and then the entire thing was served on one tray. Really, the airline can't even do a coursed meal on a daytime transatlantic flight?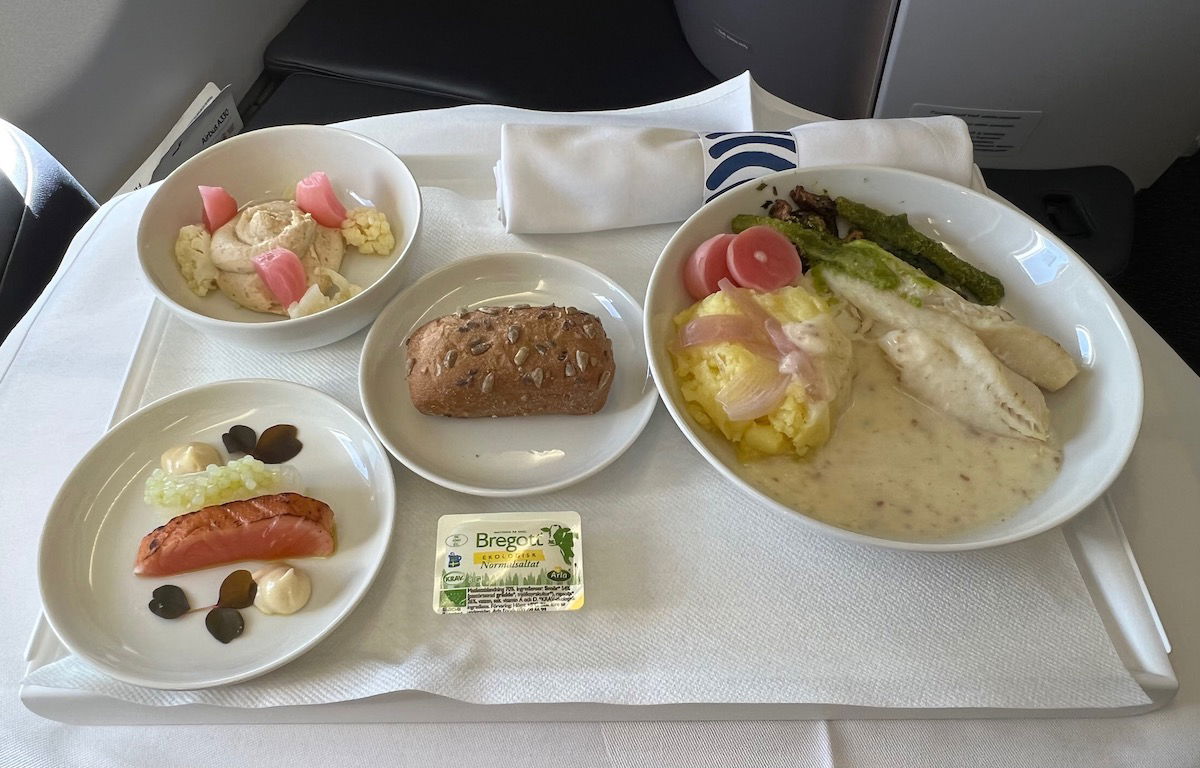 The meal came with two appetizers. The first was cold smoked salmon, pickled daikon, mussel mayonnaise, and dill oil.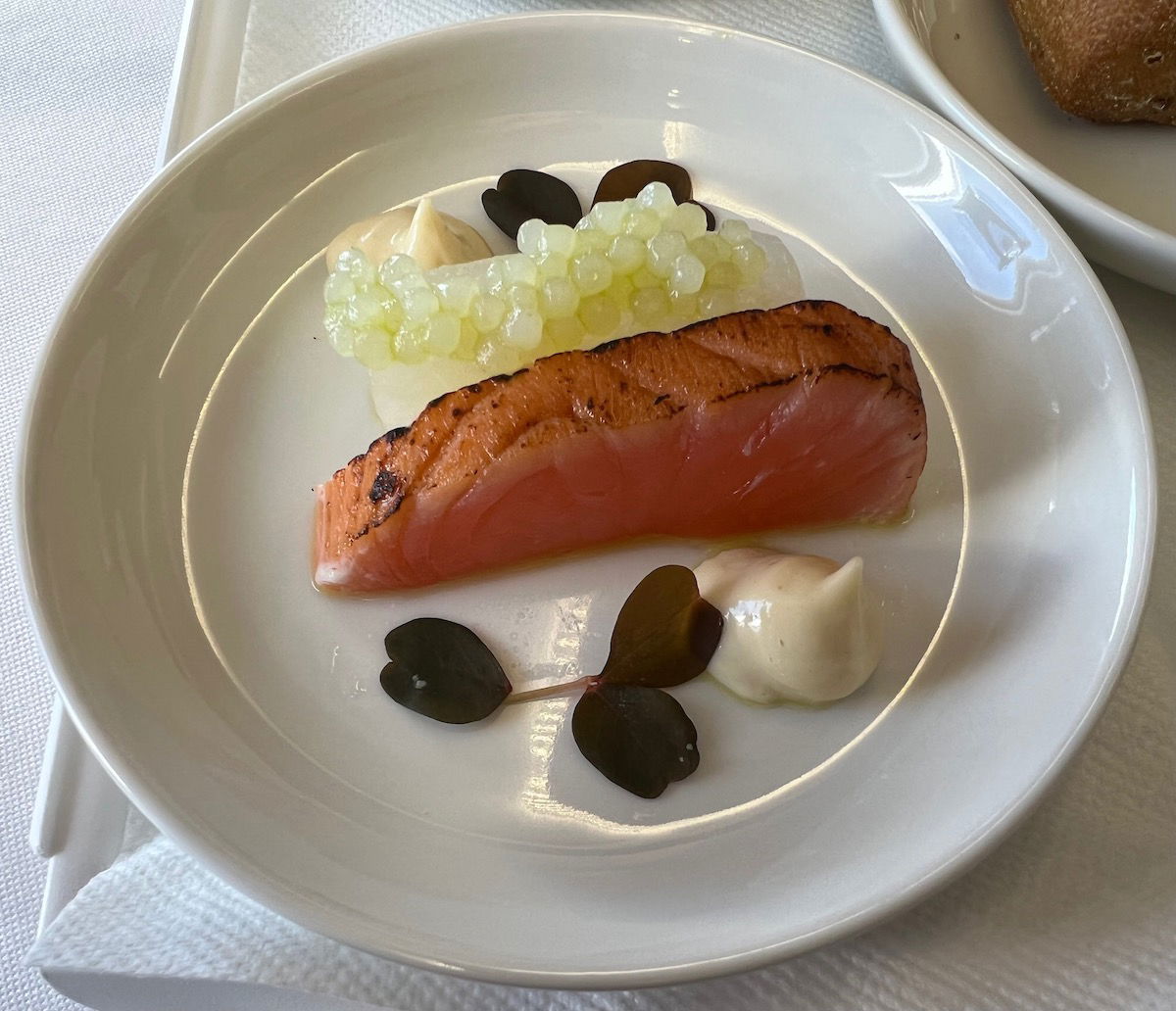 The second appetizer was cauliflower with hazelnut oil and pickled vegetables.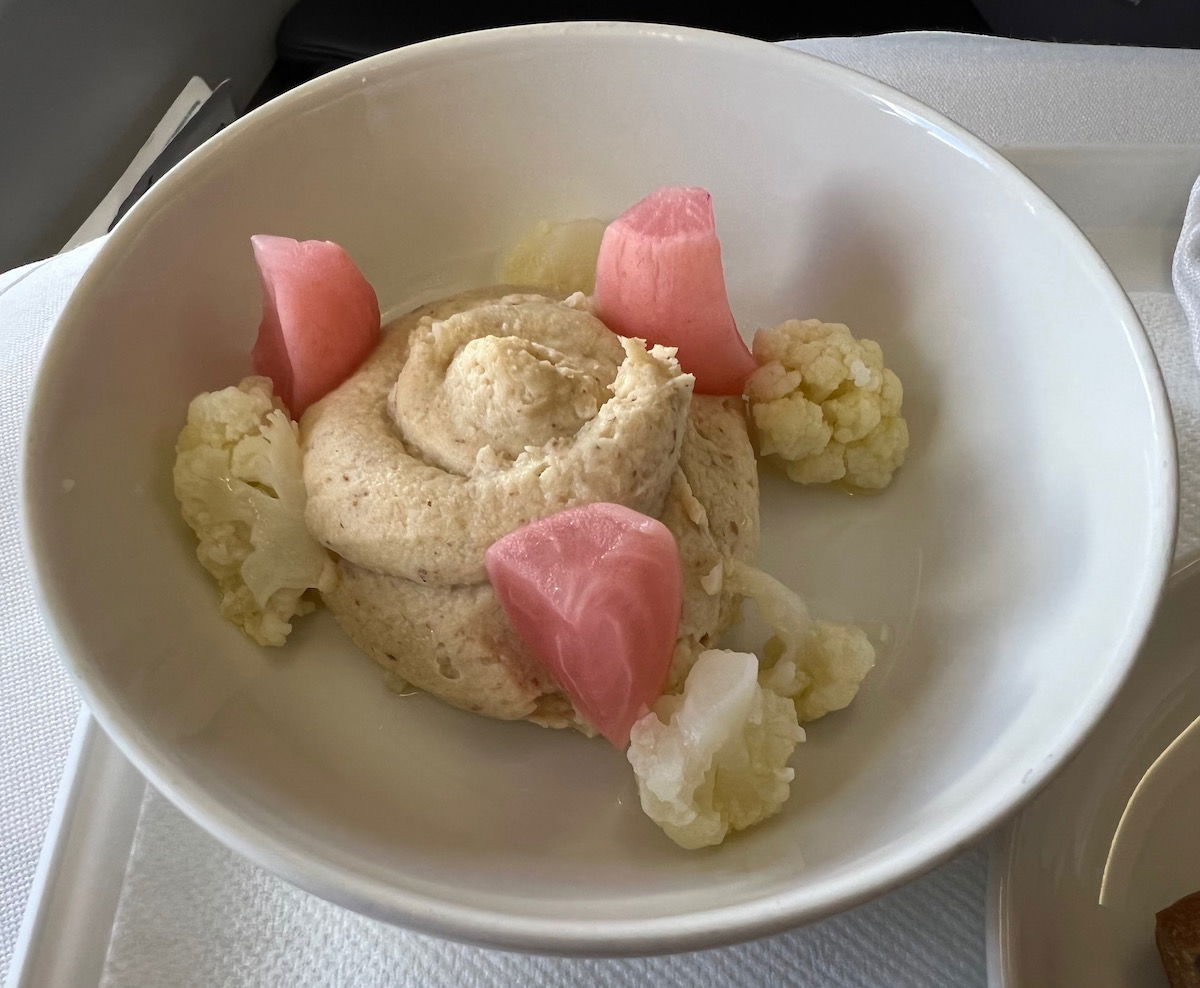 For the main course, I selected the slow-baked cod with chanterelles, potatoes, and bottarga velouté sauce.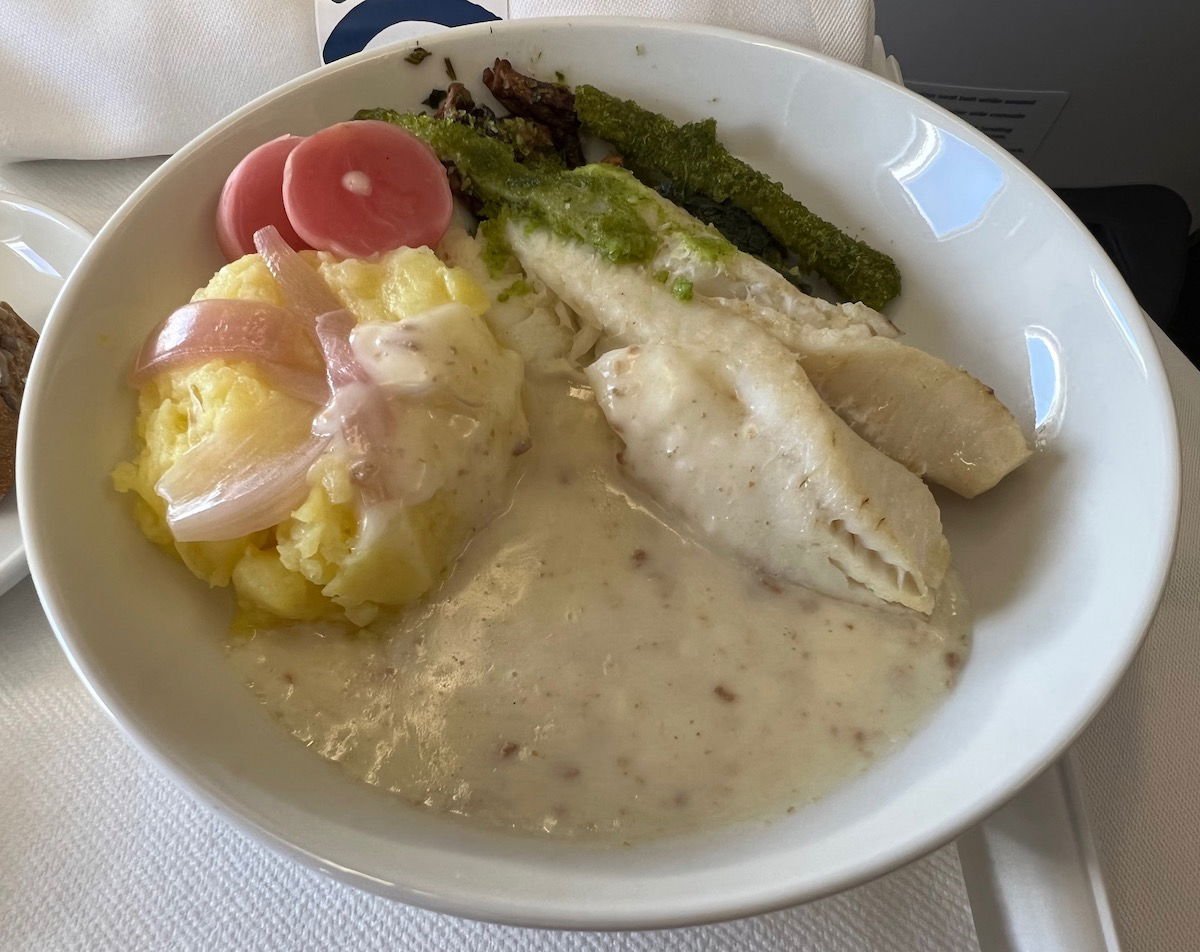 There was also a bread roll, though it was stale and room temperature — you'd think they could at least heat bread.
About 2hr15min after takeoff my tray and tablecloth were cleared. I was a bit confused about why the tablecloth was being cleared, since dessert hadn't yet been served.
Several minutes later the crew carried a tray through the cabin with the choice of a chocolate tartlet and a white chocolate mousse with strawberry. Both desserts were tiny (especially the chocolate tartlet), though I chose the other option.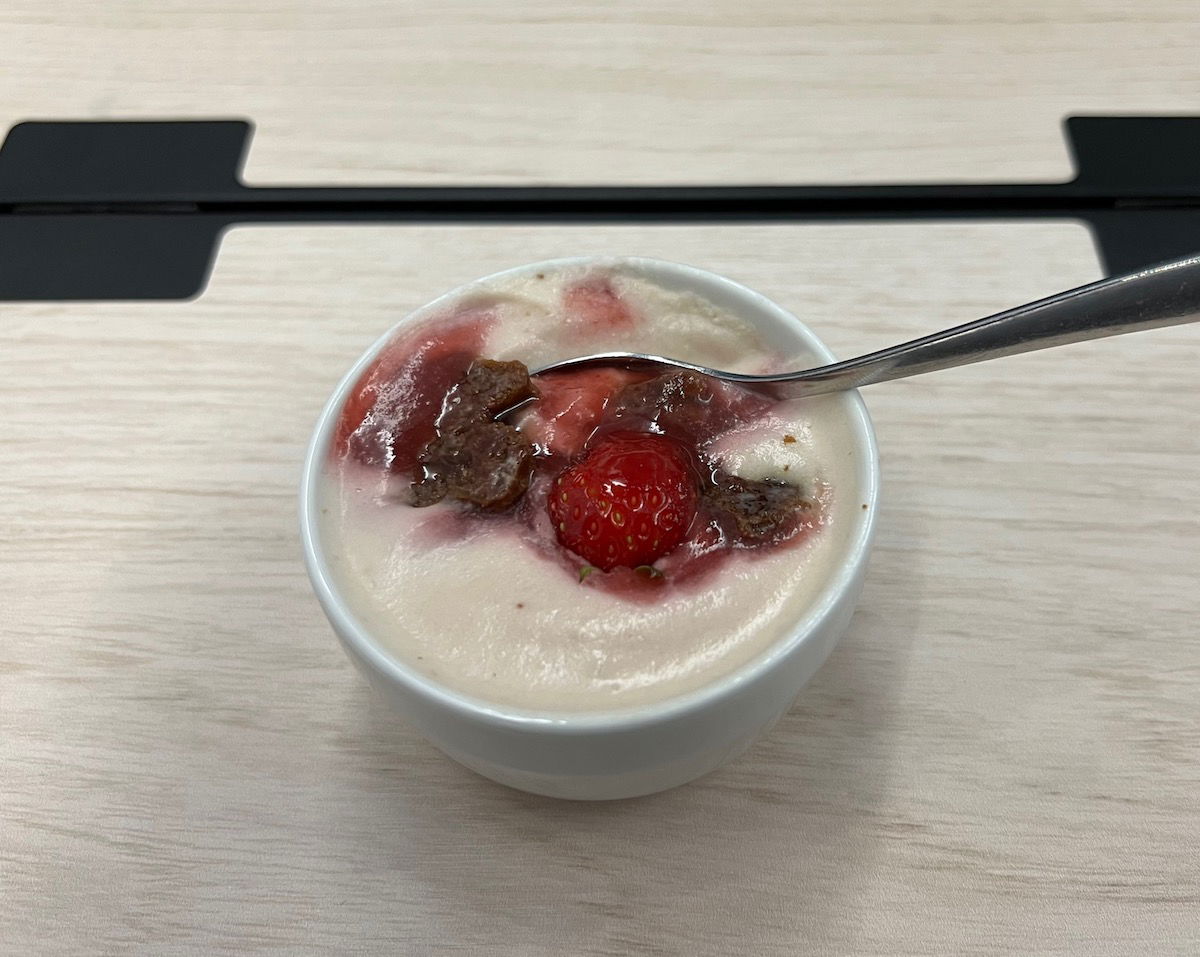 While the menu listed a cheese plate, the crew never passed through the cabin with these (as far as I could tell), so I asked about having one. They gladly brought me one, and it was also pretty basic.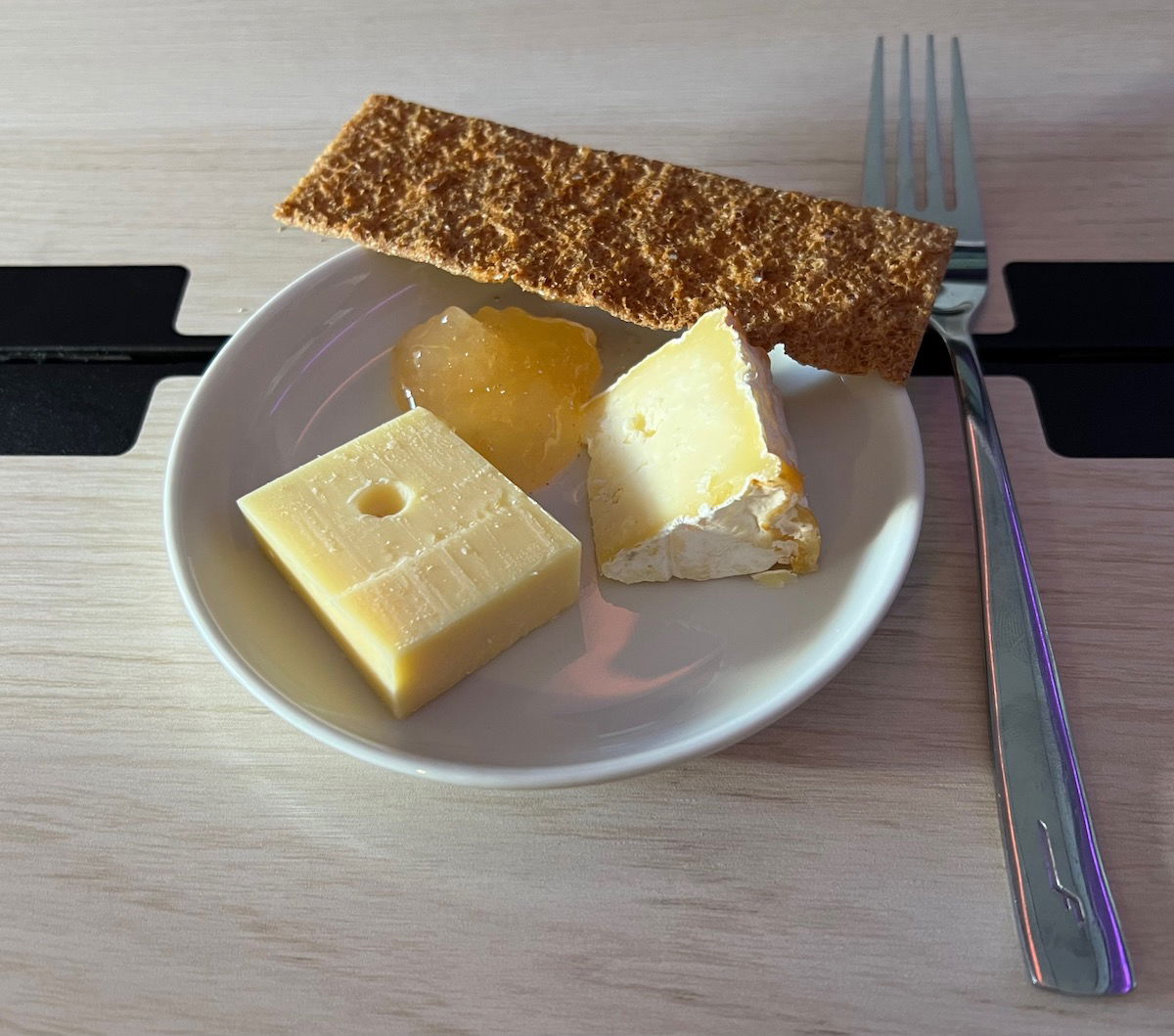 On balance I found this to be a pretty underwhelming transatlantic business class meal. The food quality itself was fairly good, but the service (including the pace, general service flown, and lack of personalization) plus the rather small portions, left a bit to be desired.
Finnair business class snack bar & lavatories
Finnair has a small snack bar behind the A330 business class cabin. It's better than nothing, but doesn't seem particularly well executed. There was just a small selection of packaged snacks, including nuts, chips, sweets, and ramen. There weren't any glasses for self-serve drinks, though, and for that matter there weren't any individual water bottles.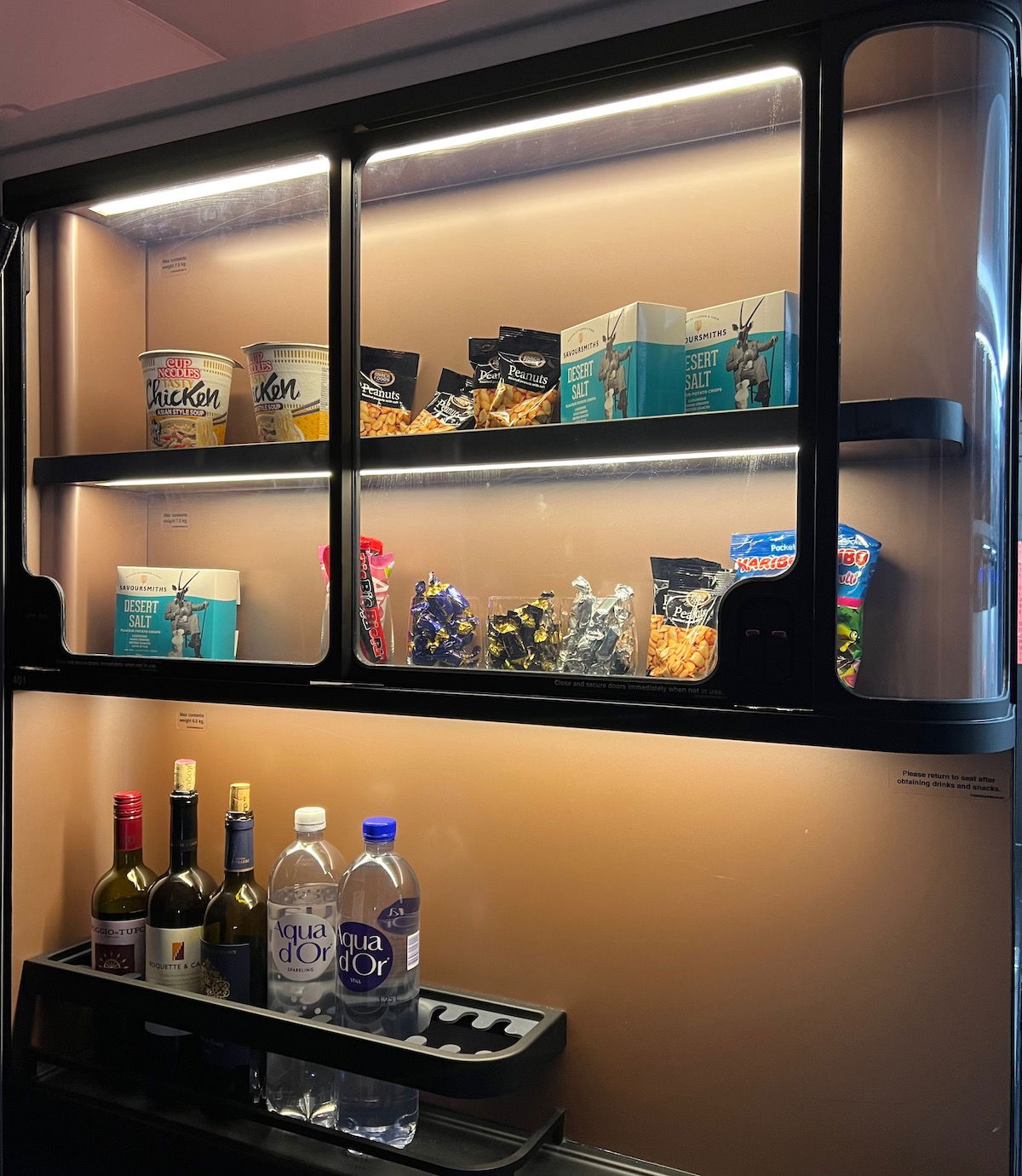 At the front of the cabin was a pretty standard lavatory. Toiletries were from L:A Bruket, which is a Swedish brand.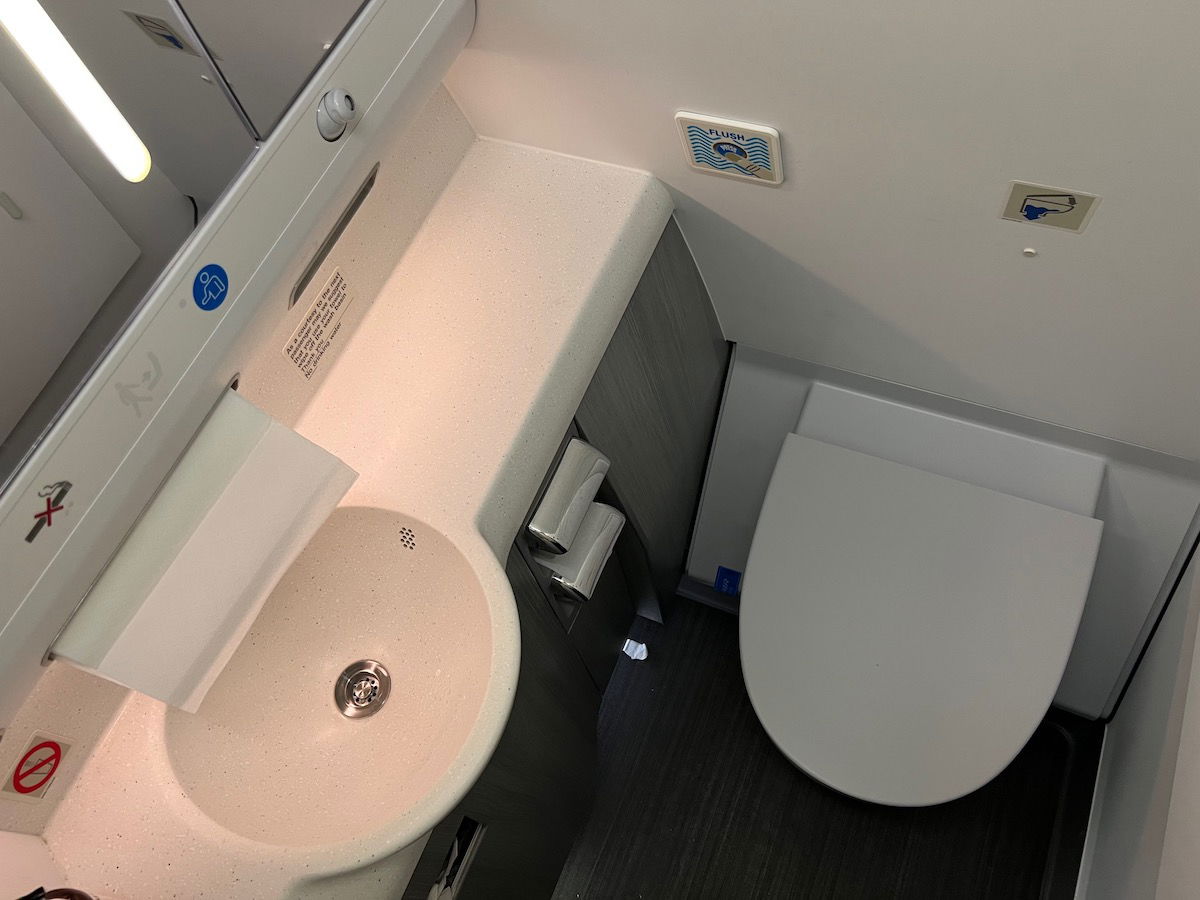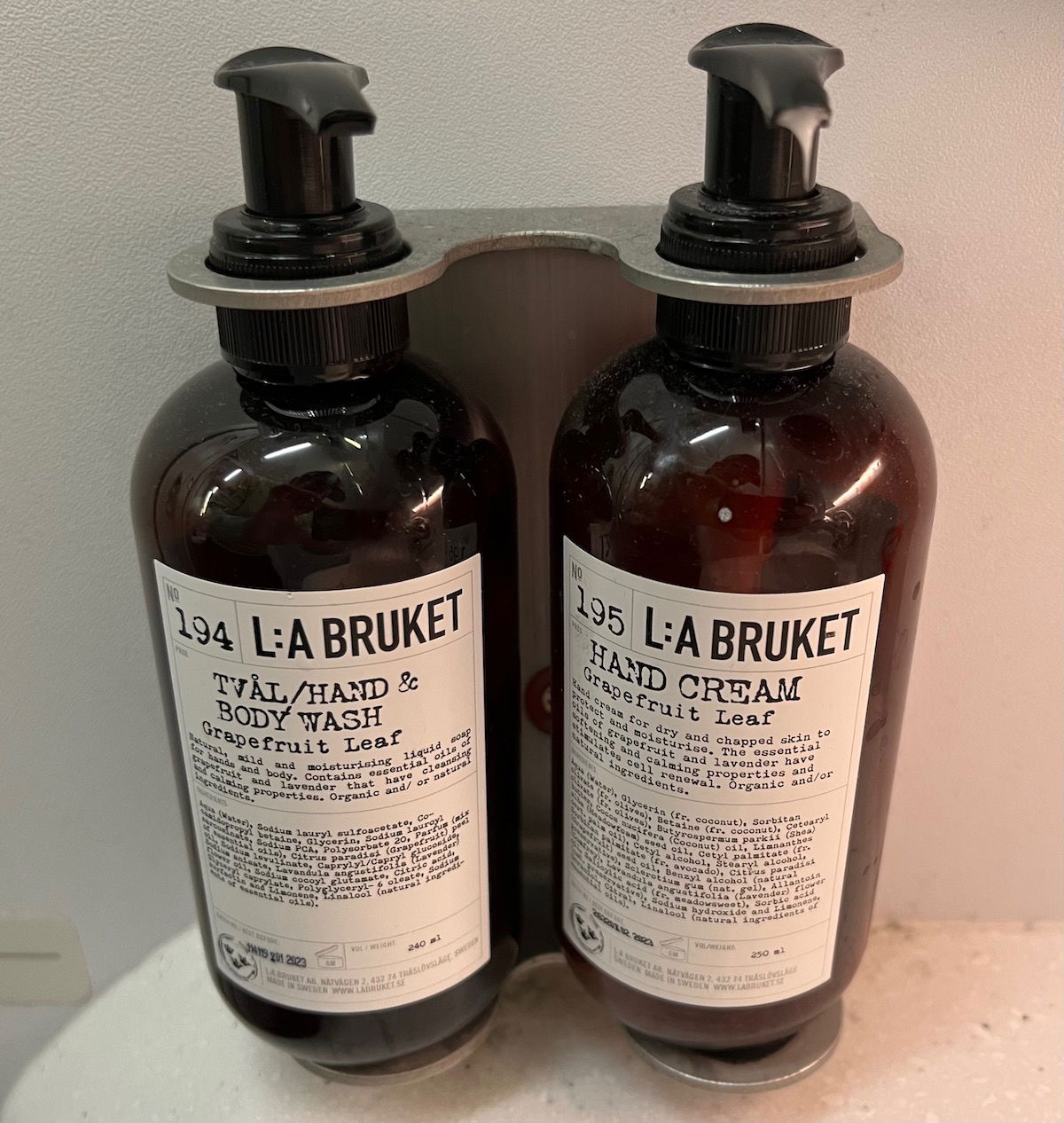 The lavatory behind business class was much better, as it was massive and even had a window.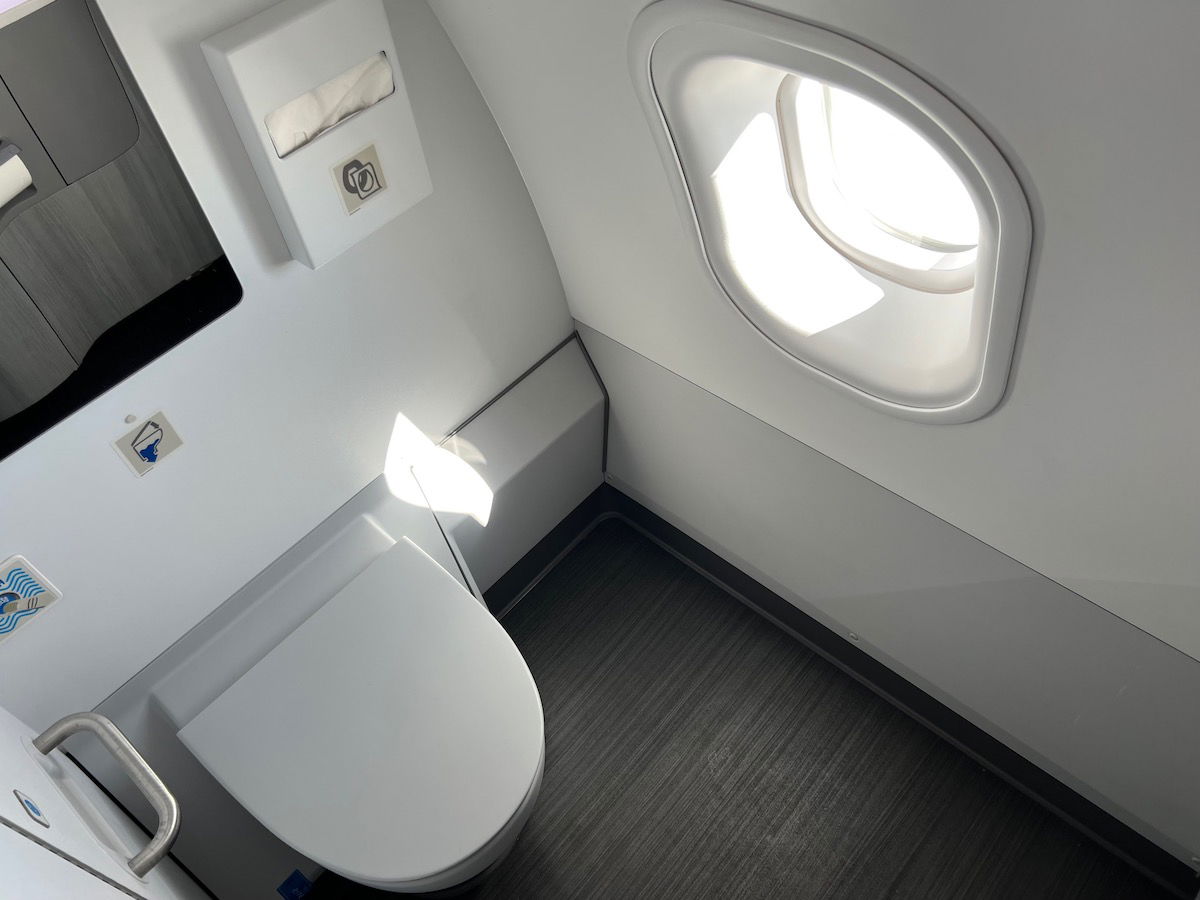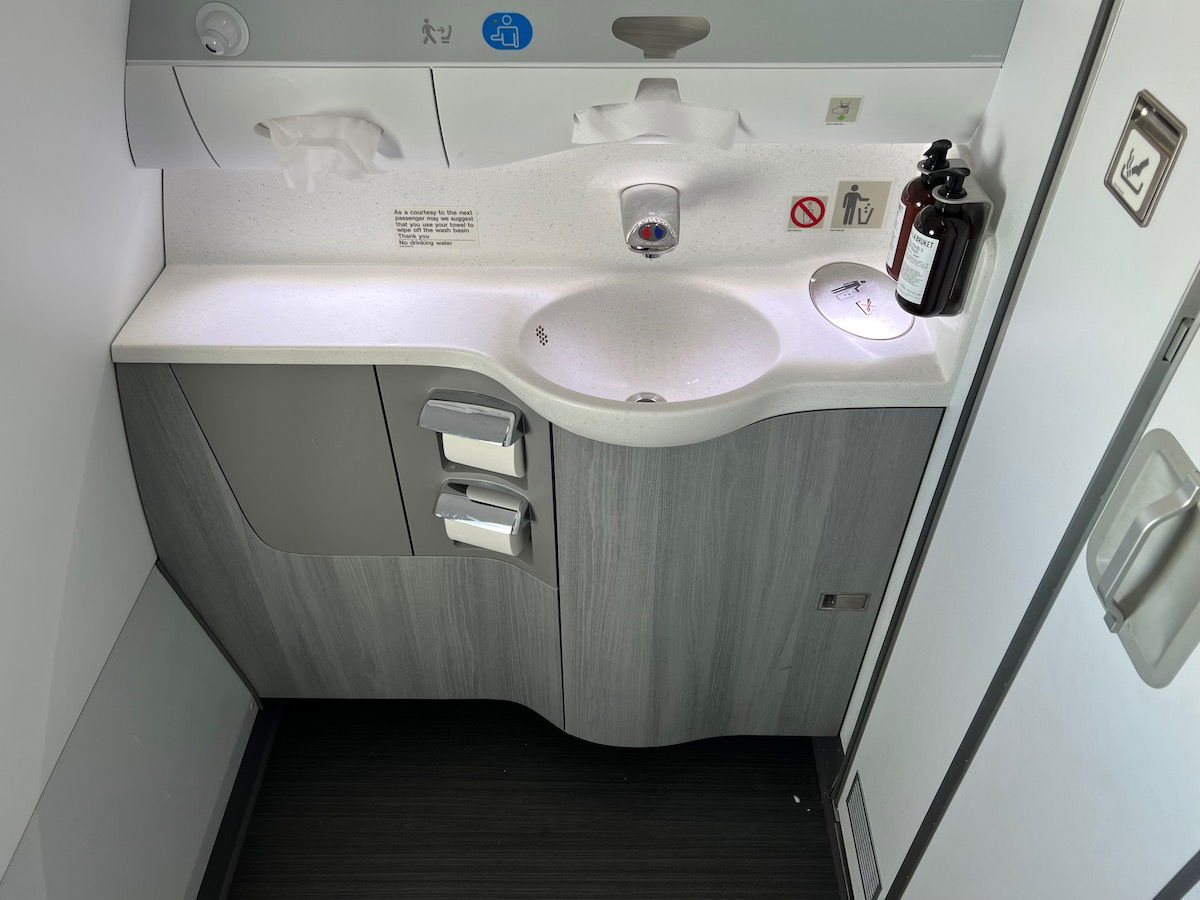 This proved especially useful over Greenland — the cabin was totally dimmed so I didn't want to open the window shade at my seat, but from the lavatory I had great views of Greenland (and the wing). I still really need to visit Greenland…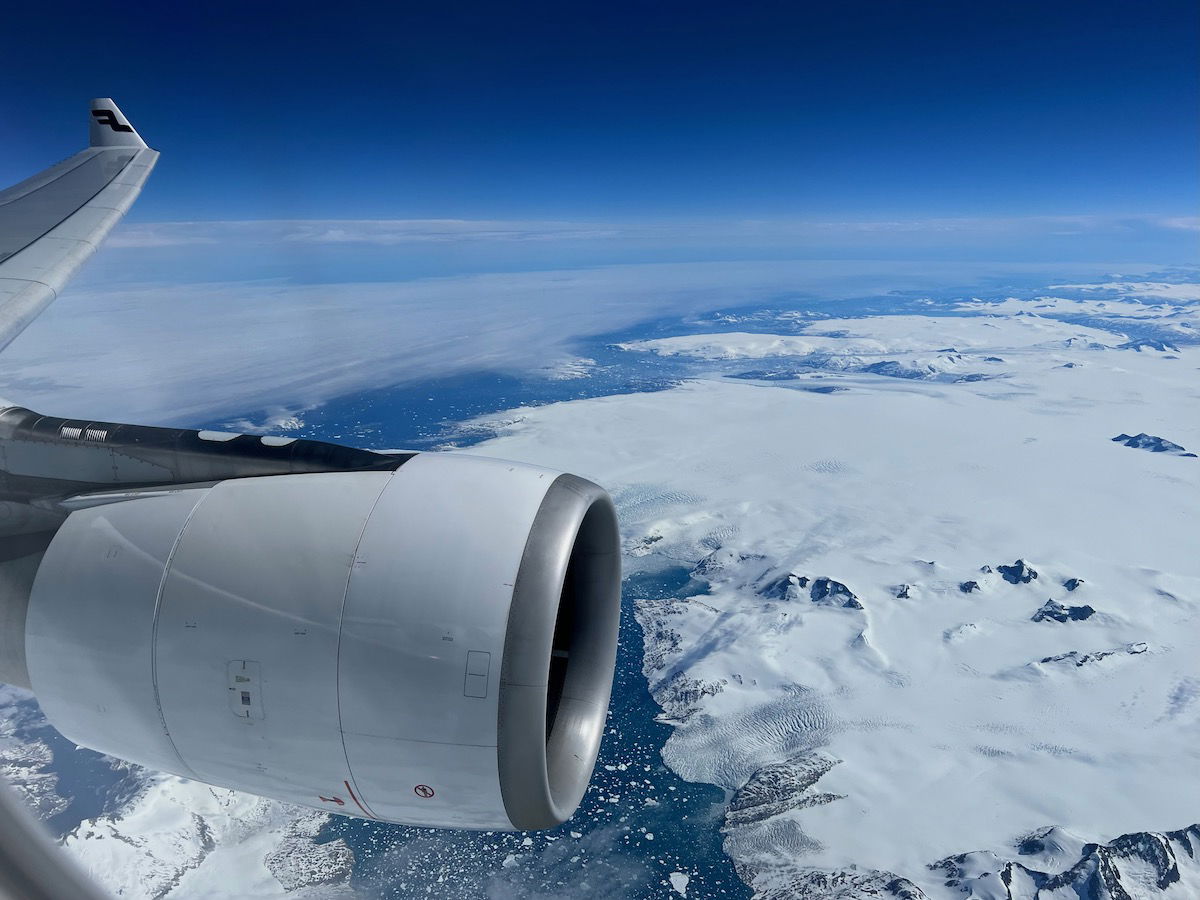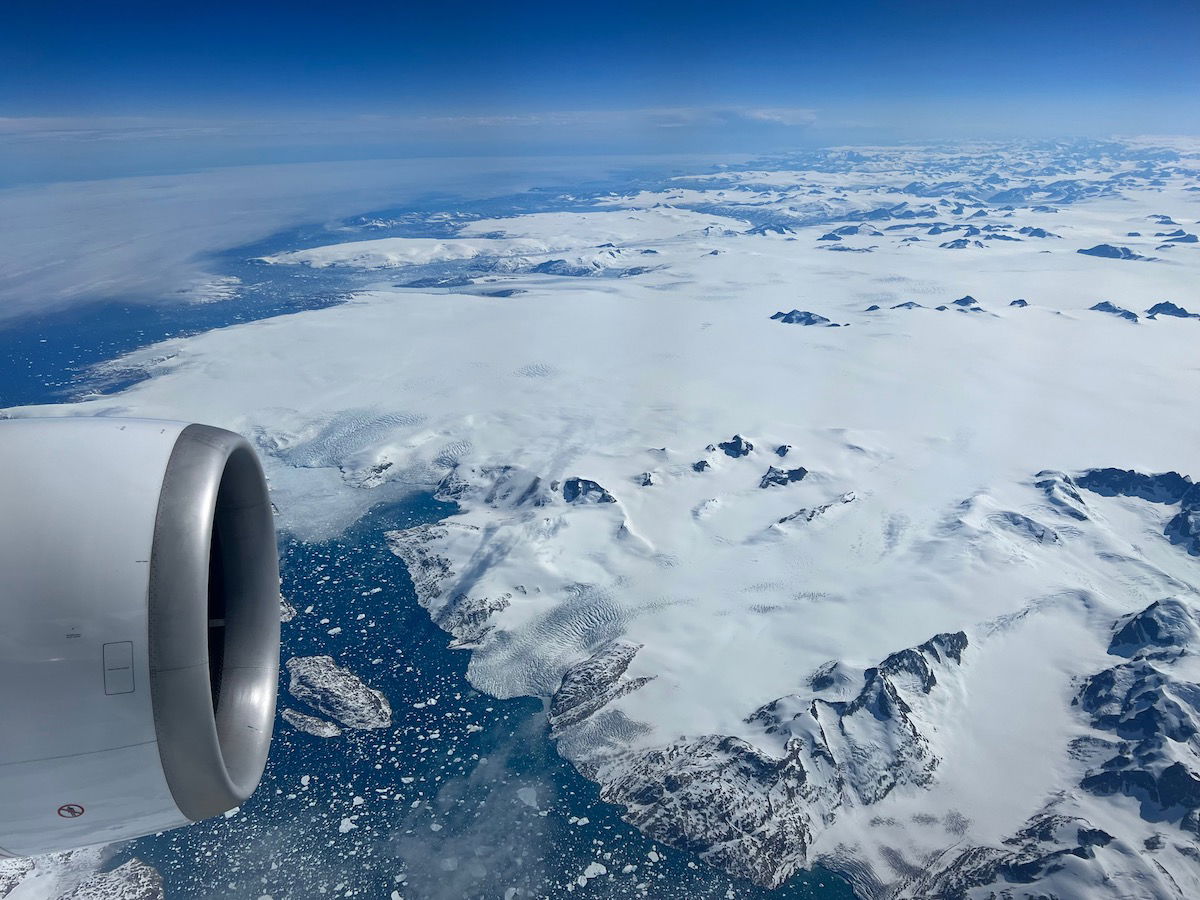 Finnair A330 business class bed
How does Finnair's no-recline business class do when it comes to sleeping? Surprisingly well. The seat turns into a 78″ flat bed by raising the leg rest, and it's an impressively spacious sleeping surface.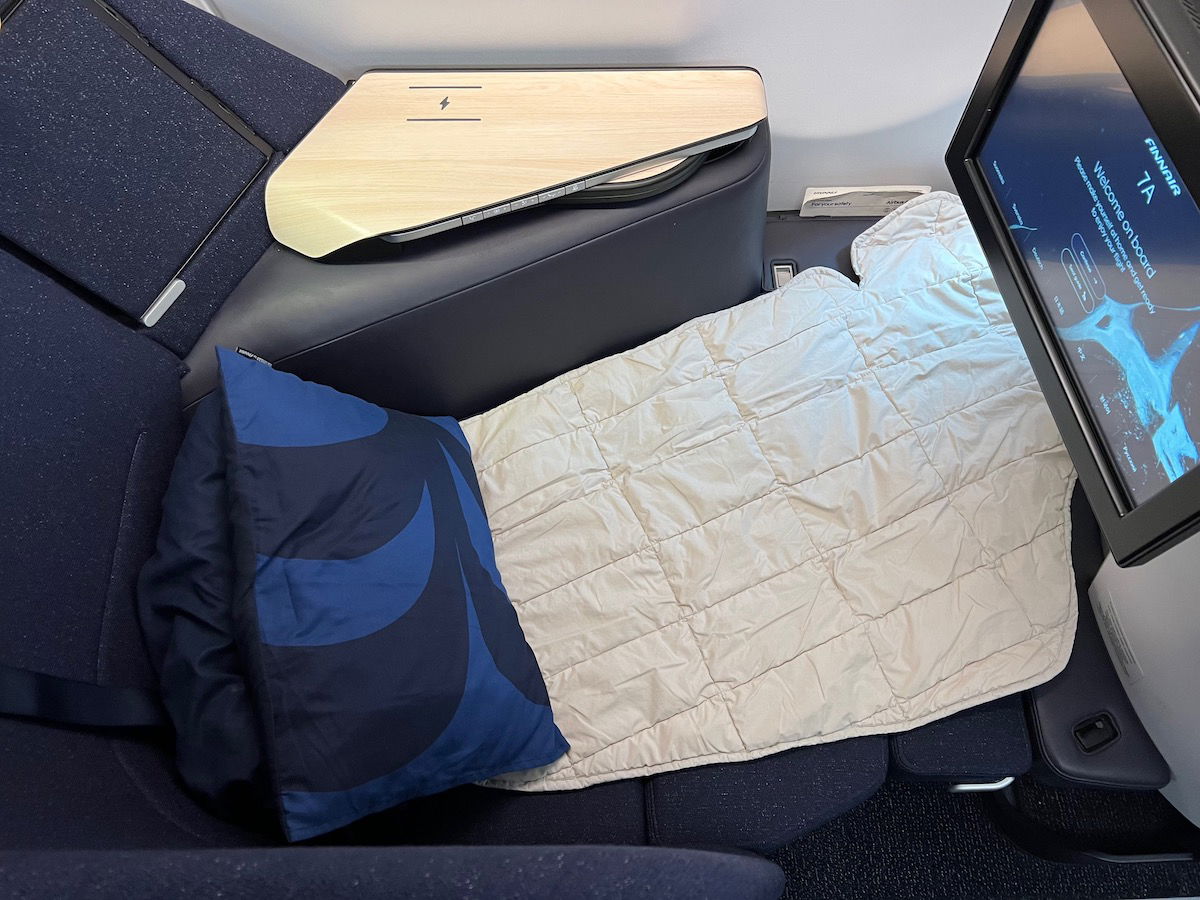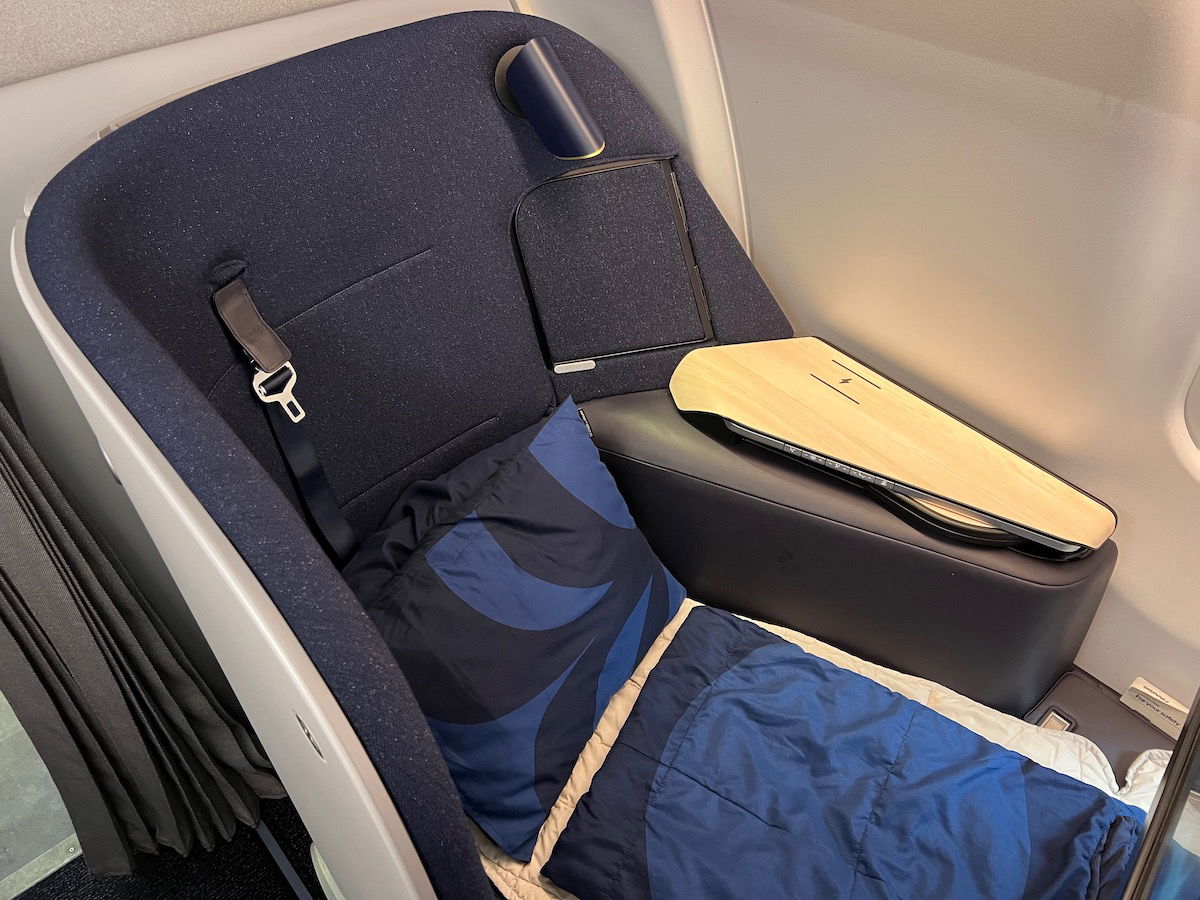 My bigger concern was seat comfort in situations where I didn't want to sleep, but rather just wanted to lounge and watch something on the inflight entertainment. The good news is that I found the seat comfortable in the lounging position as well. By just putting one of the pillows behind my back, I was much more comfortable than I was expecting.
As I see it, the only slightly awkward part of this seat is when you're in bed mode and then want to get up. You kind of have to pull yourself up by backing up in the seat. That's not as easy as just raising the seat back, but I didn't find it to be a big issue.
The crew kept the cabin dark throughout the flight, and used some cool mood lighting.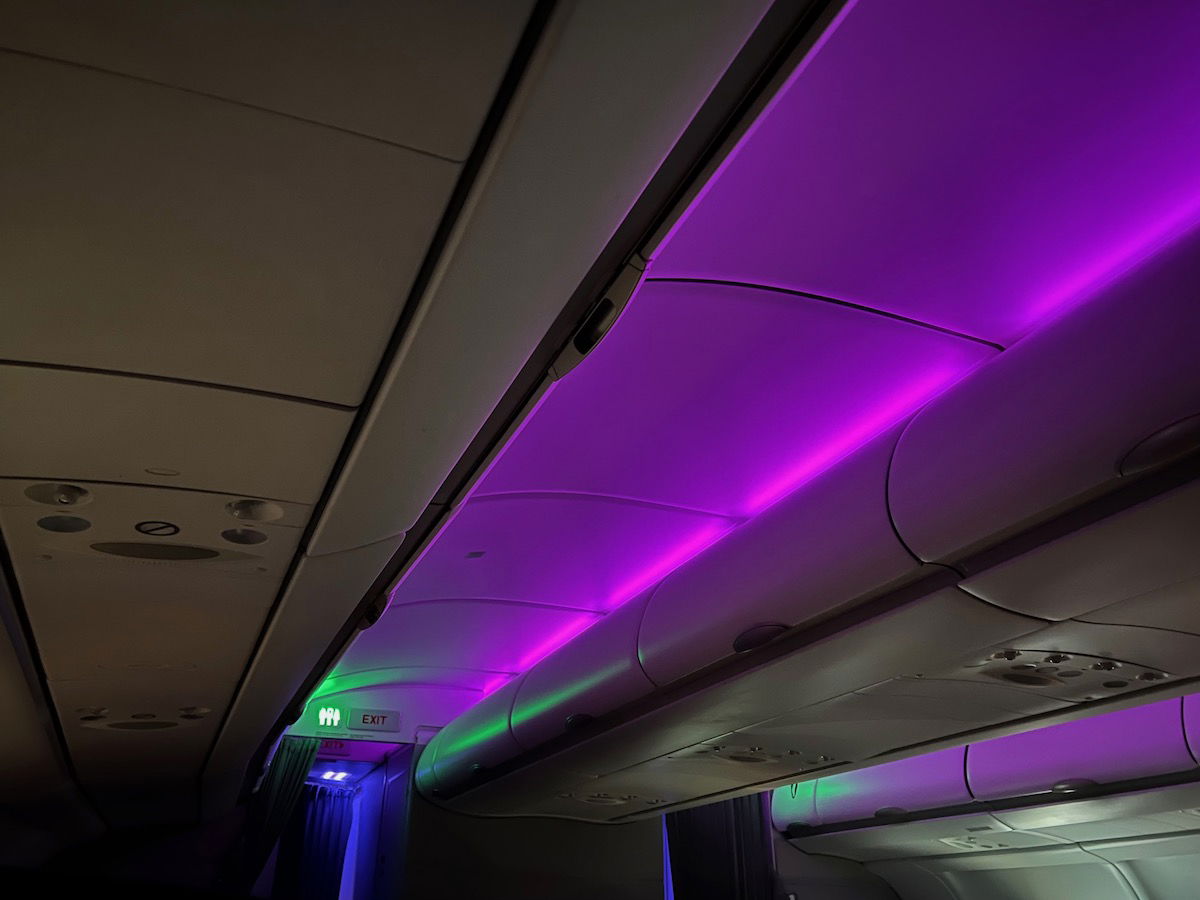 Finnair business class pre-landing snack
I spent most of the flight working, and ordered a cappuccino around 2.5 hours before landing. While the cappuccino tasted good, I thought it was odd that the cups Finnair uses for cappuccinos don't have handles. Given that the cup is hot, that doesn't seem well thought out.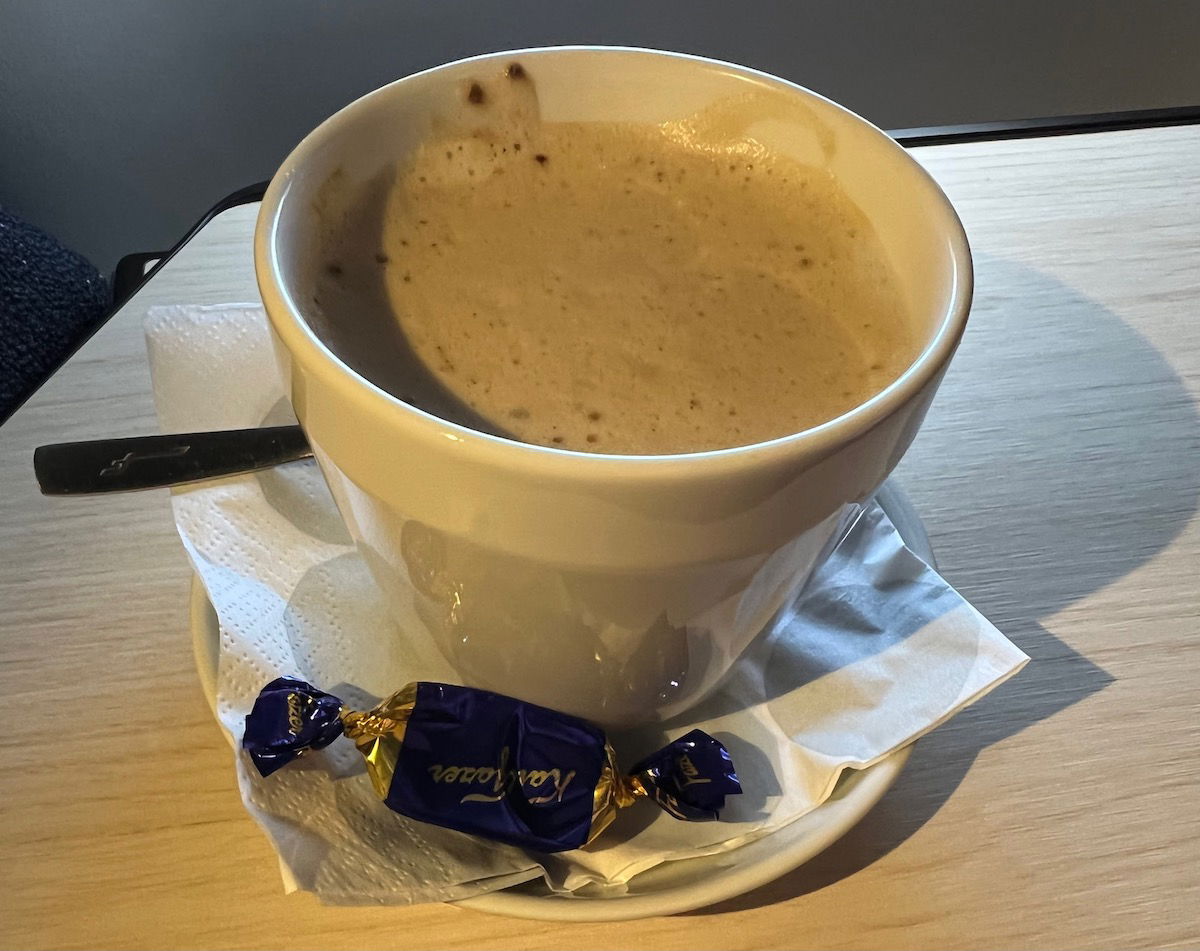 The pre-landing service really started around two hours before landing, when warm towels were distributed. I found the timing strange, because then it was another 30 minutes before trays were brought around with the choice of blueberry juice, orange juice, or water. I selected the blueberry juice, which is a specialty on Finnair.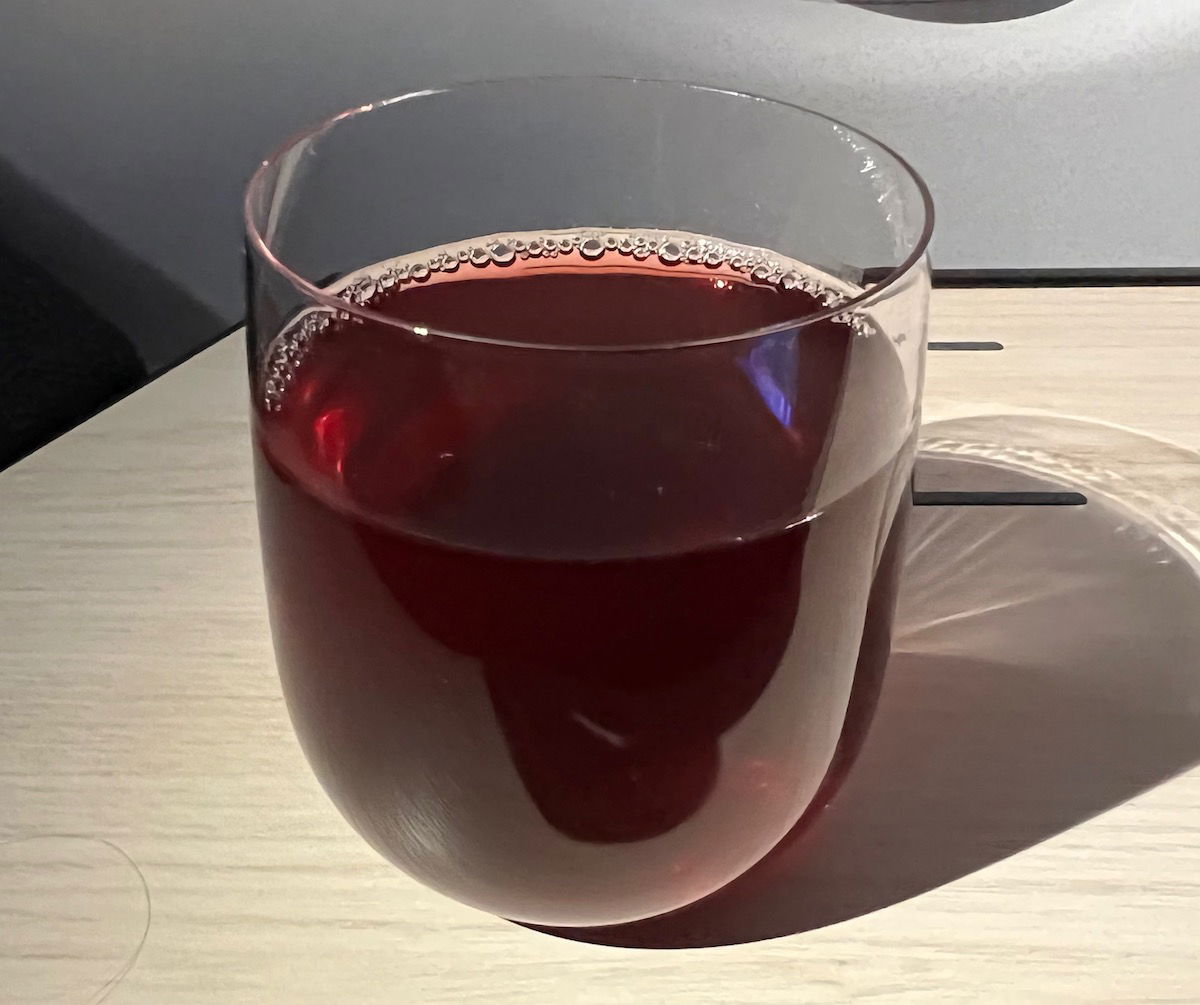 Then about 80 minutes before landing the pre-arrival meal was served. There were no choices. While I had ordered a Diet Coke to drink, it was never served.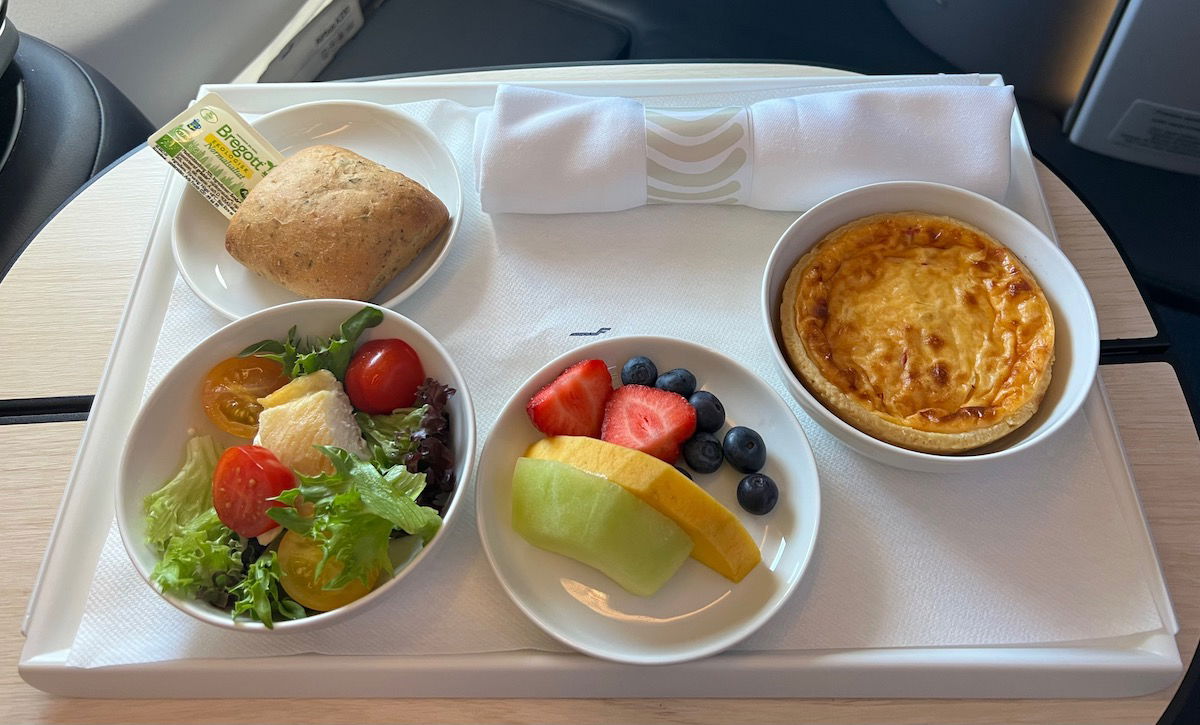 The starter consisted of Greenland halibut with salad.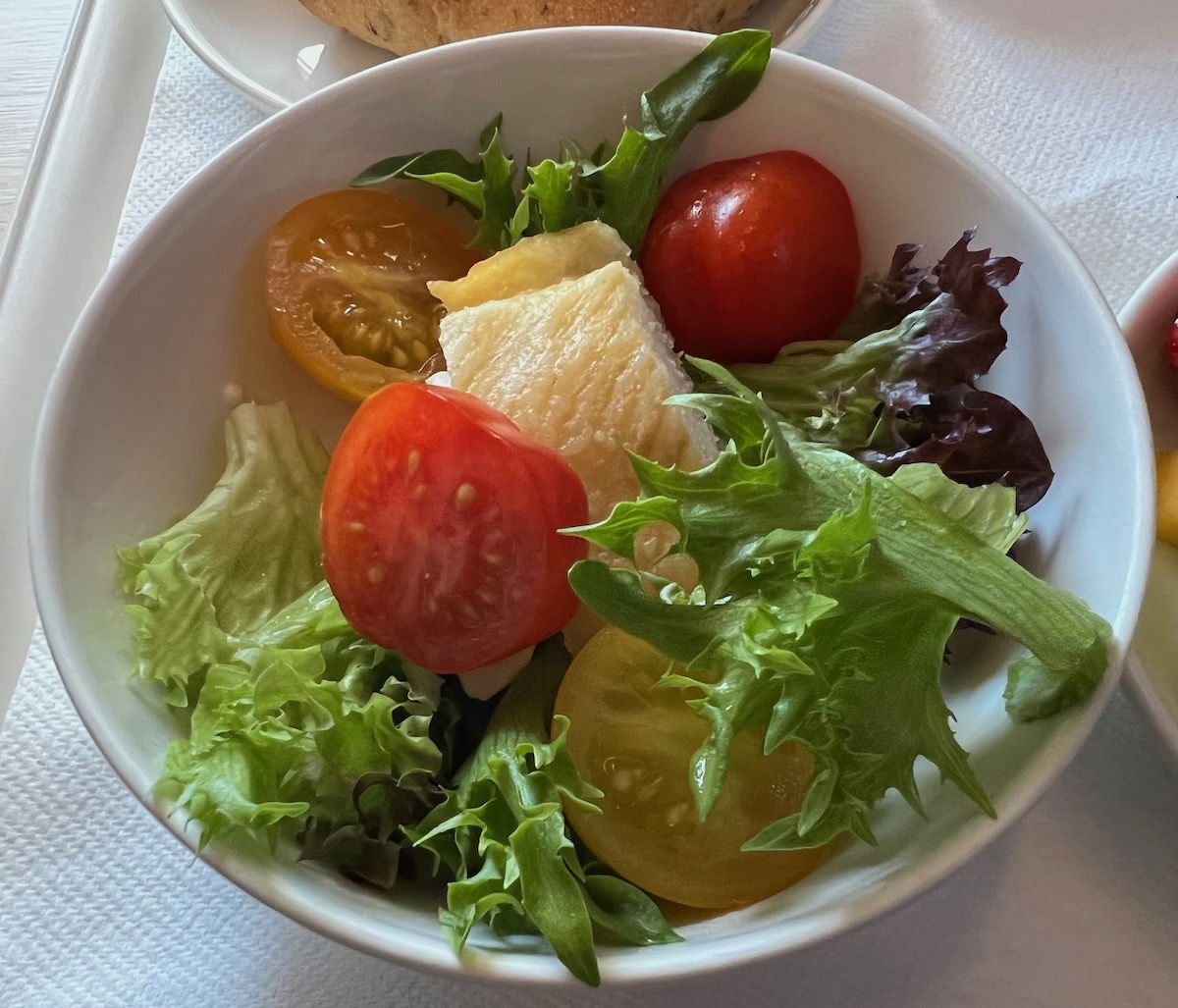 Then there was a quiche lorraine — I at least appreciated that it was vegetarian.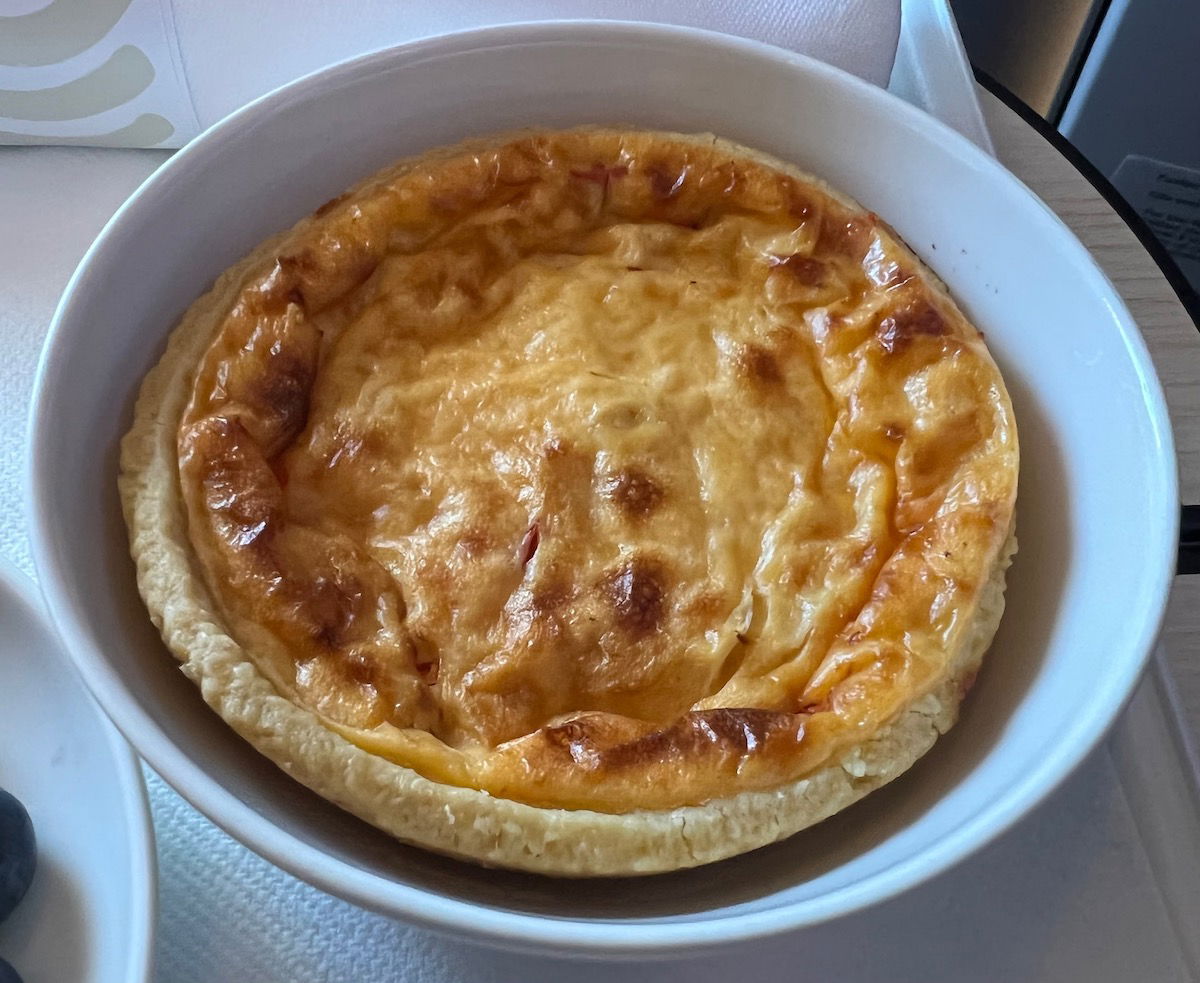 Then there was fresh fruit.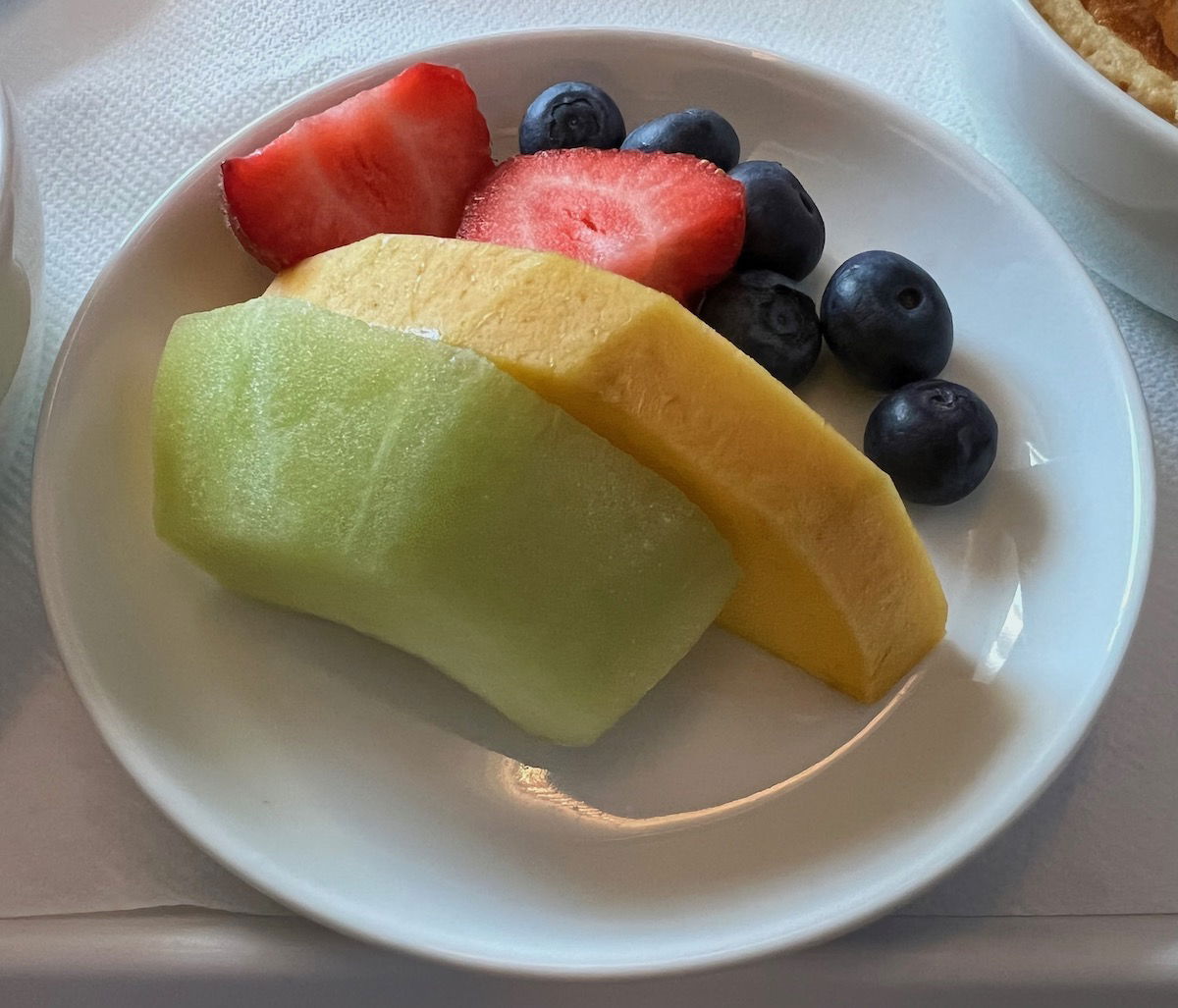 It was a pretty basic meal, but was decent enough. After the meal I ordered a cup of coffee.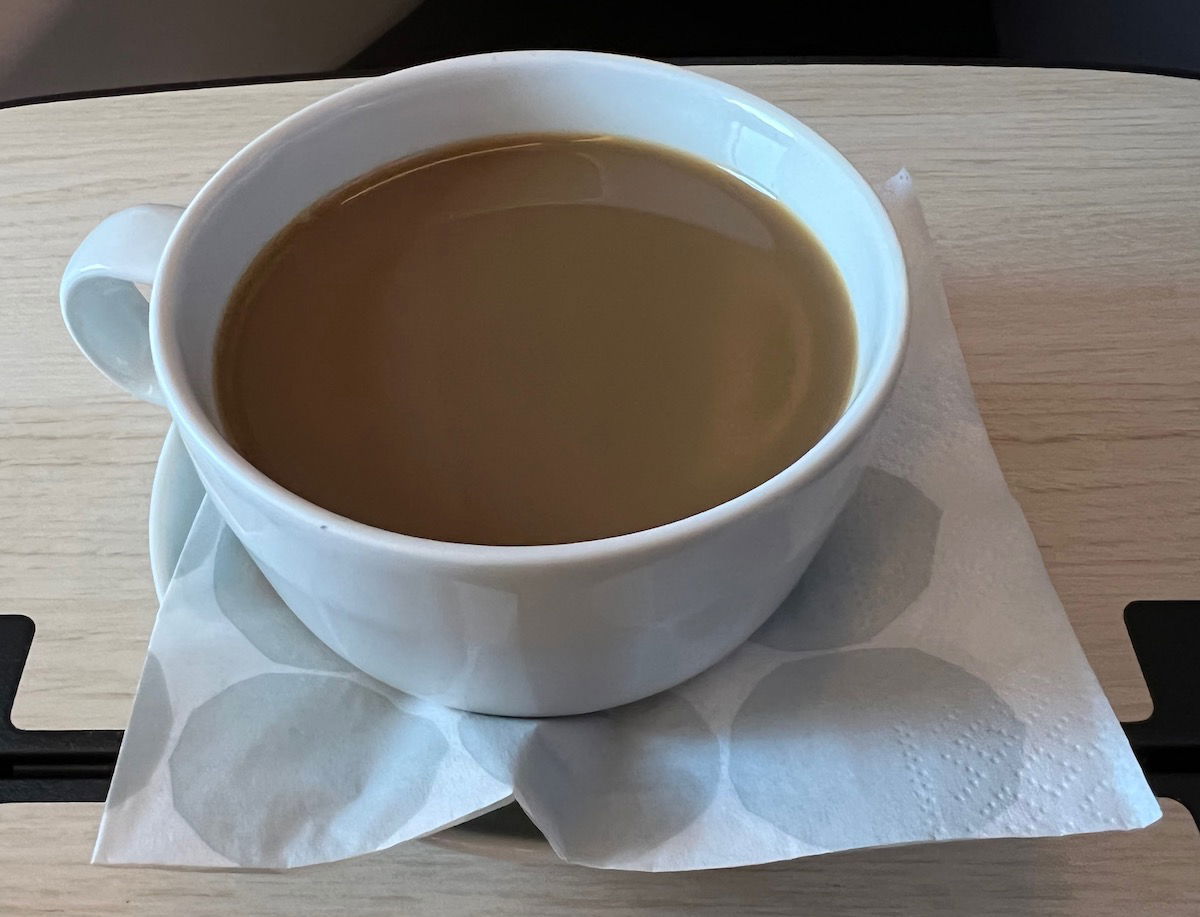 Finnair business class service
Can someone help me understand Finnair's labor situation when it comes to flight attendants? Finnair doesn't seem to have a very strong centralized flight attendant union, because I know pre-pandemic most flights to & from Asia were operated by "local" crews from those destinations.
In the case of this flight, I'm not sure if these were "proper" Helsinki-based Finnair flight attendants, or Stockholm-based flight attendants on a temporary contract while the airline operates these routes? I believe it was the latter, as it appears that Finnair is hiring flight attendants through a third party to work these flights.
Regardless, the service just felt really lackluster all around. It's not that anyone was rude in the slightest, but rather the crew just seemed apathetic and inefficient. The crew showed no personality, and they just seemed like they were going through the motions.
The meal services felt like inefficient assembly lines, and there was no proactive service between meals either. In retrospect, I guess the service is exactly what you'd expect from flight attendants who were probably hired a few months ago for a (potentially) temporary gig through an agency. There's definitely some room for improvement here.
By the way, I couldn't help but overhear the cabin manager talk about her previous work experience to a colleague. She was saying how she used to work for AirAsia and then Qatar Airways, before starting this gig.
Finnair A330 arrival in New York
Just under an hour before landing the captain made his pre-arrival announcement, stating we'd land at around 5:40PM.
50 minutes before landing the crew started preparing the cabin for arrival, which involved raising all the window shades, putting the seats into the landing position, and having to put away laptops. That was awfully early to have to do that, in my opinion.
With the cabin being fully prepared for landing, I just enjoyed the view out the window.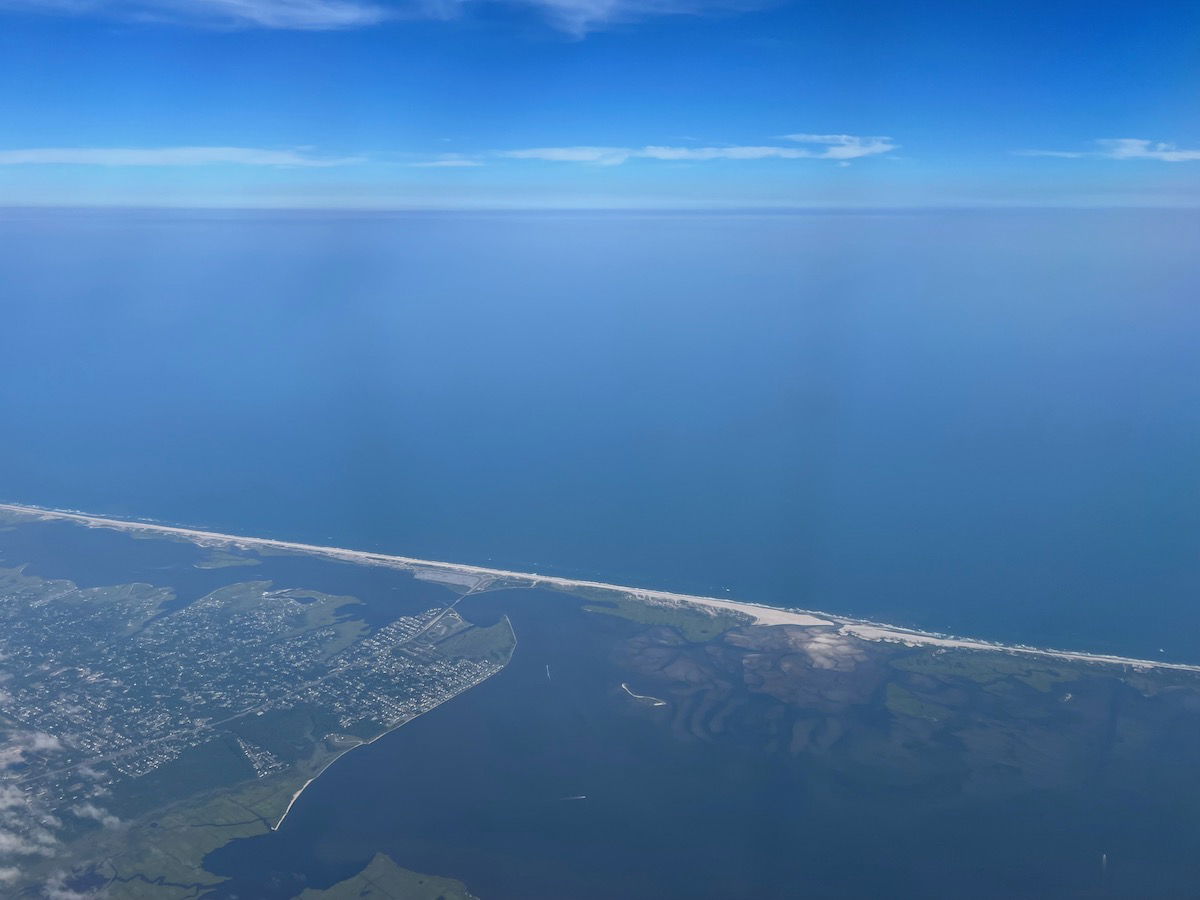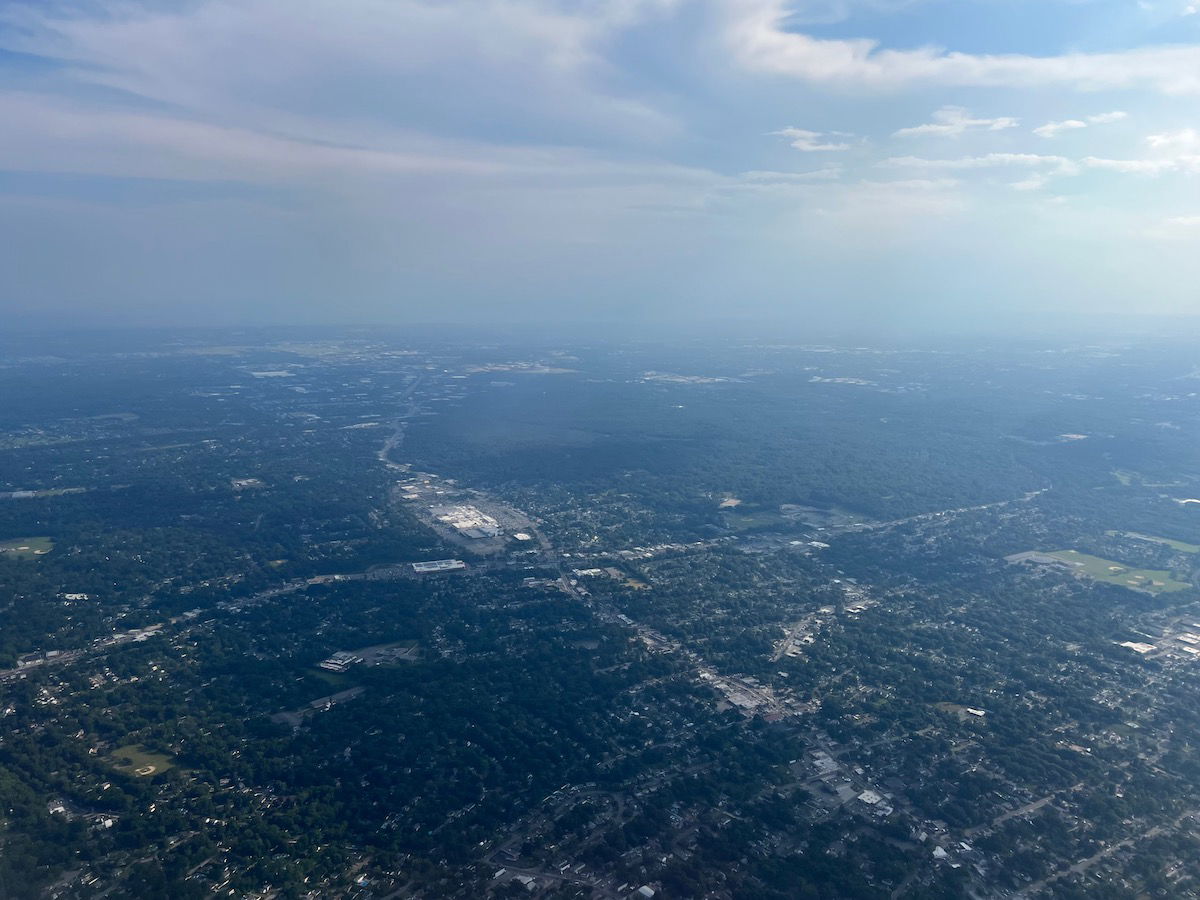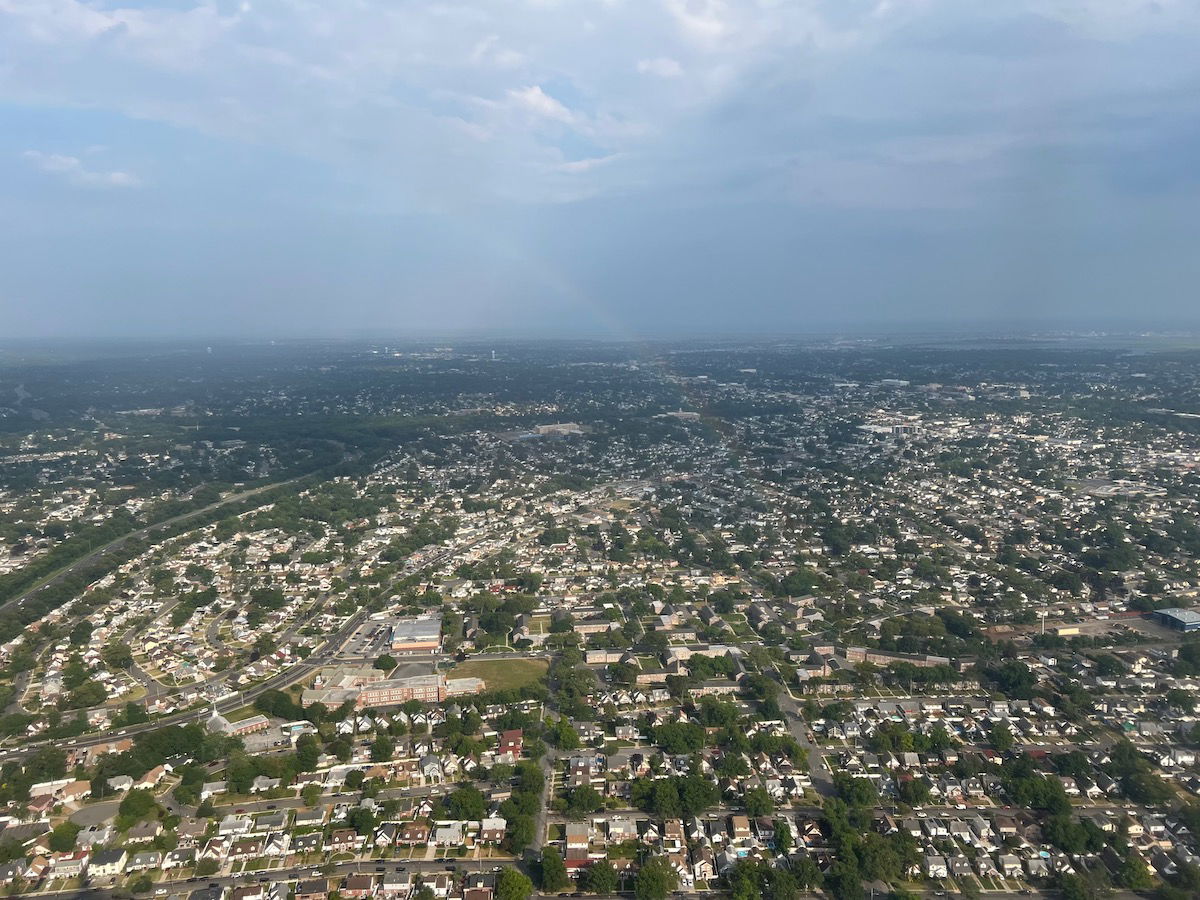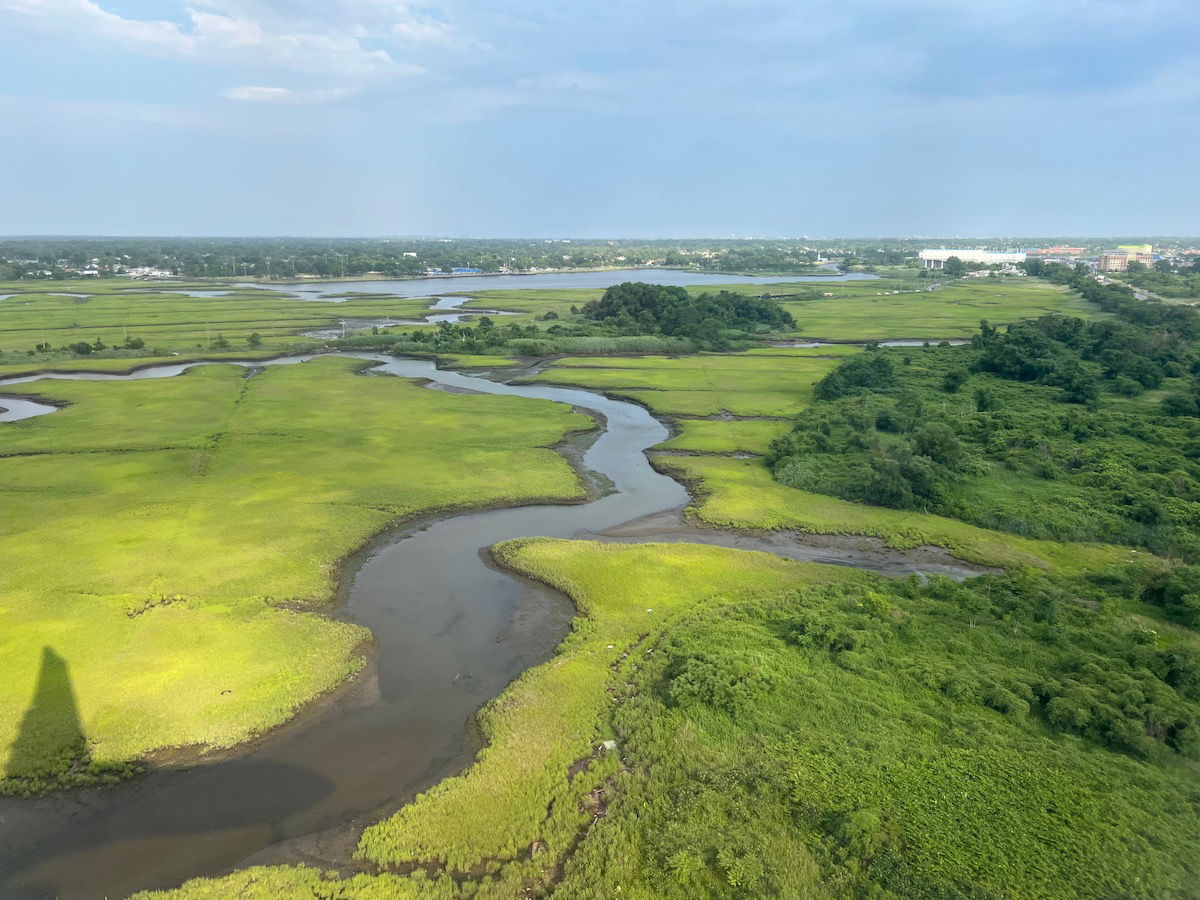 We ended up touching down at JFK at 5:40PM. Due to congestion at the airport, it took another 20 minutes to taxi to our arrival gate at Terminal 8, where we arrived at 6PM, an hour behind schedule.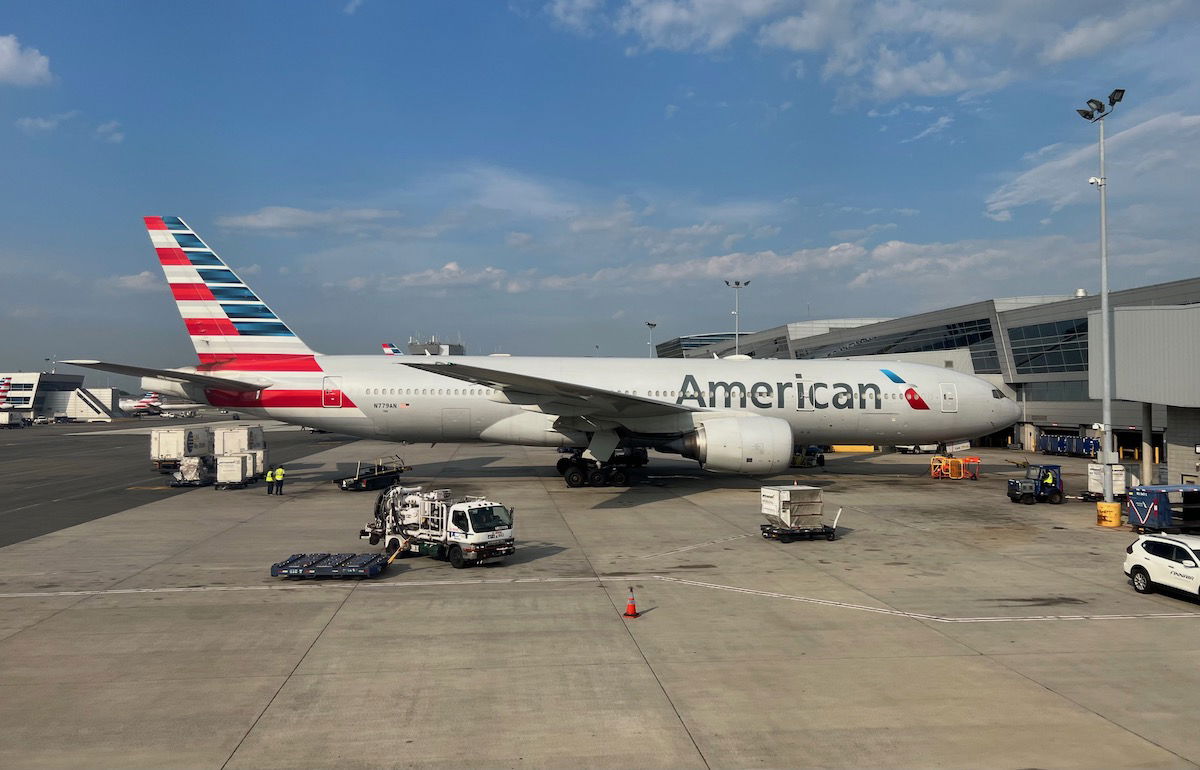 I was through immigration in no time thanks to Global Entry. And while that was the end of this adventure, my next long haul adventure would kick off at Terminal 5, so stay tuned for that…
Bottom line
I'm so happy I had the chance to experience Finnair's new business class. Not only is the product innovative and smart in terms of controlling costs, but it's a very good hard product from a passenger perspective as well. That's especially true when you consider that this was an A330. Finnair has a winner on its hands here.
I also appreciate that Finnair offers Wi-Fi with reasonable(ish) pricing and no data caps, and also has nice amenities, like great bedding, Bose headphones, etc.
Unfortunately other aspects of the experience left a bit to be desired, particularly the food and service. The crew was indifferent and inefficient, while the food (in terms of how it was served and the quantity) was one of the more underwhelming long haul business class meals I've had in quite some time.
If Finnair could improve its soft product, this would be one of the best transatlantic business class products, in my opinion.
If you've flown Finnair's new business class, what was your experience like?